6 Things to Consider When Renting a Luxury Restroom Trailer
11/29/21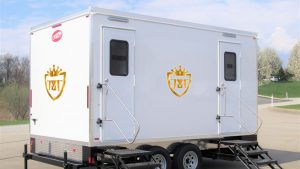 Thanks to innovations like restroom trailers, you can have your outdoor events without bothering so much about guests' bathroom convenience. Luxury restroom trailers are mobile bathrooms designed to make outdoor functions comfortable for participants. Unlike the typical porta potties, these restroom trailers are more luxurious, spacious and give room for extra privacy.
Have you already ticked all the boxes for your event? Neglecting an important detail like restrooms for your guest can ruin the whole plan. But even when you do have a bathroom rental included in your plan, making the right choice is what really matters.
This is why we have provided a helpful guide on things you should consider when renting a luxury restroom trailer.
Size of The Luxury Restroom Trailer Rental
Bathroom trailers for rent are known to be generally spacious than porta-potties. Nevertheless, you still need to consider what level of spaciousness is suitable for you and your guests. You may need enough room in each compartment so guests can change their outfits when needed. Size is an essential factor when renting bathrooms for weddings, festivals, and other events where guests need to change or get cleaned.
Moreover, the size of your luxury restroom trailer determines many other things - the space it takes up on your event ground, the number of toilets it can contain, and the spaciousness of each room. If you know the number of restrooms you want, you can readily envisage the size of bathroom rental needed. Perhaps you only need a small luxury restroom trailer to complement available public or indoor toilets.
Location of Your Event
How large is the space for your event? You do not want your luxury restroom trailer taking up all of that space. In fact, you need the trailer to be as distant as possible from the main event. Essentially, if you have a small sized event, you might need smaller restroom trailers
A good way to a flawless outdoor event is to know the perimeter measurement of your location. You should also ask for the dimensions of the luxury restroom trailer before you rent it. This way, you can ensure you are renting a trailer that adequately fits in your space.
Asides from measuring dimensions, taking note of the terrain of your location is also essential. Your restroom trailer is best placed on a solid, flat surface. A sloppy terrain may affect the direction of flow of body waste and also the speed at which running water travels.
Type of Event
The demands of a wedding party may be different from that of a corporate meeting event. In the same vein, a one-day sporting event demands less in terms of bathroom convenience than an all-week outdoor camping. Hence, it is necessary to rent your luxury bathroom according to the type of event.
Think about your guests; how often do you envisage they'll visit the restroom through the event? This is a crucial question that can guide your choice and determine the precise services you need.
In a camping activity involving children, you should expect the luxury toilet rentals to be used more frequently. This is because children and teens visit the bathroom more often than adults. Can we give you a secret tip too? If your event features some alcohol, expect trips to the bathroom to increase! Having all of these details in mind helps you figure out the number of restrooms to rent, their size, and the provisions to make of utmost priority.
Available Amenities and Other Extras
A luxury restroom trailer should come with more than just toilet seats. There should be hand wash sinks, running water, mirrors, lighting and important features. Suppose you are running an all-night event. In that case, you need a luxury restroom rental with a sustainable lighting source. You don't want your guests groping in the dark as they find their way around.
Other amenities and extras that could come with your bathroom rentals are stereo players and fresh water tank. You should consider finding a luxury restroom trailer rentals near you that provide hot and cold running water. Sometimes, the provisions to be made available in your luxury bathroom rental are things you should discuss with the provider before rentals.
It is good to find out from the restroom trailer rental company the basic provisions available for every luxury restroom rental. A good luxury restroom rental company will also provide other services that ensure your convenience as the event planner. Also, the company should have convenient drop-off and pick-off options for your rented restrooms.
Luxury restroom trailers at The Mobile Throne include basic amenities like lighting, hand towels, toilet paper, flushable toilets and skin-friendly soaps. Our portable luxury trailers are designed to ensure you have the 4 or 5 star hotel experience.
Aesthetic and Interior Décor
Aesthetics do matter, especially when you are aiming to make your guests comfortable. Perhaps, you desire to have a restroom with a natural ambiance that your guests can obtain in their houses. In that case, you need portable luxury restroom trailers that look as natural as possible.
You could also go the extra mile by renting luxury bathrooms designed to match the theme of your outdoor wedding event.
Cost of Portable Restroom Trailer
What's planning without proper budgeting? When planning your event, there is much to spend on, and a portable restroom rental shouldn't gulp all your money. Luckily, luxury restroom trailers at The Mobile Throne come at varying prices to meet different budget needs. Of course, we choose quality over cost, making every of your choice with us of the best quality and most value.
If you are renting more than one luxury restroom trailer, you may need to consider the unit cost per trailer. Should you rent two small luxury bathrooms or go for a bigger one instead? While big bathroom trailers put out for rent are costlier, they also accommodate multiple guests per time.
Now that you have it all figured out regarding choosing a luxury restroom trailer, it's probably time to book one for your event. The Mobile Throne LLC provides luxury portable restroom trailers for weddings, sporting events, conventions, and other events where simple porta potties won't do. The restroom trailers come in different sizes to match your needs and provide just the right aesthetics for your events.
The Mobile Throne aims at making your event top-notch with the modern, comfortable appeal of our luxurious restroom trailers. We provide excellent service and customer satisfaction with the clean environment, luxury, and extra provisions keep guests highly impressed. Our portable restrooms are available for daily, weekly, or monthly rentals.
Call The Mobile Throne today on (516) 500-3113 to book your luxury restroom rentals ahead for your event. To schedule your auto transport, fill out our online contact form, and we'll get right back to you. You can also visit our website at www.themobilethrone.com/
Return