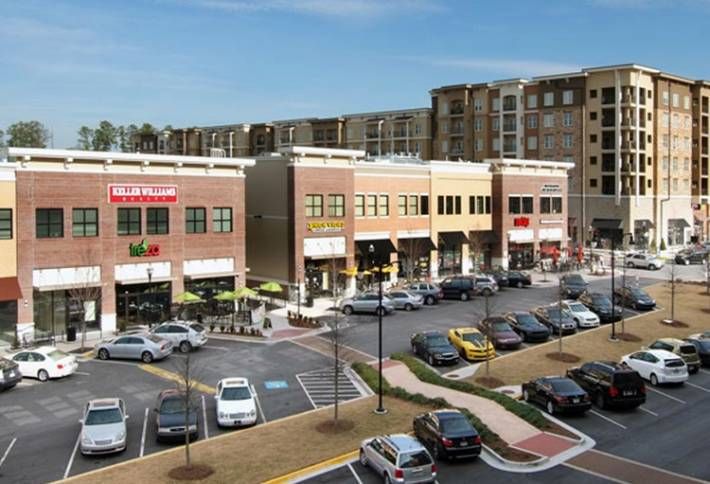 Nestled in the beautiful region of Long Island, Brookhaven, NY, is a town steeped in rich history and natural splendor. As the largest town in Suffolk County, it's a delightful amalgamation of vibrant neighborhoods, picturesque beaches, and diverse cultural experiences. With a population of 485,430 according to the census in 2021. Among its notable places; the Wertheim National Wildlife Refuge stands out, offering tourists a serene setting to appreciate the area's unique flora and fauna. The exquisite Long Island Game Farm Wildlife Park is another attraction that never fails to charm visitors of all ages.

The culinary landscape of Brookhaven is as dynamic as its scenic beauty. It's home to a range of eateries that serve delectable cuisine, from upscale dining establishments like Painters' Restaurant to the casual comfort of the local favorite, Cafe Gia. The town is also a hub for various events and festivals throughout the year, such as the Brookhaven Fair, which brings together the community in a celebration of local culture and talent. Amidst this lively local scene, Brookhaven also boasts of a variety of service industries, including our very own The Mobile Throne, meeting the area's luxury portable restroom needs.
Luxury Restroom Trailer Rental in Brookhaven, NY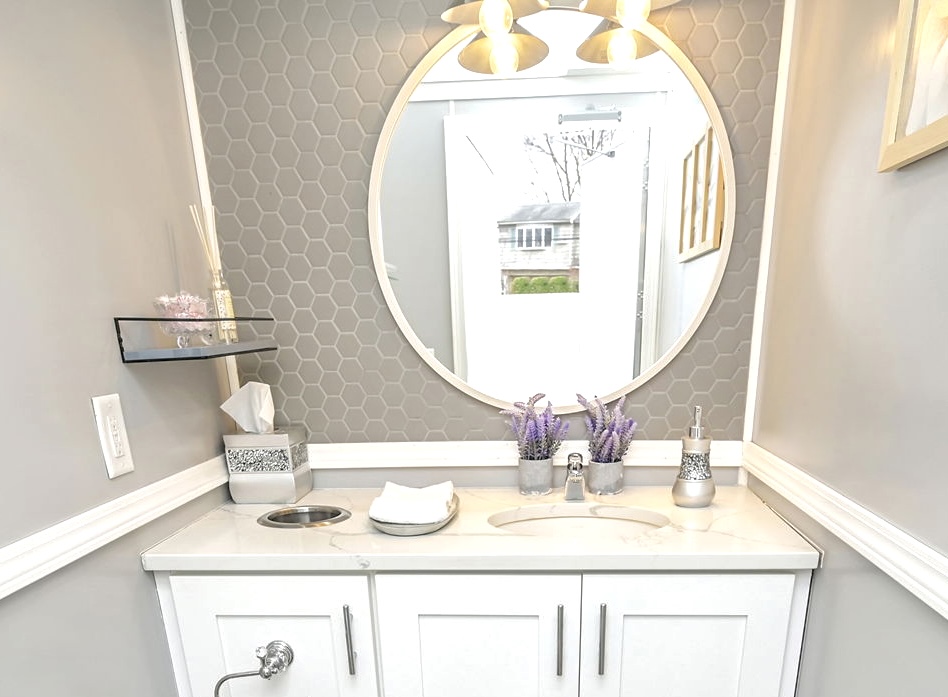 When it comes to hosting an event in Brookhaven, NY, every detail counts, and comfort is king; especially when it comes to restroom facilities. Whether you're planning an intimate wedding at one of our picturesque beaches or a vibrant fair at the town's center, offering your guests a touch of luxury in every aspect of your event can make a world of difference. That's where our service at The Mobile Throne comes in.
Offering luxury restroom trailer rentals in Brookhaven, we provide an excellent option that goes beyond the usual expectations of a porta-potty. Our trailers have top-notch amenities including air conditioning, heated floors, surround sound music, and even full-length mirrors. It's a restroom experience that offers your guests the same comfort they would find in a high-end hotel, right here in Brookhaven. With the beautiful landscape of Long Island's Brookhaven, the city has many areas that can accommodate toilet rentals for events.
However, if you still have concerns as to how luxury restroom trailers work, why you should employ toilet rentals for weddings, how much it would cost you, and how many luxury portable restrooms you'll need, we've compiled a complete guide on getting the best luxury portable restroom trailer rental in Brookhaven.
Why Do You Need Luxury Portable Restroom Trailer Rental in Brookhaven?Why Do You Need Luxury Portable Restroom Trailer Rental in Brookhaven?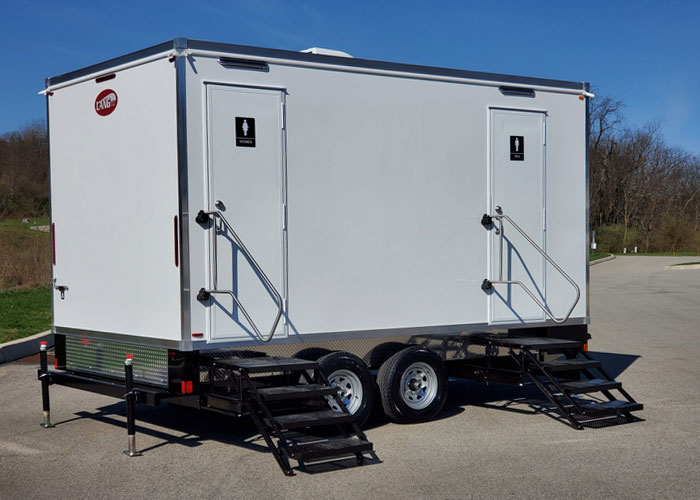 Primarily it's all about convenience and a safe, designated place to take care of your business, which many services can cater to. However, why should you hire a luxury porta-potty in Brookhaven?
When hosting an event in Brookhaven, it's crucial to prioritize the comfort and satisfaction of your guests. Our luxury portable restroom trailer rental provides a solution that exceeds the standard portable toilet experience. With amenities such as air conditioning and heated floors, our trailers ensure a comfortable environment regardless of the weather. Full-length mirrors allow guests to freshen up and ensure they look their best throughout the event. The Mobile Throne's trailers are meticulously designed to offer an elegant and upscale ambiance, providing a memorable restroom experience that complements the overall sophistication of your event.
Hygiene and Sanitation Standards
Maintaining high levels of hygiene and sanitation is of utmost importance, especially when it comes to restroom facilities. Our luxury restroom trailers in Brookhaven are equipped with state-of-the-art features to ensure cleanliness and sanitation. Each trailer includes flushing toilets with a freshwater supply, eliminating the need for traditional portable toilets. The Porta trailers also feature handwashing stations with running water and premium hand soaps, promoting proper hygiene practices. Additionally, our dedicated maintenance team ensures that the trailers are regularly cleaned and restocked, guaranteeing a pristine environment for your guests throughout the event.
Versatility and Convenience
One of the key advantages of opting for luxury portable restroom trailer rental in Brookhaven is the versatility and convenience it offers. Our trailers can be easily transported and set up at any location, whether it's a beachfront wedding or a community fair. The trailers are equipped with spacious interiors, accommodating multiple guests at once and reducing waiting times. Additionally, the trailers feature sound systems, allowing you to create a pleasant atmosphere with background music for your guests to enjoy. The Mobile Throne takes care of the delivery, setup, and removal of the trailers, giving you peace of mind and allowing you to focus on other aspects of your event without hassle.
Key Factors to Consider When Consulting a Luxury Portable Restroom Trailer Rental Company in Brookhaven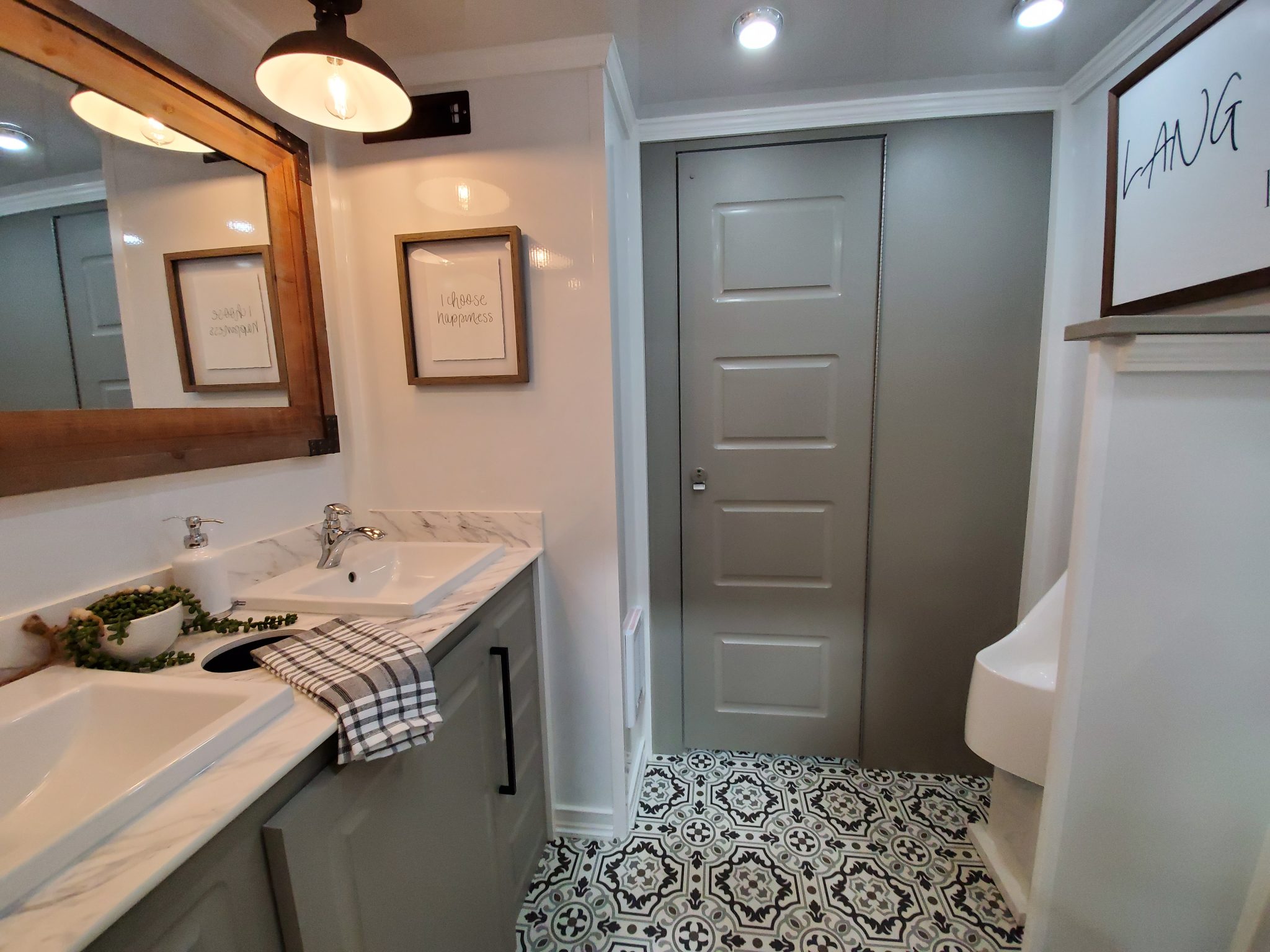 Brookhaven is your friendly neighborhood where folks meet and share quality time. with a good review rating according to Niche. When consulting a luxury portable restroom trailer rental company in Brookhaven, it's crucial to ask some important questions and look out for tip-offs:
What Are The Types Of Portable Restroom Trailers Available?
You must inquire about the range of portable restroom trailers offered by the rental company. Different events have different requirements, whether it's a family-friendly gathering or an adult-oriented affair. Ask about the available options and ensure they can provide trailers that meet your specific event needs. Remember to inquire about the amenities included, such as tissues, hand sanitizers, toilet flush systems, and hand washing units, which are essential for a luxury portable restroom experience.
What Is The Cost Of Luxury Restroom Trailer Rental?
As much as comfort and necessity matter, budgets cannot be surpassed. Discuss the pricing factors with the rental company. The restroom trailer cost can vary based on factors such as the number of units needed, the location of your event within Brookhaven, and the duration of the rental.
Is Your Portable Luxury Restroom Trailer Rental Local Or Cross Country?
You need to know if the luxury portable restroom trailer rental company operates locally within Brookhaven or covers a wider area. Opting for a local rental service provider ensures they have a better understanding of the area, including any logistical considerations or site-specific requirements. Moreover, their knowledge of the local markets may also reflect on the pricing.
What Type Of Events Does Your Luxury Bathroom Rentals Cover?
Trust works closely with expertise, so you need to find out if there's any chance of hiccups during rental. This will help you assess whether they are the right fit for your event. It also allows you to ask pertinent questions regarding the unique aspects of your event and ensure that the rental company can accommodate your requirements effectively.
Essential Considerations Before Hiring the Services of a Luxury Portable Restroom Trailer in Brookhaven
If you are hosting an event, then you need to think about certain factors before choosing a particular luxury portable restroom trailer.
Size of the Luxury Restroom Trailer Rental
Begin with a ballpark figure of the guests attending your event and choose a luxury restroom trailer that accommodates their needs comfortably. Our range of trailers at The Mobile Throne in Brookhaven offers different sizes to cater to both intimate gatherings and larger events, ensuring that no one has to wait in line for restroom facilities.
Consider the nature of your event and the specific requirements your guests may have. For formal events like weddings or corporate gatherings, our luxury restroom trailers with elegant interiors and amenities such as full-length mirrors provide a touch of sophistication. For outdoor events, features like air conditioning or heated floors can enhance comfort for guests in varying weather conditions.
And if you're still unsure, refer to our guide on 6 things to consider when choosing a Luxury Restroom Trailer.
Location of Your Event in Brookhaven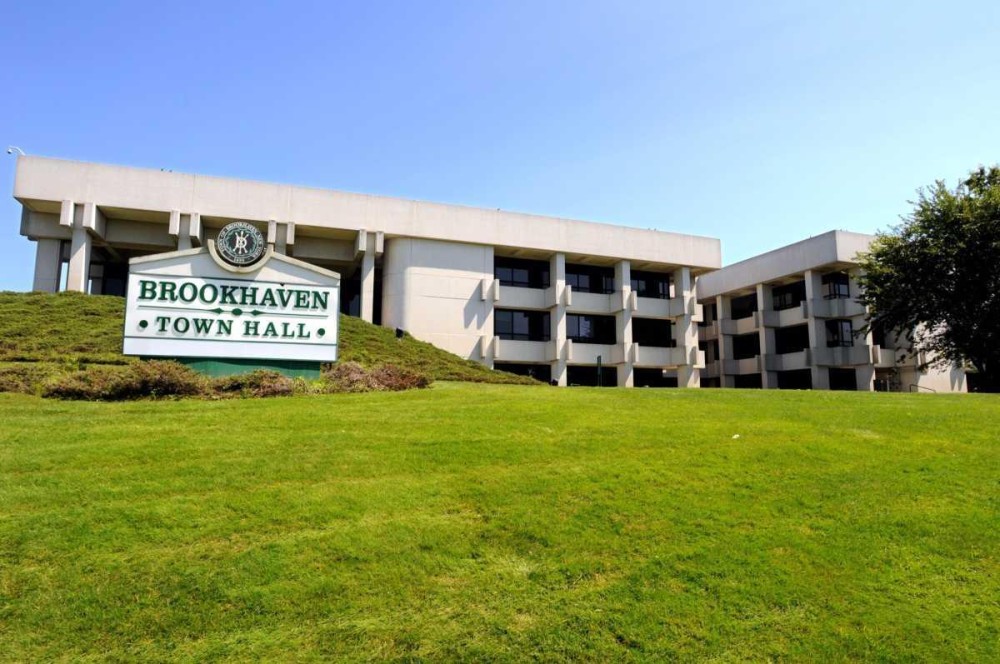 Choosing the right type of luxury portable restroom trailer depends on the specific location of your event within Brookhaven. Consider the perimeter and dimensions of the venue to ensure that the trailer can be easily transported, delivered, and set up without any logistical challenges.
Elegant Scenes Around Brookhaven That Employs Portable Restrooms
In Brookhaven and its environs, there are various exquisite event locations that request for outdoor washroom rentals, some of which are: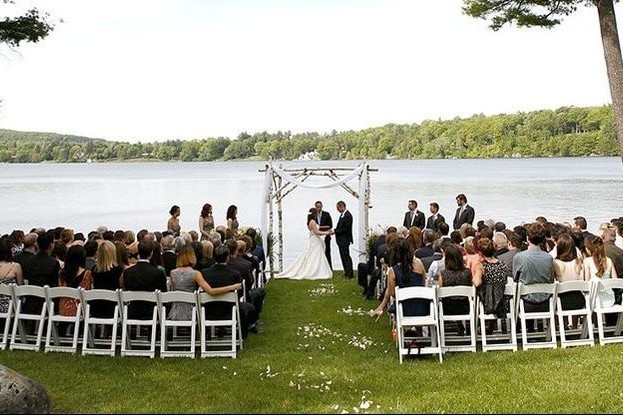 This venue is suitable for hosting weddings and other outdoor ceremonies with its beautiful waterfront. With a capacity of up to 300 guests, it is an excellent location to install executive portable toilets.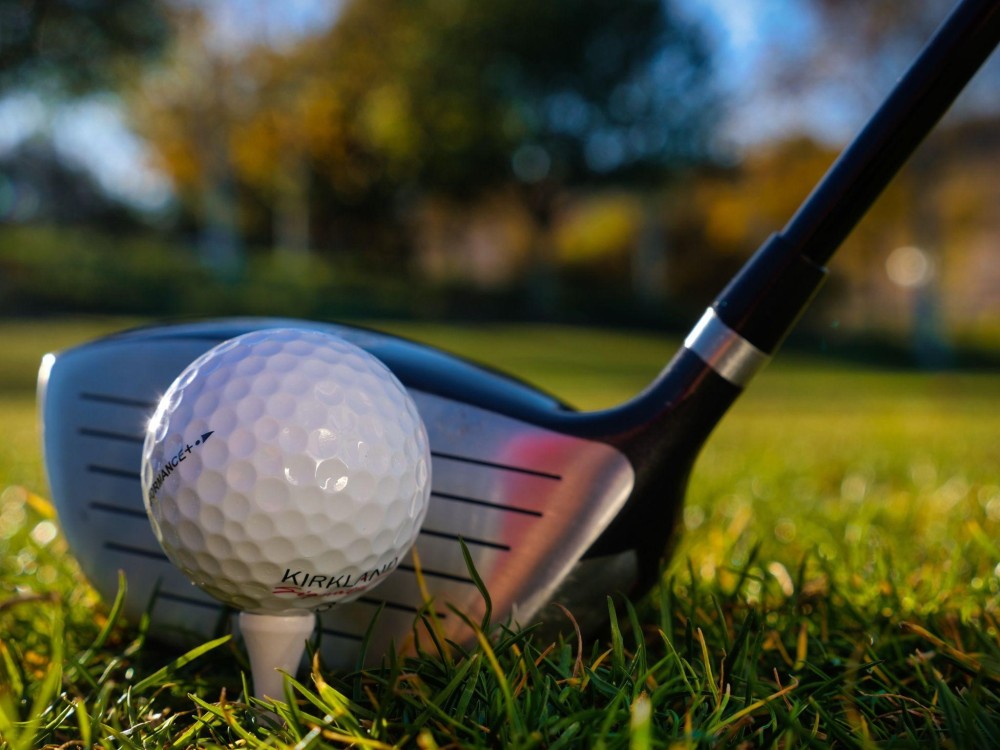 Tucked away along the majestic lake Ronkonkoma, the Beach Club Estate is a dream location for water lovers. Just 11 miles from Brookhaven, the scene of splendor can host up to 150 people.
Sitting on one of the long island's highest points, the wind watch gold and country club is a scenic spot for all types of events. This location can take up to 250 people, so it's a perfect location for bathroom shower trailer rentals.
4. Land's End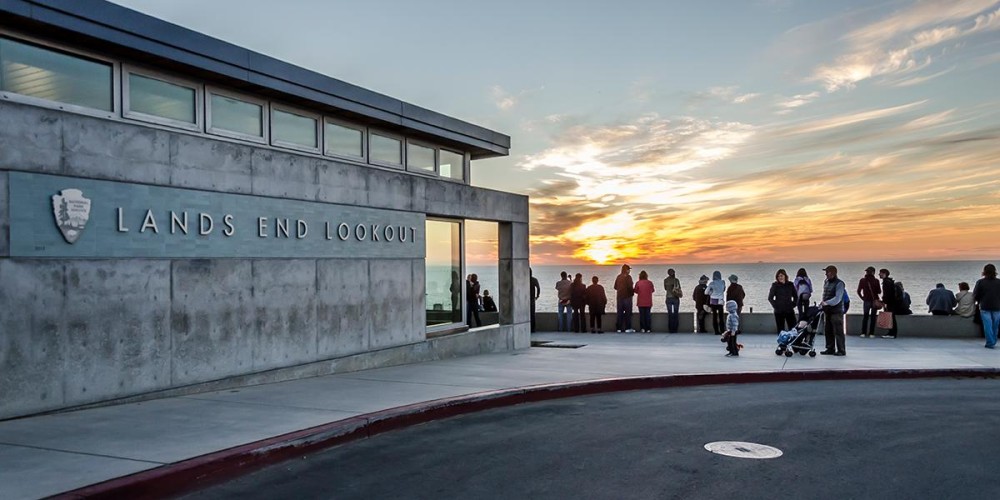 The land's end is just in sight of the great south bay, inches from Sayville town. The breathtaking water view and well-tended gardens is a great photographic spot for memory keepsakes. Just 9 miles from Brookhaven, it can take up to 750 guests, requiring a luxury porta potty for rent to take care of all attendees.
How Does Luxury Restroom Trailers Rental Work?
You don't need to get worked up about hiring a mobile restroom trailer. Renting a luxury restroom trailer from The Mobile Throne in Brookhaven, NY, is a straightforward and hassle-free process. It begins with a simple phone call or a visit to our website, where our friendly staff is ready to guide you through the selection of our luxury trailers. Each of our trailers is designed to cater to different event sizes and specific needs, from small intimate gatherings to grand-scale events. Once you've decided on the perfect trailer, you'll choose the rental period that suits your event timeline.
The price for our portable restrooms for rent depends on different elements, which include the number of days you will use them, your choice of restroom trailer and its facilities, and your preferred number of units. You can also reach out for consultation on making the right choice. It is often difficult when you're presented with a lot of options, but our team of experts will take that off your shoulder. Upon confirmation of your booking, we handle the rest. Our dedicated team will deliver the trailer to your event location, ensuring it is set up correctly and ready for use.
Throughout your event, our maintenance team is just a call away, guaranteeing a seamless and worry-free experience for you and your guests. Once your event concludes, we take care of the pick-up and cleaning, allowing you to focus on creating lasting memories. At The Mobile Throne, we believe that luxury is in every detail, and we're committed to providing Brookhaven with a superior portable restroom experience.
Essential Attributes of a High-End Restroom Trailer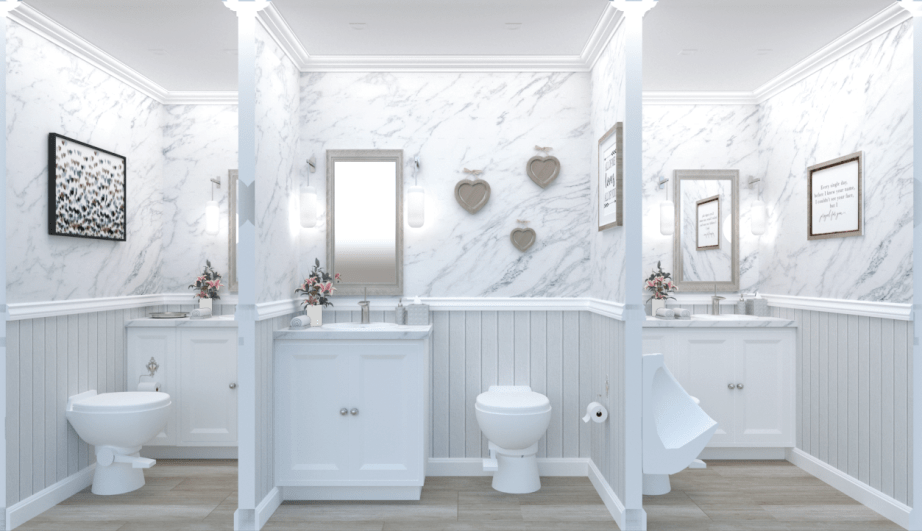 Thanks to SERPs, you can get your hands on various luxury restroom trailer services at your fingertips, however, you need to know exactly what you are spending your bucks on. A deluxe portable restroom must possess some amenities to fulfill its purpose.
We all love a good amount of space to relax and unwind while also easing ourselves, practically a place like home. Our luxury restroom trailers feature ample space, allowing guests to move comfortably and feel at ease. The Mobile Throne's trailers are thoughtfully designed to provide a generous interior layout, ensuring a luxurious and comfortable environment for guests.
We also understand the importance of creating a sophisticated ambiance. Our high-end restroom trailers boast upscale furnishings, including elegant countertops, high-quality fixtures, and luxurious finishes. These details enhance the overall aesthetic appeal and add a touch of elegance to any event.
Comfort is never overrated, regardless of the weather conditions. Our luxury restroom trailers are equipped with climate control features, including air conditioning and heating systems. This ensures a pleasant temperature inside the trailer, regardless of the season, so guests can enjoy a comfortable and inviting atmosphere throughout your event.
We believe in providing a truly indulgent restroom experience. Our luxury restroom trailers are stocked with premium toiletries, including soft and absorbent towels, high-quality soaps, and other essentials including for ladies. These thoughtful details ensure that guests feel pampered and attended to, even in a portable restroom setting.
So, when you search "luxury portable toilets near me" or "wedding bathroom rental in Brookhaven" you can know just what to expect.
Occasions that Benefit from Luxury Portable Restroom Trailer Rental in Brookhaven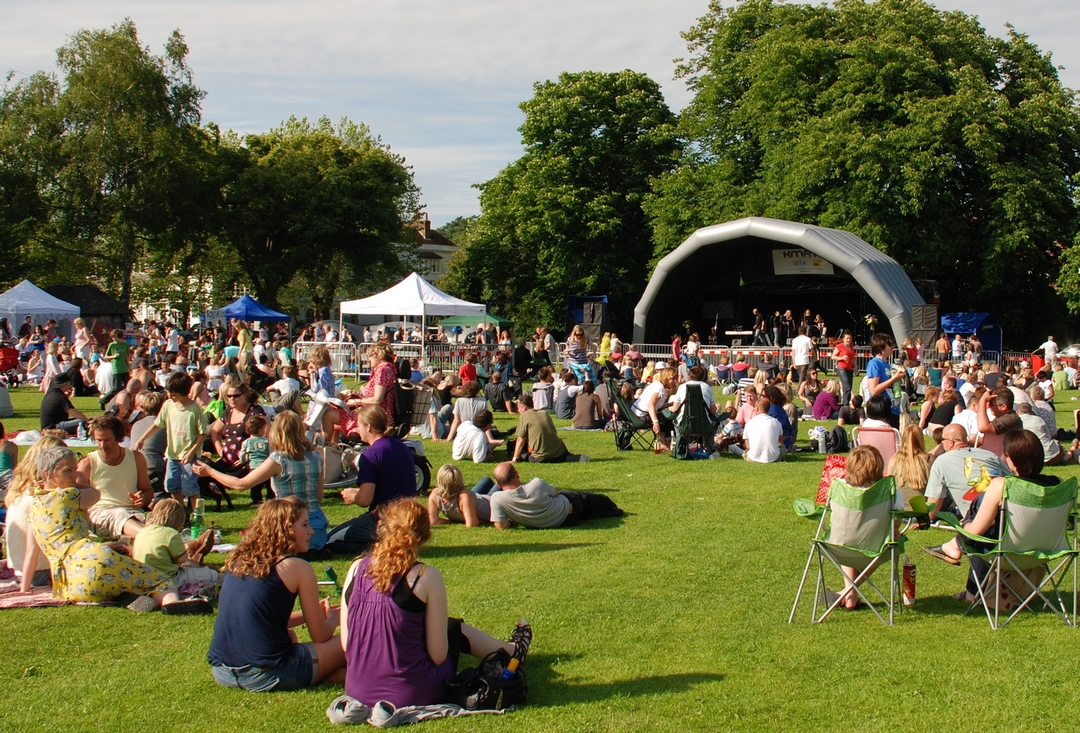 Is there an event in Brookhaven you think you think luxurious temporary restrooms cannot cover? You might be surprised. Our mobile porta potty trailers cater to various occasions like:
Sports amass the biggest crowds and the influx of people usually lets people resort to unconventional means of body waste riddance. Our luxury mobile toilets take care of all that. As you enjoy the thrill of every sporting moment, you can stay relaxed knowing your basic needs are catered for.
Weddings are the highlights of our adult lives and we always want to make them memorable to the last detail. No matter the size of the attendees, our classy portable potty rentals will ensure everyone is well taken care of.
Large-scale industrial coverages usually take a long time to complete projects, which usually involves frequent moving around. With high-end portable toilets from Mobile Throne, the cast can produce as efficiently as their viewers enjoy their movies.
Live musical stages usually attract thousands of people, and one thing is for sure, there will be lots of drinking. For unhindered musical experience, our portable rental service in Brookhaven will be on the call when you search for toilet for rent near me.
Brookhaven speaks trade shows with lots of hosted events happening yearly from all walks of life. Tycoons and business moguls can enjoy the elegant portable restrooms from the Mobile Throne and ensure a pleasant business experience.
And if you have something else in mind, check our event coverage list.
Considerations That Impact Your Luxury Restroom Trailer Rental in Brookhaven

When it comes to luxury restroom trailer rental in Brookhaven, there are several considerations that can affect the successful placement and operation of the trailers. Taking these factors into account ensures a seamless and efficient rental experience.
The topography of the event location is germane to the placement of luxury restroom trailers. If the venue is on a flat surface or has slopes and uneven terrain, you must choose a suitable location that allows for the stable positioning of the trailers. At The Mobile Throne, our experienced team can assess the topography of your event site to ensure proper placement and accessibility.
Luxury restroom trailers require a reliable power source for some amenities to function. There must be power outlets or the need for alternative power options such as generators. Our luxury restroom trailers at The Mobile Throne are designed to be adaptable to different power sources, ensuring that your event in Brookhaven has the necessary power supply for a seamless restroom experience. In the absence of power, the services of our deluxe portable toilet rental will be limited to the basics.
Water is needed in a portable outdoor toilet rental. Maybe for flushing toilets or providing handwashing facilities, having a nearby water source is essential. The Mobile Throne offers luxury restroom trailers that can be connected to a water source, ensuring proper functioning and hygiene throughout your event
Advantages of Choosing a Luxury Portable Restroom Trailer Rental Company in Brookhaven
The word "luxury" is surely not a cliche when considering upscale portable bathrooms in Brookhaven. You want your interest piqued when you search "luxury bathroom rentals near me" and the following will do just that:
Elevated Comfort and Convenience
Opting for a luxury portable restroom trailer rental in Brookhaven offers the benefit of elevated comfort and convenience for your event. With spacious interiors, climate control features, upscale furnishings, and premium amenities, these trailers provide a VIP portable restroom rentals experience that surpasses traditional portable toilets. Your guests will appreciate the convenience of having a high-end restroom trailer right at your event location.
Enhanced Hygiene and Sanitation
Health is hygiene and it is never stressed enough. A key advantage of choosing a luxury portable restroom trailer rental company is the enhanced hygiene and sanitation it offers. The trailers are equipped with features such as flushing toilets, handwashing stations with running water, and premium toiletries. The rental company ensures regular cleaning and restocking, maintaining a high standard of cleanliness throughout your event.
Customizable Options for Different Events
Indoor portable toilet rentals come in various sizes and configurations, allowing for customization to suit different types of events. This versatility ensures that you can offer a tailored restroom solution that aligns with the nature and scale of your event.
Professional Delivery, Setup, and Removal Services
When you choose a luxury portable restroom trailer rental company in Brookhaven, you benefit from professional delivery, setup, and removal services, just like at The Mobile Throne. We handle the logistics, ensuring that the trailers are delivered to your event location, properly set up, and ready for use. After the event, we efficiently remove the trailers, saving you time and effort. This professional service allows you to focus on other aspects of your event while ensuring a seamless restroom experience for your guests.
How Much Does it Cost to Rent a Portable Toilet in Brookhaven?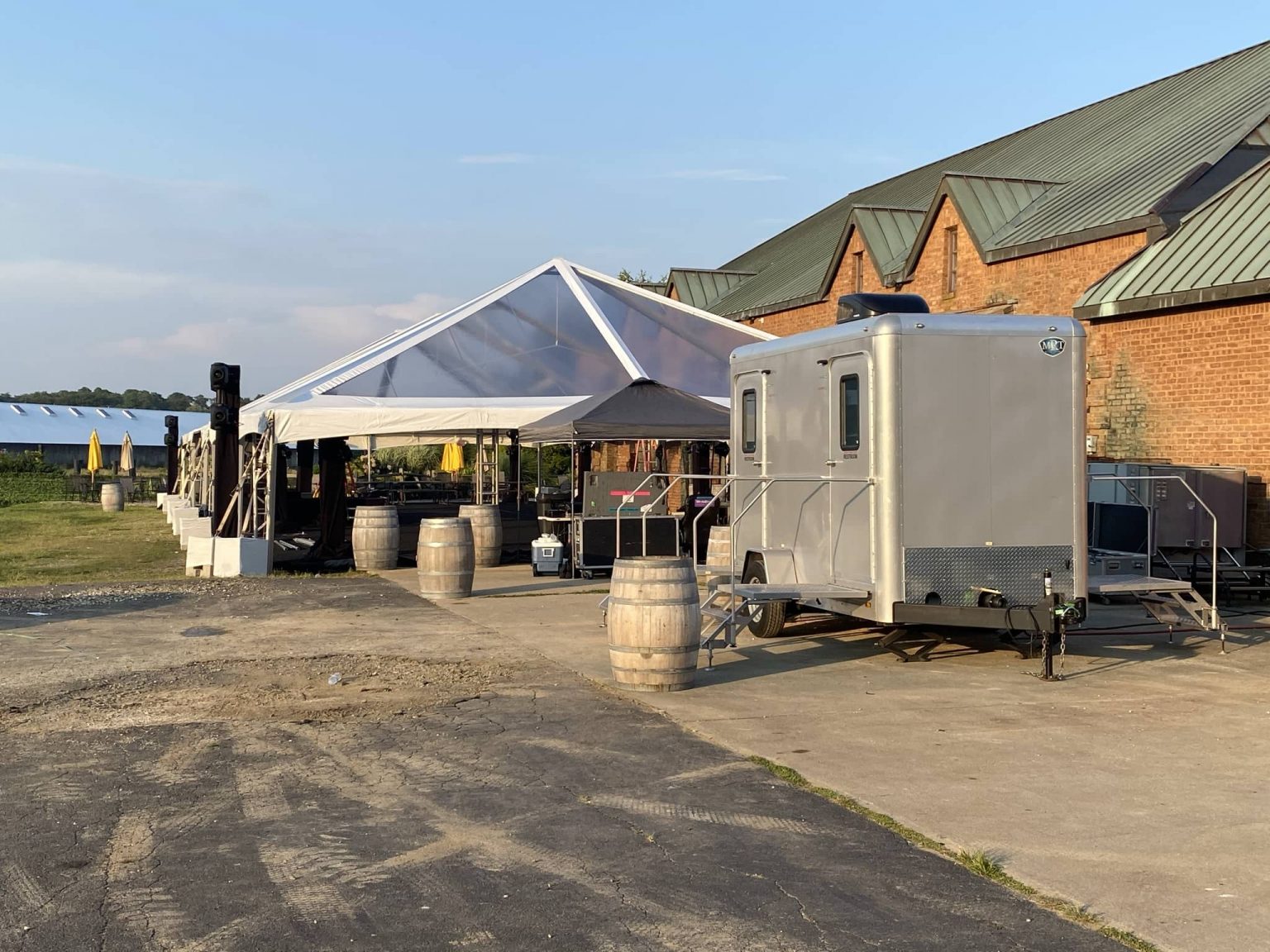 The portable restroom trailers prices for rent depend on several details:
How far we have to move around to set up our outdoor bathroom trailers in your preferred location will reflect on the pricing.
Resources of the Porta Trailer
For every extra function you request in a fancy portable bathroom, it affects the price.
How long you will also be using the luxury toilet trailers would determine the total cost at the end. You may also benefit from discounts for extended usage.
Number of Restroom Trailer
Expanded events usually require multiple rentable bathrooms. We have various options at the Mobile Throne: we have the 2-station cabin and 2-station comfort. These can cater to just a few event populations, roughly around 150 persons. For bigger crowds, explore our 3-stations, 4-stations, and five-station luxury. Our three stations are available in 3-Station luxury series, 3 Station Pro series, 3-Station wedding series. We also have our 4 Station compact series and 5 Station luxury series.
Portable Toilet Rental Provider in Brookhaven, NY
As a premier portable toilet rental provider in Brookhaven, NY, The Mobile Throne takes pride in offering top-notch portable toilet solutions for various events and occasions. Our services extend to a wide range of locations within and around Brookhaven, ensuring that residents and businesses have access to high-quality portable toilets.
Areas We Cover in Brookhaven, NY
Bellport

: A charming village known for its rich history and picturesque waterfront, Bellport is a popular destination for outdoor events and festivals.
Blue Point

: Situated on the South Shore of Long Island, Blue Point is known for its serene beaches and vibrant community.
Brookhaven

: The heart of our service area, Brookhaven is a diverse town with a range of events and gatherings.
Calverton

: Calverton, with its scenic landscapes and agricultural heritage, is a popular location for outdoor weddings and events.
Centereach

: As a bustling hamlet in Brookhaven, Centereach hosts various community events and celebrations.
The Top Luxury Portable Restroom Trailer Rental Option in Brookhaven
For a portable luxury bathroom trailer in Brookh