The town of Islip is a densely populated place in Suffolk County, New York. It offers places of cultural interest, such as theatres, museums and historic buildings. An example is the historic and beautiful Bayard Cutting Arboretum State Park. For your outdoor events you can get the best portable luxury trailer rentals in Islip.
Interesting Places in the Town of Islip
Islip Beach is one of the places to visit in Islip. There is a sandy beach and a large playground. There are outdoor showers and a gazebo. Due to the number of people who visit Islip Beach, hiring luxury portable toilets is essential.
Another place in Islip is the Seatuck Environmental Association. It is for preserving and preserving Long Island wildlife and the environment.There are several other interesting places in the Town of Islip like the Seatuck National Wildlife Refuge, Heckscher State Park, Beaver Dam Park - Islip Owls and Islip Art Museum.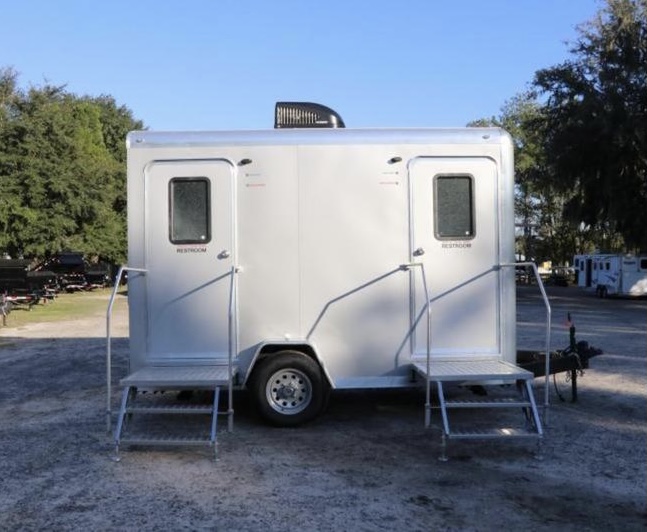 Things to Consider When Renting a Luxury Portable Restroom Trailer Rentals in Islip
When choosing a company to rent a luxury portable restroom trailer in the Town of Islip, New York, here are a few details to keep in mind:
Credibility and Trustworthiness
Find a company that has earned a stellar reputation for reliability in providing clean, well-maintained luxury portable restroom trailers. You can learn about a company's dependability and professionalism through testimonials, research, and personal referrals.
Before deciding on a company to rent from in the Town of Islip, it is a good idea to check for the rates of their different restroom trailers, their services, and availability. Look for a company that has been serving the area for a while, comes well recommended, and has a variety of high-end portable toilets for any kind of event. By checking the different options, you can pick the best one for your gathering.
It is best to consider several options for using a portable luxury restroom trailer in Islip, New York. You should look for a company that can accommodate your specific trailer requirements and suits your event.
The company you choose should be able to provide the size of mobile toilet you require, from a two-station model for an intimate gathering to a bigger model for a more substantial occasion.
Cleanliness and hygiene in portable toilets are of the utmost importance. Ensure the company you hire places a premium on cleanliness and hygiene like The Mobile Throne. Get details on how the trailers are cleaned and maintained to avoid any health or safety issues at your event.
You can check out the high-end restroom trailers in person to see what you think of their quality and cleanliness. In addition, you can request close-up pictures of the trailers. This is a crucial step in ensuring the consistent high standard of our trailers.
Functions and Convenience
Think about the luxury portable restroom trailers and all the amenities they offer. It's highly recommended that you rent a portable luxury restroom with all the amenities of a home restroom, such as a flushing toilet, running water, air conditioning, good lighting, and a spotless, pleasant interior. Ensure the trailers are comfortable and are soothing as possible for the visitors.
Help Desk & Support for Customers
It is adviceable to assess the standard of help and service provided by the company to its customers. How do their responses fare when tested?
Will they provide help with setting up, cleaning up, and dealing with the event itself? Pick a company that cares deeply about its customers and provides answer to your questions like The Mobile Throne.
Costing and Legal Bindings
Analyse the rental rates and policies of the company. Compare prices of the luxury bathrooms to make sure you're receiving the best deal possible.
It's also important to read the rental agreement carefully so you know what to anticipate about delivery and pickup, the length of your rental, and any fees you may incur.
Taking these factors into mind when settling on a company to rent a luxury portable restroom trailer from in the Town of Islip may help guarantee a pleasurable and stress-free event for you and your guests.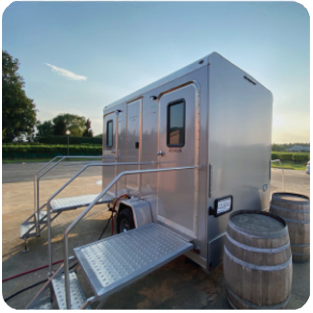 What You Need to Know Before Hiring A Luxury Portable Restroom Trailer Rental Services in Islip
Here are a few things to consider before investing in a company that provides luxury portable toilets in Islip, NY
Find out your event needs
Firstly, you need to assess the needs of your event and the number of people you expect to see. Before renting a mobile restroom, consider the length of the event, the type of event, and whether or not you will need additional furniture or accessories. This information can be used to explain exactly what you need to others.
Ask about shipping and installation
Contact the rental company to discuss shipping, installation, and damage clause. Ensure they can get to your event and that the time and place works for them. Find out how trailers are typically configured and whether or not utilities such as electricity and water will be required to be provided.
Find hidden costs & payment options
It is best to know the total cost of renting, including any extra fees you may incure in the course of your event. Ask about any hidden costs, such as damage/cleaning fees. Ensure payment terms are reasonable and fit the event timeline and budget.
Verify licenses and invoices
Ensure the luxury trailer bathroom you are considering has the necessary insurance and meets all of Islip's regulations. This protection policy will protect against financial loss in the event of an accident during the rental period.
Read and sign the contract
Verify the rental agreement provided by the company. Pay attention to the cancellation terms, restrictions, and obligations outlined in the contract. Don't sign anything until you have a chance to read through and ask questions.
Carefully considering and analyzing these factors will allow you to make an informed decision about luxury portable toilets in Islip. If you first look for a reliable rental service, it will make the day easier for you and your guests.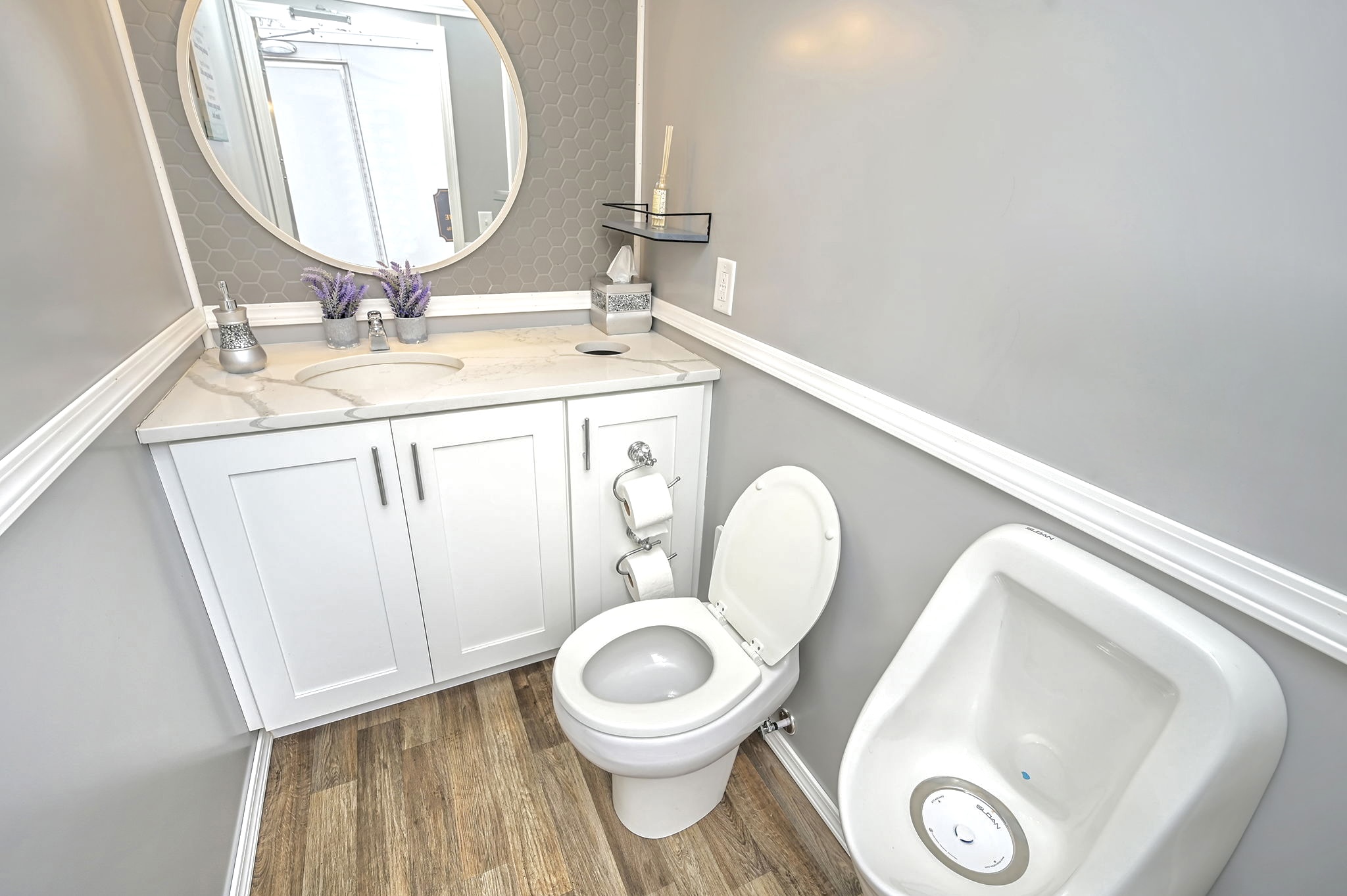 The Benefits of a Reliable Location and Staffing for Your Outdoor Events
The success of the program is reliant on direct care and attention to the site. The following are some of the most important arguments in favor of providing and maintaining portable toilets at venues.
Well-equipped portable restroom trailers are an asset to any event, as they provide an enjoyable guest experience. Visitor satisfaction increases when such things as bathrooms, garbage cans, and sidewalks are kept clean and maintained. Adequate funding to support and maintain events ensures that they are clean and functional for all guests.
Health and safety concerns
Proper maintenance of portable event toilets is essential to guest safety. Cleaning and disinfecting toilets and garbage cans are essential to prevent the spread of disease and to keep people healthy. Another benefit of waste management and disposal is that it helps avoid potential health and safety issues. Additionally, venue support staff can quickly address any maintenance issues or safety concerns that may arise during the event, ensuring that everyone present is seated in a safe and supervised environment.
Hosts are responsible for compliance with health, safety and environmental regulations. Investing in regular maintenance and assistance with portable restrooms is a way that event organizers can ensure their facilities are always in compliance with local regulations. All necessary safety precautions must be taken, and specific procedures for recycling and waste disposal must be adhered to strictly. Following the guidelines will help keep the event running smoothly and keep you out of legal trouble.
Status and Representation
The venue and portable toilets reflect the excellence of the program organisers. A clean porta toilet brings professionalism and attention to detail, elevating the overall image created by an event. However, poorly placed toilets can send the wrong message and frustrate guests. If event organizers prioritize venue cleanliness, attendees will remember.
Effectiveness in operations
The event would run smoothly with well-equipped and supported portable toilets. Site maintenance and support specialists will ensure that any problems are dealt with promptly so that the event runs as smoothly and completely as possible.
Managing restroom conditions and meeting guest needs allows event organizers to focus on other aspects of event management. Proper site management and support are essential to ensure guests have a good time, prevent accidents, comply with regulations, maintain reputation, and increase productivity. Spending on maintenance and support services can increase the overall success and impact of the meeting.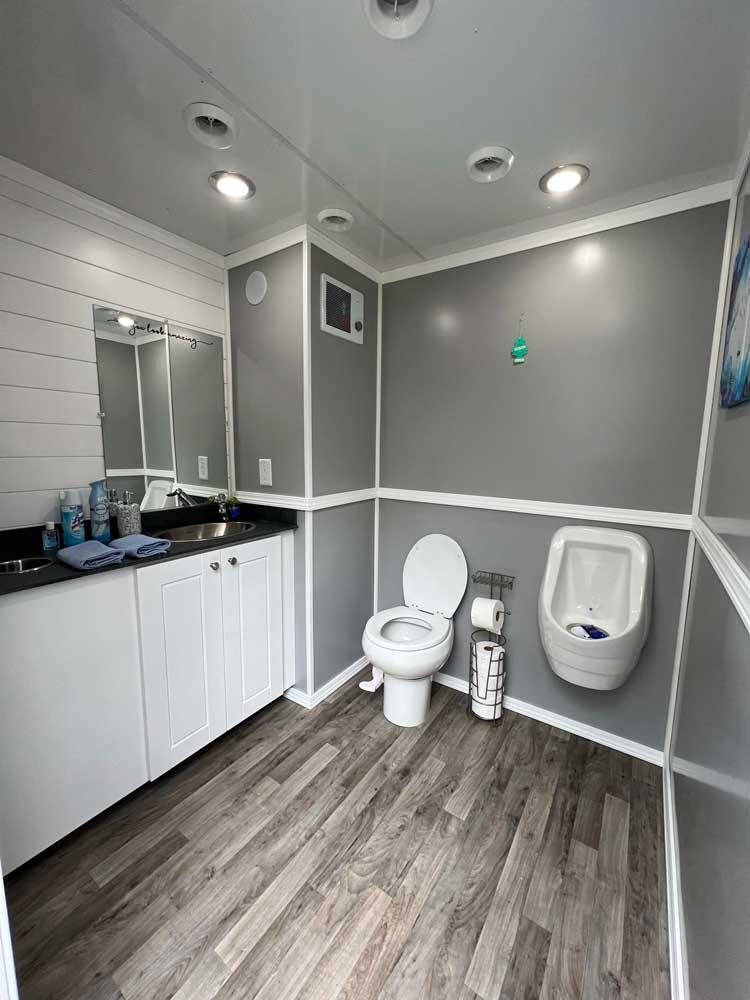 The Varieties of Portable Luxury Restroom Trailers
The Mobile Throne is a company that offers Luxury restroom trailers for events and gatherings. The Mobile Throne gives you a variety of choices when it comes to portable toilets.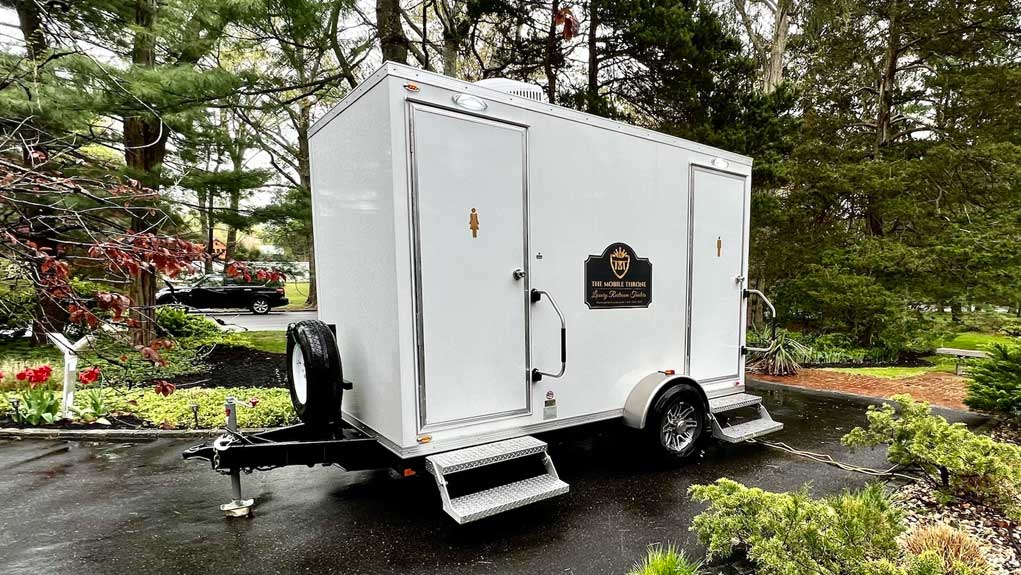 The Two-Station trailer is a compact and cosy option. Two separate rooms provide toilets, sinks, mirrors, and windows for privacy. This elegant and convenient lavatory trailer is ideal for private gatherings.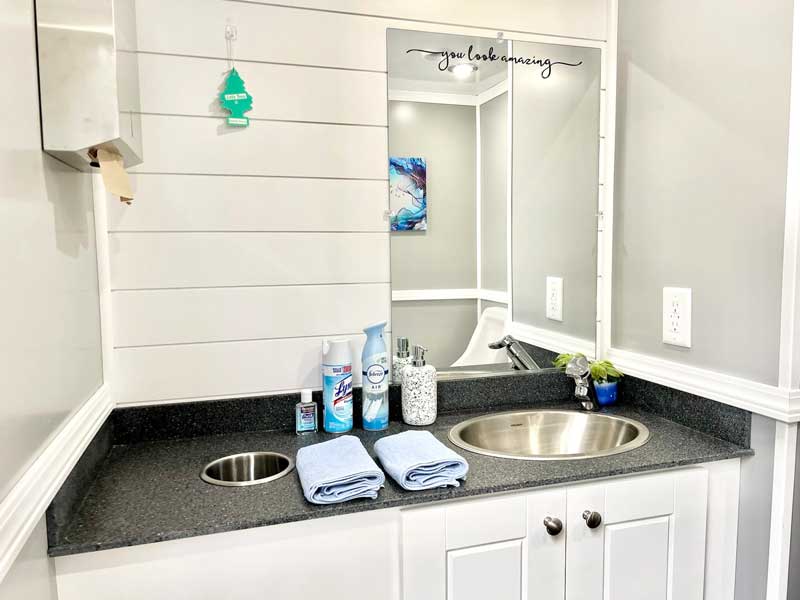 The Two-Station Comfort Trailer boasts all the features of the standard Two-Station trailer and more. The trailer's plush interior design and high-end equipment make for a more comfortable stay for guests.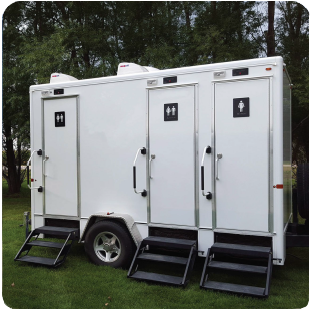 Three-station luxury trailer restrooms are spacious and have soft, plush seating. All three of the stalls are sleek and contemporary, with individual climate control, ample lighting, toilets that flush, and attractive sinks with hot and cold running water. The trailer's high-end restroom facilities make it perfect for parties of moderate size.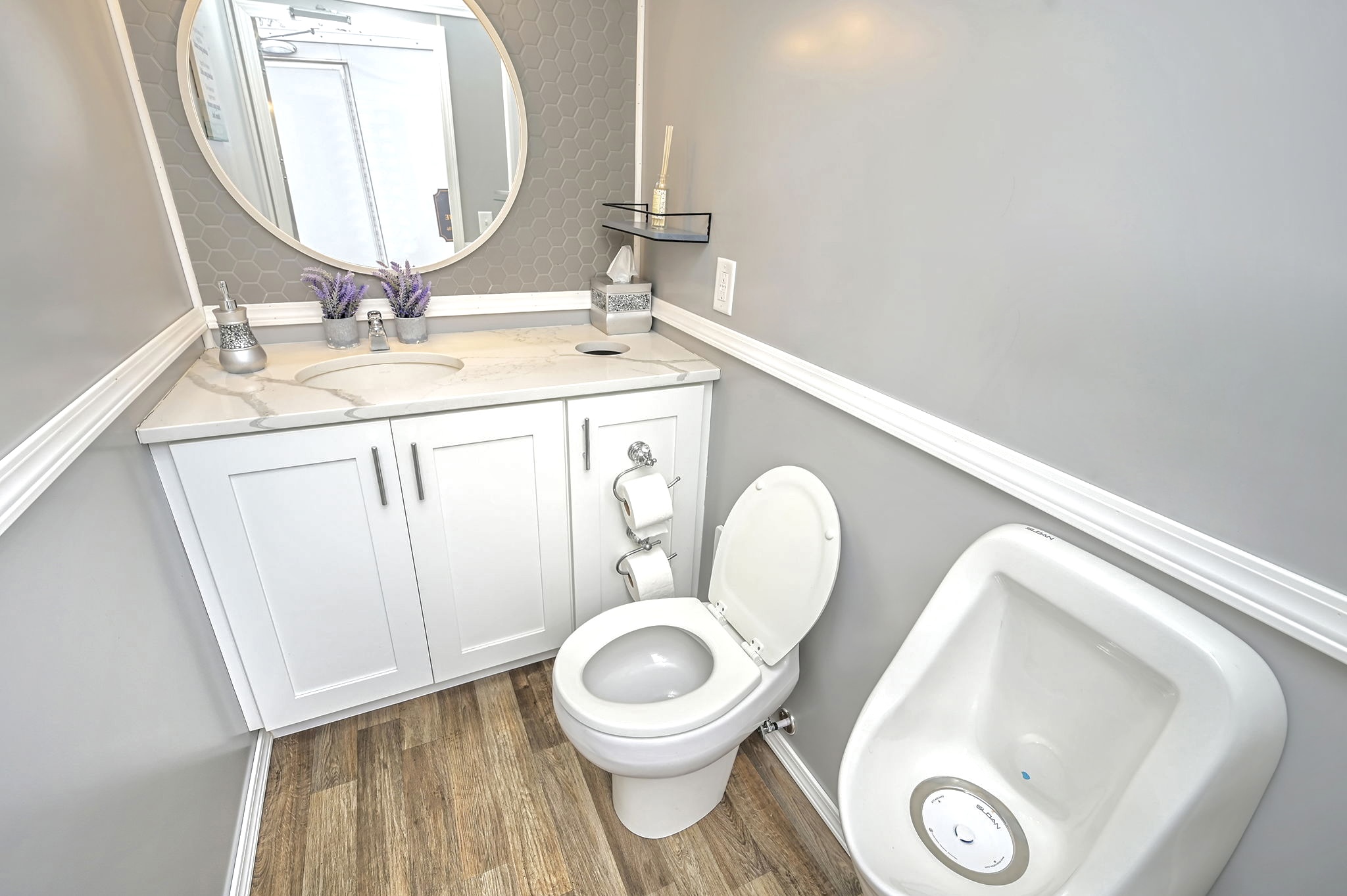 It's a high-end mobile restroom solution for special events like weddings. A flush toilet, vanity with a mirror, air conditioning, and modern fittings can be found in each of the three individual cubicles. The trailer's restrooms are sure to be a hit with the bride, groom, and guests of the wedding.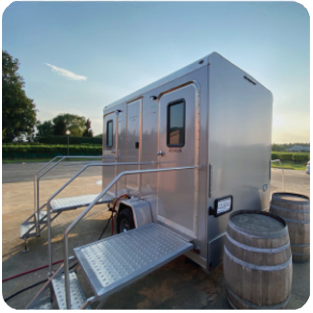 This is a fantastic choice if you have limited space. Each of the four changing rooms has a flush toilet, a washbasin with both hot and cold running water, a window for ventilation, an air conditioner, and a tasteful design. This caravan provides an easy and affordable solution for lavatory needs at any formal event.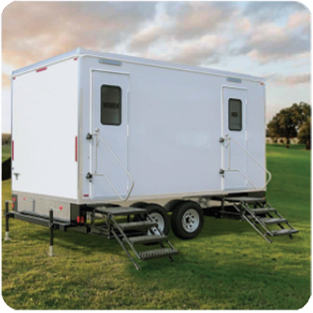 The Mobile Throne's largest, most luxurious lavatory trailer includes five individual stalls. Five individual stalls are at your disposal, each of which is furnished with a high-end flush toilet, a lovely washbasin with running water, air conditioning, several windows, and a tasteful design. Large groups won't have to compromise on comfort due to this trailer's ample sanitary facilities.
If you're planning an event and want to impress your guests with a five-star bathroom experience, The Mobile Throne has a wide selection of high-end portable toilet trailers to pick from for your outdoor wedding.
The Essentials of a Luxury Portable Restroom Trailer
Luxury portable trailers should have the basics to give people the greatest experience possible. Here are a few of the key characteristics:
Interiors that are roomy and well-decorated
A high-end mobile toilet should have spacious interiors so that customers can easily access all areas. Look for mobile restroom trailers that have nice extras like indoor plumbing and sinks. The entire atmosphere should exude friendliness and comfort.
The toilets in these mobile luxury restrooms are flush toilets, not the regular porta-potties. When it comes to hygiene and convenience, using a flush toilet is far more in line with visiting any public lavatory. For your convenience, they both provide touchless flushing technology and foot-operated flushing mechanisms.
Guests will appreciate being able to wash their hands in running water at the sinks provided in high-end mobile restrooms. You might want to think about getting a trailer that includes a hot and cold water connection. High-quality fixtures and enough hot water at each washbasin are essential for thorough handwashing.
Regardless of the weather, your guests will always be comfortable and dry inside a high-end restroom trailer. Some examples of this would be air conditioning in the summer and heating in the winter. No matter what the weather is like outside, you can always feel at ease indoors due to climate control systems.
To protect the safety of their users, portable toilet trailers must be equipped with adequate lighting and mirrors. Make sure there is adequate lighting in the portable toilet. In addition, mirrors should be hung so that users can check their appearance before and after using the restroom.
Superior Fittings and Materials
High-end materials and fittings are standard on luxury trailers, both for their aesthetic value and their durability. You may make your home more presentable by sprucing up the flooring, countertops, fixtures, and cupboards. The quality of the luxury experience can be improved by paying close attention to detail when selecting materials and fittings.
Guests of luxury lavatory trailers may be treated to an array of high-end amenities. Televisions, stereos, accessories with Bluetooth connectivity are all in this category. These amenities aren't necessary, but they would make using the restroom trailer much more pleasant and interesting.
Renting a restroom trailer for your event that is equipped with these essentials will allow you to give your visitors a restroom experience that matches the calibre of your event or occasion.
Events in the Town of Islip That Needs to Rent a Luxury Portable Restroom Trailer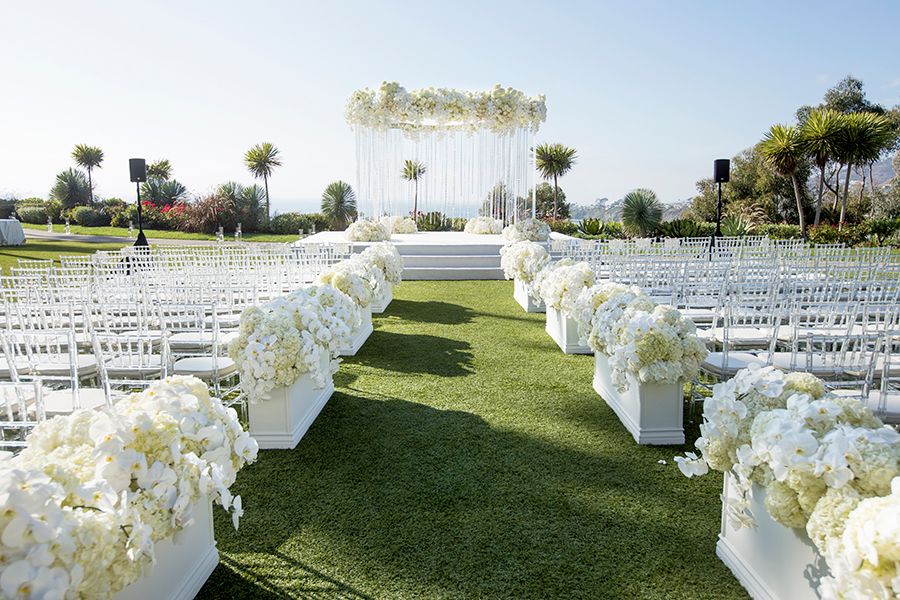 Guests at a wedding or reception should be able to use luxurious amenities like private restrooms. The newlyweds and their guests may relax knowing that restroom facilities are not a concern due to the rental of high-end portable restroom trailers.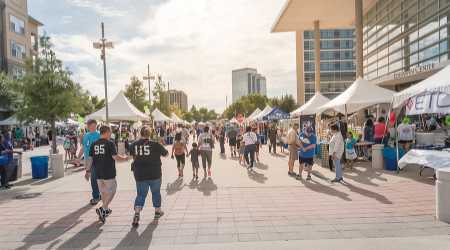 Large numbers of individuals frequently attend business conferences and other similar events. Having high-quality mobile restroom facilities, like those found in luxury portable restroom trailers, ensures that guests can remain comfortable and joyful during the event.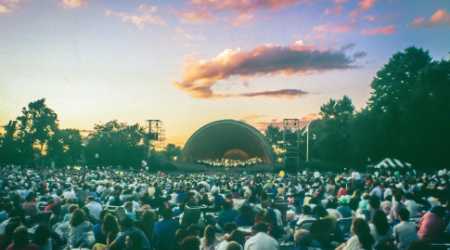 Outdoor concerts and festivals are a staple of the town of Islip's way of life. Luxury portable toilet trailers can be rented by event planners to guarantee that all attendees have easy access to facilities that are both clean and well-equipped.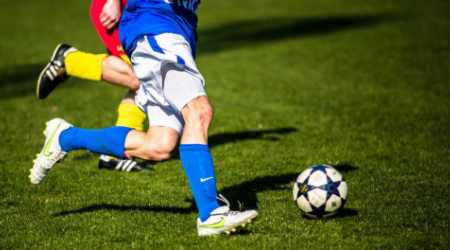 Porta-potty trailers are an indispensable part of any sporting event, whether it is a local tournament, a competition on the beach, or a regional championship. By providing clean and comfortable restrooms for attendees, observers, and staff, they ensure a pleasant and healthy environment.
Fundraising Dinners and Events
Charity galas and fundraisers attract a wide range of notable people and substantial financial support. Having high-end portable toilet trailers available for guests is a classy touch that will have them all smiling.
Celebrations and Gatherings in the Open Air
An outdoor celebration in the town of Islip, whether a wedding, a reunion or a simple barbecue, could be substantially improved by the addition of a luxury portable toilet trailer. The convenience, privacy, and high-end amenities they offer are appreciated by guests.
The Town of Islip, New York, Luxury Portable Restroom Trailer Service Providers
The Best Place to Rent A Luxury Portable Restroom Trailer in the Town of Islip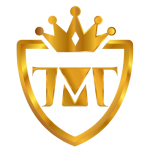 For unparalleled luxury portable toilets, look no further than the Mobile Throne. With an unwavering commitment to luxury and comfort, the portable throne sets the standard in the industry.
Our well-designed units boast beautiful craftsmanship, combining aesthetics with practical functionality. Once you step inside our restroom trailers, and you are greeted with a beautifully decorated interior that reflects the high standards fittings, finess and finishes.
We understand that plush seating, climate control and ambient lighting ensure every outing is a true pleasure. Additionally, we prioritize cleanliness, using the latest cleaning technologies and strict cleaning protocols.
From intimate events to formal events, our bespoke collections cater to all occasions. You can count on The Mobile Throne to elevate your event experience with unparalleled luxury and convenience.
Let Us Add Excellence to Your Luxury Portable Restroom Trailer Rental
Do you need to rent a luxury mobile bathroom in Islip for an event? If so, your search is over because you found us at The Mobile Throne.
We pride ourselves on providing the cleanest portable toilets on the market, coupled with prompt and courteous service. We indulge in nothing less than being the ultimate luxury and comfortable restroom provider.
Fill out the contact form on this page, call us at (516) 500-3113, or email info@themobilethrone.com to learn more about our services and receive a free quote.