Top 15 Outdoor Wedding Venues In Long Island NY
09/10/23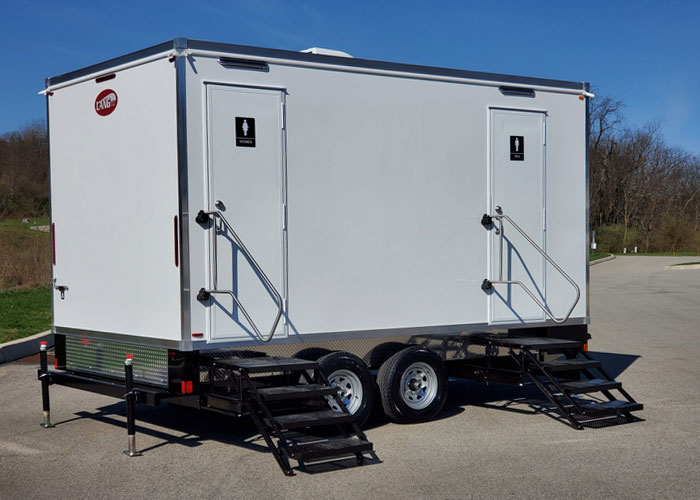 It's no surprise that Long Island, New York is home to wedding venues with all shades of beauty, vibrancy, and splendor. Whether you're planning a local or destination wedding, Long Island offers a stunning range of romantic outdoor locations and amazing wedding reception venues. Here, you'll discover the top outdoor wedding venues in Long Island, NY to inspire your special day.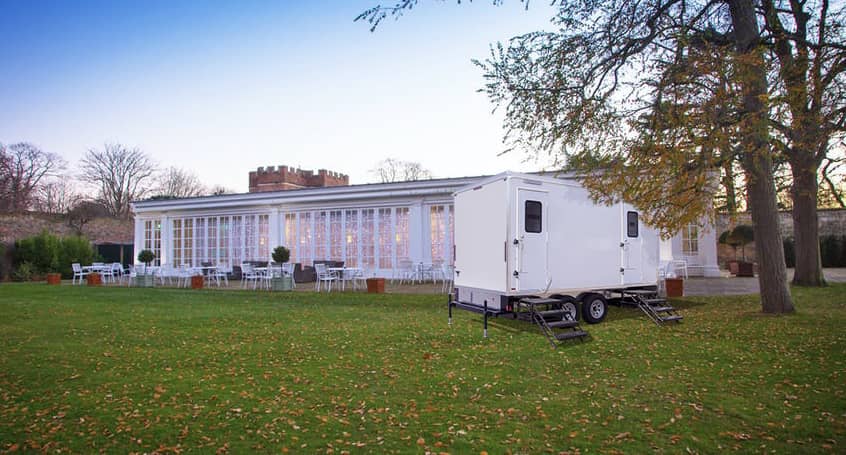 Long Island welcomes you with its endless waterfront, pristine beaches, lush gardens, wineries, vineyards, seaside antique stores and historic venues. In addition to the curated locations, we've included reasons why you need a restroom trailer rental for outdoor weddings in NYC. Because what's a wedding venue without top-notch facilities? So, let's get to it!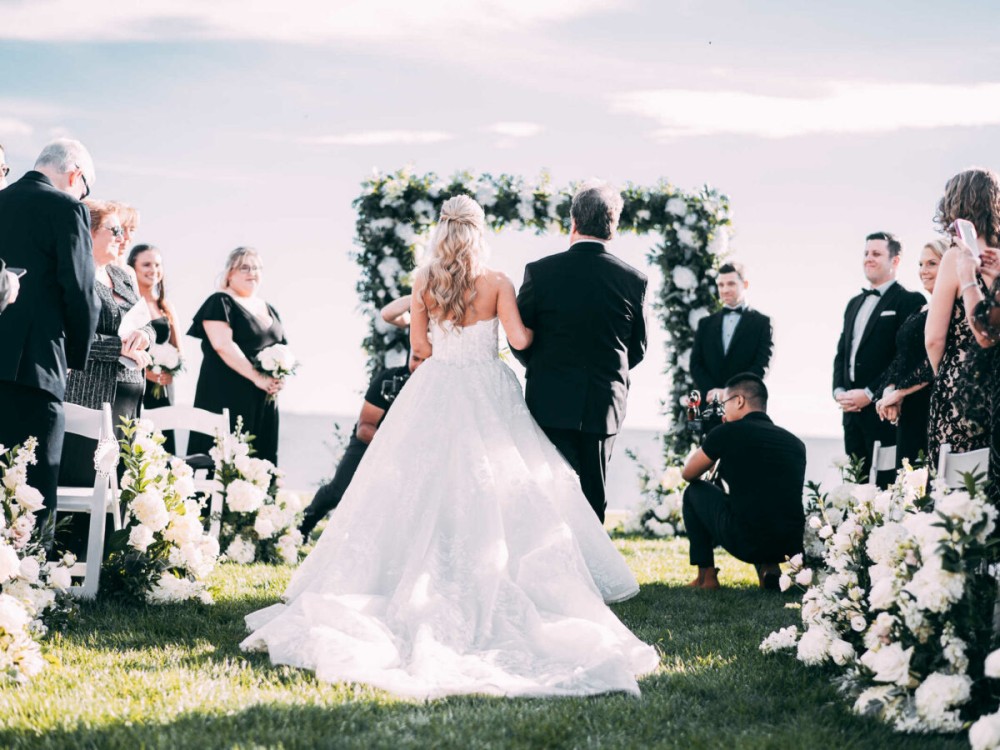 1. Habour Links Golf Course
Habour Links in Port Washington, NY has a charming landscape with prairie grasses, water features, and woods that are perfect for autumn photos. In addition to the great prices, there is plenty of space to accommodate up to 250 guests. The location offers extra elegance beyond the golf course, with picturesque landscapes and beautiful backdrops any photographer would wish for. As Summer winds up, its Hampton tent equipped with fans is ideal for cocktail hour.
2. Beach Club Estate
Nestled on the shores of Lake Ronkonkoma, the Beach Club Estate offers a panoramic vista for wedding guests. The blue skyline, beautiful gardens, romantic sunset, and splendid waterfalls make it a picture-perfect background. Your guest will be in awe of the lush garden reception, and roundtables around a fountain overlooking the waters as the setting sun casts its shadows. However, having nearby restrooms is a must in locations like this. The Mobile Throne provide Luxury restroom rentals in New York, which are perfect for beachfront weddings.
3. Chateau La Mer
Chateau La Mer offers you a quaint outdoor experience with the most magnificent panoramic waterfront view. Located on the Great South Bay, the enchanting views make it difficult for your photographer to choose. It features a landscaped garden, waterfalls and beautiful flowers as they begin to turn golden in autumn. It boasts of exceptional service and can accommodate up to 320 guests. Except for the absence of covered outdoor space, the venue is a perfect location to tie the knot.
4. Peconic River Herb Farm
The venue invites you to a landscaped atmosphere with well-tended shrubs, flowers and gardens. The extended rustic view of the gardens makes it a suitable location for your wedding as autumn does its magic on the flowers. Peconic River isn't just an herb farm but also offers a scenic riverfront view. Although there is no indoor event space, it has a covered outdoor space (greenhouses and patios) which is ideal for a simple yet intimate gathering. This space is perfect for you if you aren't expecting more than a hundred guests.
5. The Crescent Beach Club
Situated on Long Island's North Shore, the location offers you a panoramic ocean vista – a sight which remains dear to couples. One great feature is the ability to schedule virtual tours, a perfect option for those planning a destination wedding. If you've always dreamt of tying the knot on the sparkling white sands of a beach, consider Crescent Beach Club.
The splendor of the blue waters, sands and palm trees provides your guests with picture-perfect scenes. The Crescent Beach Club ticks all the boxes of a magnificent wedding venue except that it doesn't provide on-site accommodation. Regardless, it has the capacity for more than 300 guests.
6. The Pavilion at Sunken Meadow
The Pavilion at Sunken Meadow is a delightful beachfront property for couples ready to make their vows in style. It's one of the most incredible sights on North Island with Long Island Sound and other scenic outlooks in view. The venue can accommodate up to 300 attendees but doesn't have on-site accommodations. It is also a perfect spot to renew your vows and celebrate long years of togetherness with your spouse.
7. Windows On The Lake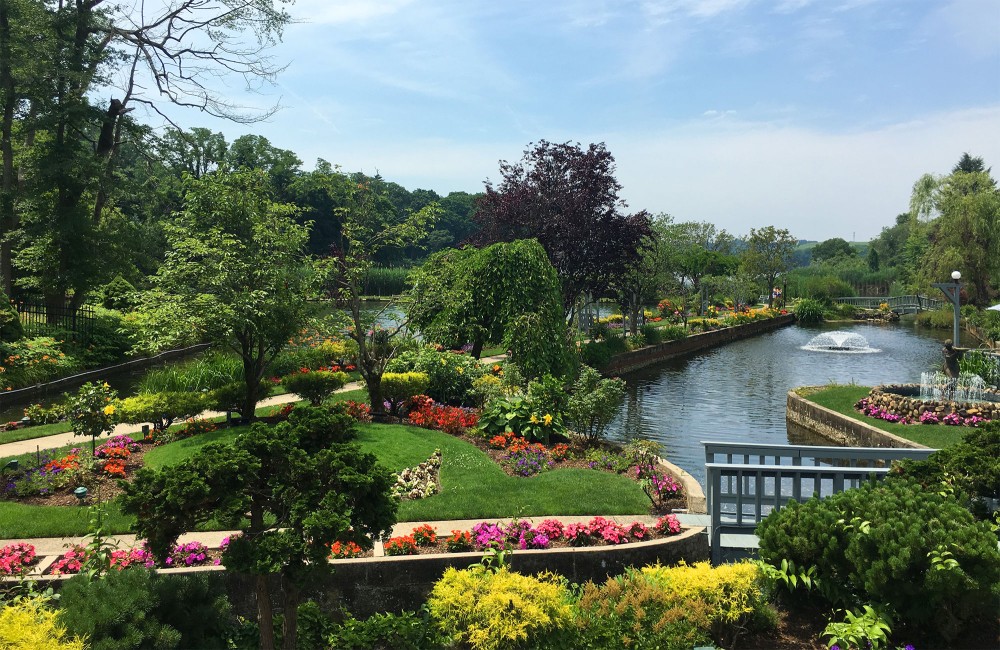 Windows on the Lake offers enjoyable waterfront views to allure your guests and create lasting memories. Its attractive gardens are a beautiful backdrop for wedding photographs. Suppose your party lasts till nighttime while celebrating your union, Windows on the Lack has a state-of-the-art lighting system.
However, the only exception is that music can't exceed 4:00 a.m., which isn't too bad considering you just wedded. You can also take advantage of the winter closeout deals currently offered by the venue. Hence, you can rent our portable restroom trailer during winter in NYC.
8. East Wind Long Island
Located on Long Island near the Long Island Sound, the venue caters to your dream wedding by providing a high-class experience. For outdoor wedding lovers, East Wind Long Island offers a whole new experience with its vine, flowers, gardens, and water features. The venue promises a rustic yet stunning backdrop for wedding pictures with its lush gardens and magnificent features. It is ideal for both intimate and large guests as it accommodates up to 1,000 guests.
9. Riviera Waterfront Mansion
The venue, located near the Great South Bay, is an ideal spot for an open-air wedding. Rivera waterfront Mansion with its beautiful pristine waterfront view and well-kept fields provides a wonderful backdrop for photos. It can host a maximum guest of 300, while you create lasting memories with an enthralling seaside view.
Guests can savor the setting sun view while sipping cocktails on the patios outside. Although Rivera Waterfront Mansion is one the most sensational outdoor wedding venues in Long Island, NY, it doesn't offer on-site accommodation.
10. Majestic Gardens
The venue welcomes you to a rustic atmosphere with lush gardens for your outdoor ceremony. If you love natural and simple backgrounds with beautiful scenery, consider Majestic Gardens. It is the most suitable setting for your wedding with onsite parking and valet services to create a seamless experience.
The venue can host up to 350 guests and boasts a stunning view of water fountains and year-long seasonal natural beauty. While planning your special day, bear in mind that majestic gardens do not offer covered outdoor space. At least, it affords you the beauty of picture-perfect natural scenery.
11. 360 East at Montauk Downs
Set in Montauk, Long Island, 360 East at Montauk Downs is a waterfront venue with panoramic views for your special day. Beyond the golf course, the venue gives your wedding guests an unparalleled view of Montauk Lake and the Montauk Lighthouse. You could choose to exchange vows on their sandy beach. The venue also features an outdoor terrace where your guests can enjoy their cocktail hour.
Its overall picturesque features landed it a spot on our top outdoor wedding venues in Long Island, NY. Apart from the absence of a covered outdoor space, the 360 East at Montauk Downs provides quite a spectacular experience.
12. Essex Club
Experience the landscaped view of the Essex Club with well-tended gardens and panoramic views as you walk the aisle. It is located in Brentwood on Long Island with a romantic, nature-themed scenery perfect for wedding pictures. There are stone patios outside where you and your guests can sip on cocktails while enjoying the outside view. Essex does not have on-site accommodation but is capable of hosting up to 250 wedding guests. Little wonder it is one of the finest outdoor wedding venues in Long Island, NY.
13. Sea Cliff Manor
Sitting upon a hilltop with the Long Island Sound in view, Sea Cliff Manor offers a spectacular wedding and reception experience. Alongside its elegant outdoor terrace with well-kept gardens, you can choose to tie the knot on either their waterfront or garden setting. The outdoor terrace plus the veranda is also an ideal place for cocktail hours. The venue can host up to 250 wedding guests although it has no provision for on-site accommodation.
14. The Vineyards at Aquebogue
The picturesque venue is located in Long Island's wine country Aquebogue. If you're dreaming of a rustic fall wedding, look no further than the Vineyards at Aquebogue. It features lawns, trees, water ponds, waterfalls, and flowers that create a natural-themed backdrop exuding romance and charm ideal for pictures. The venue can accommodate up to 250 guests even though it has no provision for on-site accommodation. The Vineyards at Aquebogue remains one of our favorite outdoor wedding venues in Long Island, NY.
15. Leonard's Palazzo
Conveniently situated in the Village of Great Neck on Long Island, Leonard's Palazzo offers you eclectic views of timeless vintage (like 17th-century inspired murals) and elegant modern styles. With flowers like Tulips giving the premises a distinct look, the venue features pristine gardens and a white-sand patio ideal for cocktail hours.
It boasts of a Grand Ballroom for your reception, and a private bridal suite amidst many other impeccably beautiful venues for hosting intimate gatherings. It has no covered outdoor space, but there is nature's beautiful warmth and cover. The premises are well-maintained and it's no surprise it made our list of top outdoor wedding venues in Long Island, NY.
Why you need restroom trailers at your outdoor wedding venues in Long Island, NY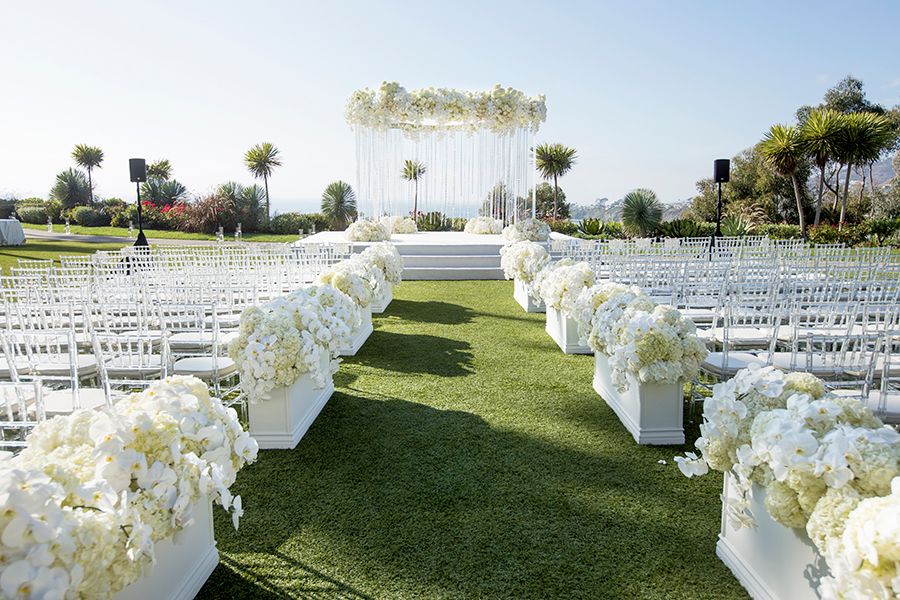 You may wonder if there's any need for Luxury bathroom rentals for weddings in Long Island New York. It's advisable to have a portable toilet rental on site for weddings, as the nearest facility may be quite far. So, renting luxury restroom trailers for wedding receptions in NYC will provide immediate restroom solutions to your visitors. Here are reasons why you should consider portable bathroom rentals for outdoor events in NYC:
You can Personalize Luxury Restroom Trailers for Outdoor Events
There are several innovative ideas for Portable toilet rentals for weddings. You can convert these high-end portable toilet trailers into a photo booth, gaming area or even your bridal suit. We can set that up for you with sufficient prior notice.
Luxury Toilet Rentals Are Ideal for all locations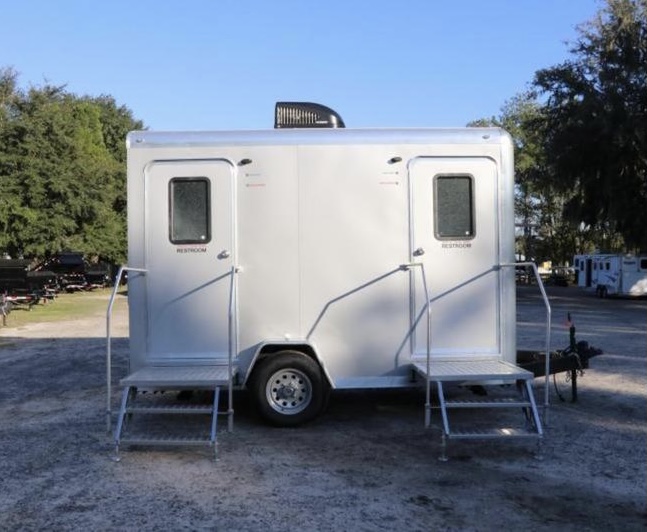 No matter how far away your location is in NY, the Mobile Throne can accommodate your needs. Even if your event is for weeks, we also offer long-term luxury restroom trailer rental in NY. We can also provide long-term restroom trailer rental for wedding receptions in NYC.
Restroom Trailer Rental is Ideal for all Weather Conditions
Restroom trailer rental is perfect for all weather conditions. Renting Bathrooms for outdoor events in NYC in summer season could save your guests from intense outdoor heat. This is because our restroom trailers are fitted with air conditioners. During winter, restroom trailer rentals could be your best bet because it has all the comfy of a regular home restroom like a heating system and warm running water.
Bathroom Trailers Are Suitable for All Event Sizes and Kinds
Now you also don't have to worry about the size of your guests because we have a variety of restroom trailers to cater for your needs. Whether you need a holiday luxury restroom trailer rental or a movie set restroom trailer, the Mobile Throne has got you covered. Perhaps your event will run for weeks or even months, We also offer long-term luxury restroom trailer rentals.
Restroom Trailer Rentals Are More Hygienic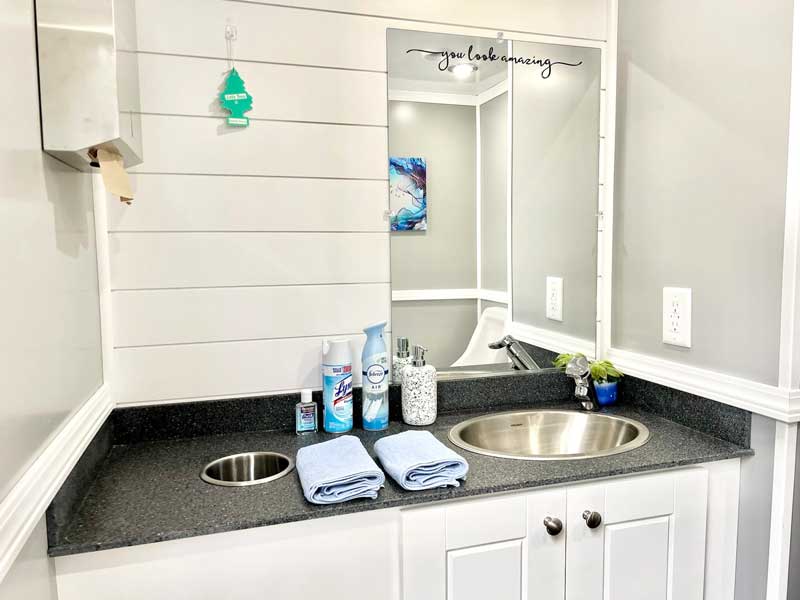 Restroom trailers are much more hygienic than luxury portable toilets. Our luxury restroom trailer goes through 3 routine stages of cleaning, sanitization and inspection to ensure they are tidier than a seemingly nice porta-potty.
Portable Bathrooms Add a Touch of Luxury to Your Wedding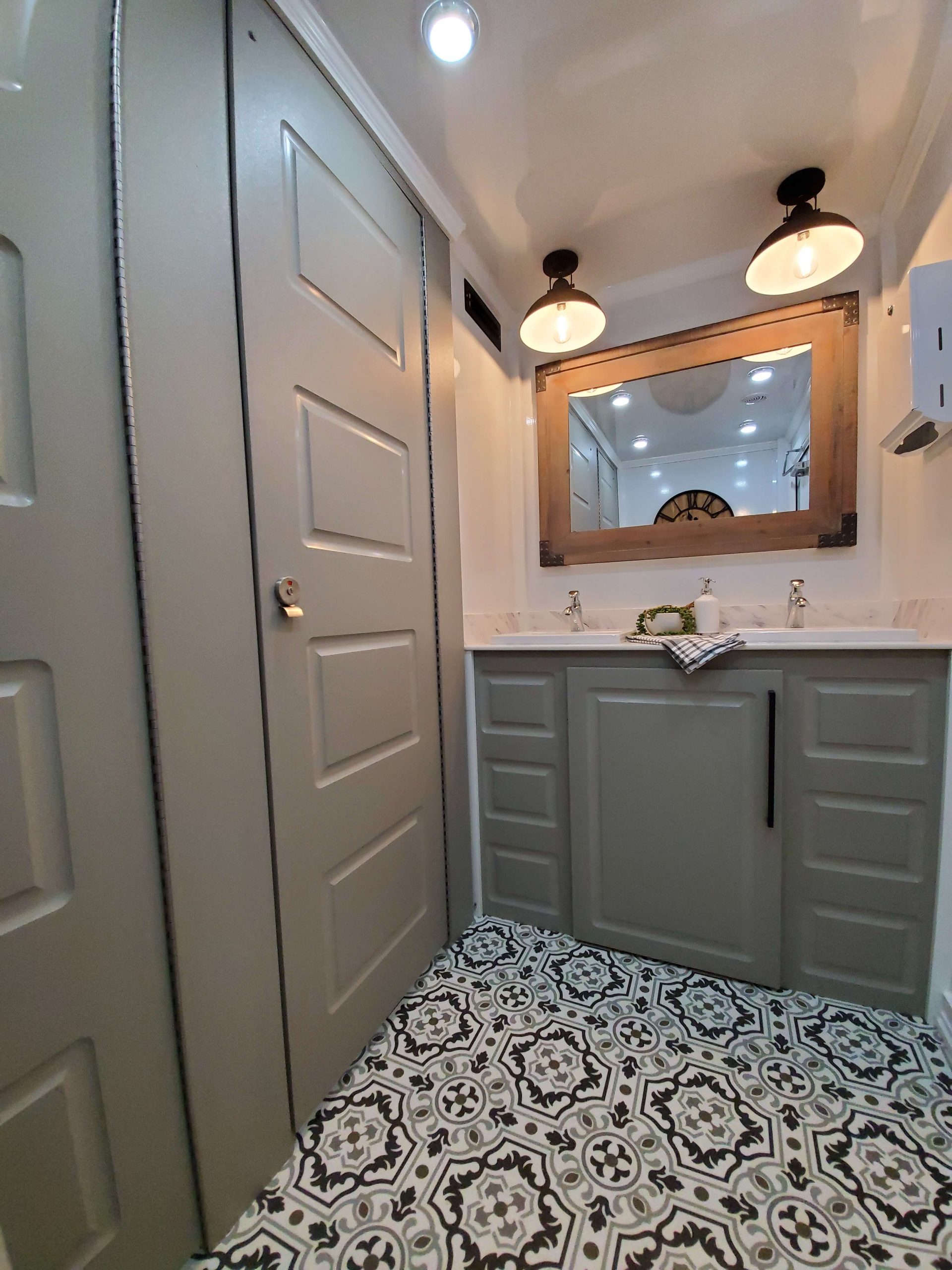 Portable restroom trailers add a whiff of luxury to your wedding. Our Bathroom Trailers for Rent have features that make your event more colorful. Such features include ceramic flush toilets, warm running water, sinks, mirrors, great lighting, heating, and air conditioning. The smallest bathroom trailer rental is much more elegant than even a fancy porta-potty.
Portable Bathrooms Are Comfortable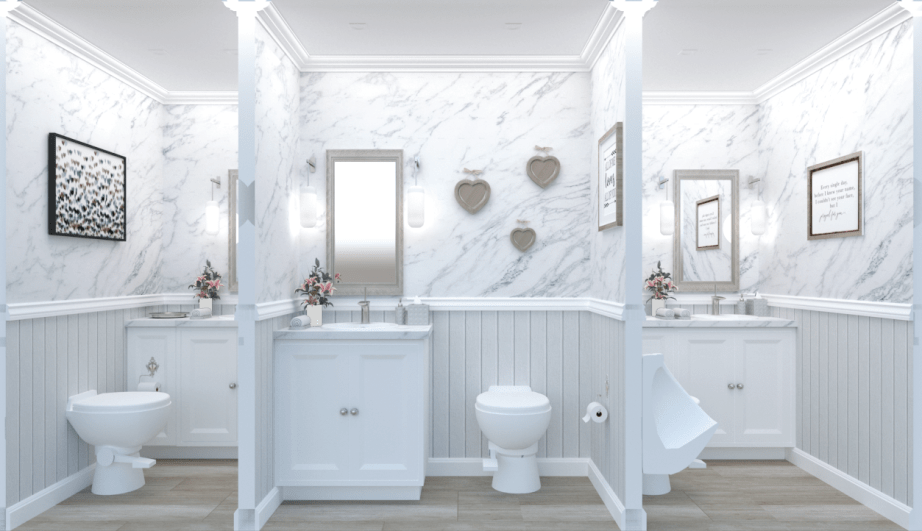 Luxury Portable Restrooms give you ample privacy, space, and comfort typical of a home restroom compared to an outdoor restroom. The mobile throne has various comfortable bathroom trailers for rent that can cater to all your outdoor events. We've been in the business of providing outdoor restroom trailers for weddings in Long Island, NY for so long. Our clients testify that we are professionals.
Luxury Restroom Trailers or Luxurious Porta-Potty? Which Is Better for Outdoor Wedding Venues in Long Island, NY
Many wedding guests dread using porta-potty restroom rentals to become easily filthy after much use. But that's not the case with restroom trailers. Besides, it's a buzzkill to have to use a porta potty having dressed up looking takeaway for a party. So if want your guests to have a fantastic time at your wedding a fancy porta-potty won't cut it. You need to make your guests comfortable and at home. Long Island city porta toilets usually lack the aesthetics, class, hygiene and sturdiness that a restroom trailer will provide.
If you haven't entered on the Google Map Search - "luxury restroom trailer rental near me" you may be tempted to think that restroom trailers aren't near you. Porta-potty rentals in New York aren't the only available options, you can also opt for luxury restroom trailers.
Should I Choose a Porta-Potty Rental Near Me?
Although Porta Potty rental prices are inexpensive, renting just a single restroom trailer can be the difference between a remarkable event and an unremarkable one. Besides, renting our simple 2-station cabin series luxury restroom trailer isn't neck-breaking. However, depending on your budget you may opt for luxurious porta-potties.
How Many Bathrooms Do You Need for 50 Guests?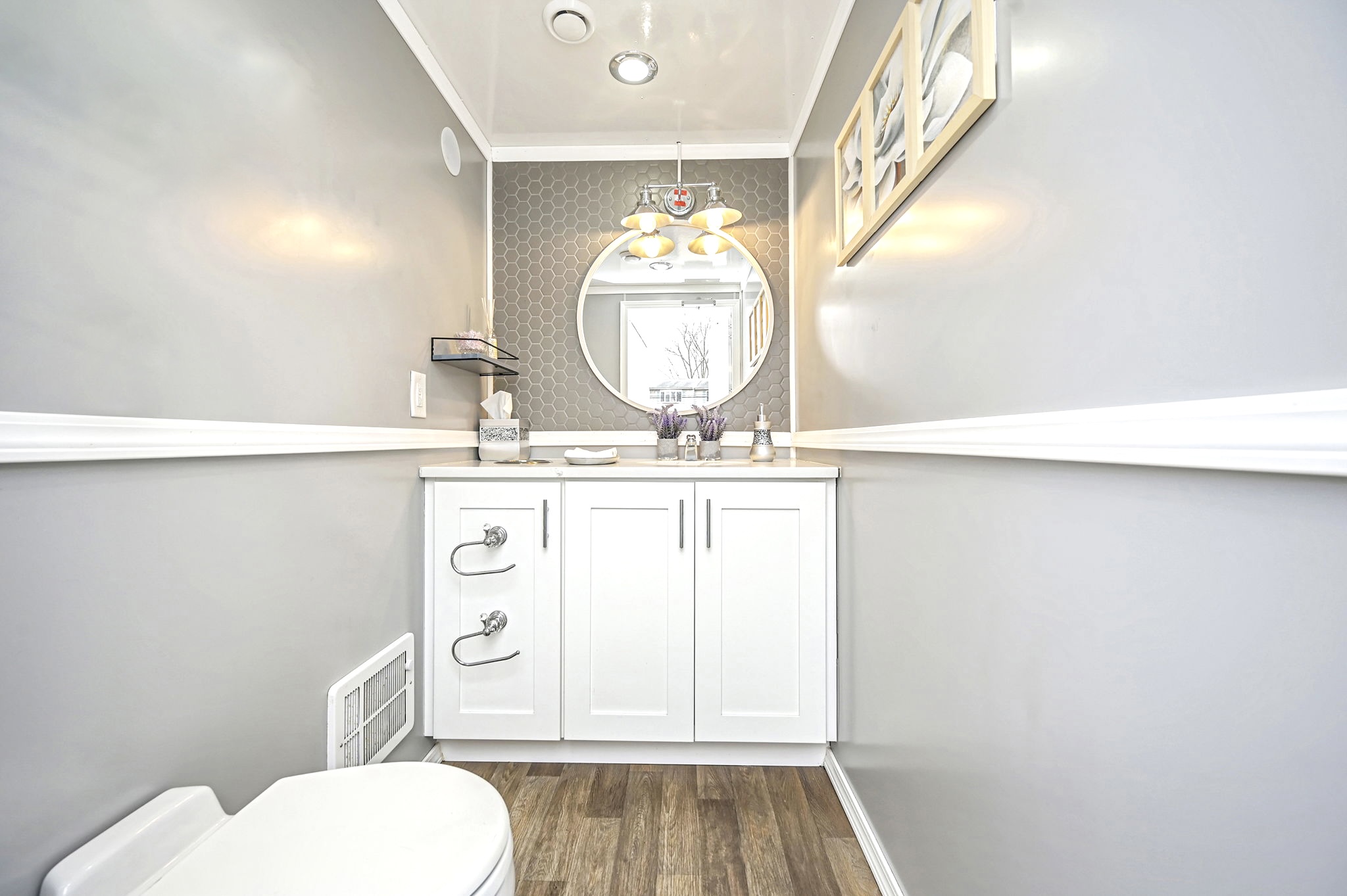 You can rent a restroom trailer for outdoor weddings with a large number of guests. We usually recommend one portable restroom trailer for 35-50 guests. However, the ratio of ladies to men should be considered.
Contact us if you need help choosing Restroom rentals for Outdoor Weddings in NY. We can recommend the most suitable restroom trailer to rent for your event. If you want to add a little more luxury and aesthetics to your special day, you should consider our 3-station Luxury Series Restroom Trailer or 5-station Luxury Trailer.
It can be a bit of a hassle to find the right location for your big day. But there's no doubt Long Island, NY has a lot to offer in terms of open-air outdoor wedding venues. Thinking ahead while planning your big day will save you a lot of stress and last-minute adjustments. Properly evaluate your needs way before the event, including the kind of luxury bathroom trailer you need, the number of attendees, and event decor.
The Mobile Throne provides the best Portable Luxury Restroom Trailer in Long Island New York
With our top-notch restroom trailers, your guests need not worry about how much drink they've had. Get a quote today or schedule our luxury restroom trailers for outdoor events by calling us on (516) 500-3113. Alternatively, fill out our online contact form and we'll get right back to you!
Return