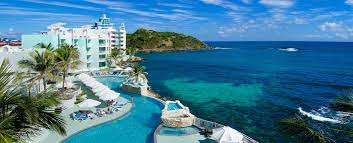 Renting luxury portable restroom trailers can be beneficial in several situations in Oyster Bay. Oyster Bay is a lovely town on New York's Long Island. You can find numerous seaside parks and landmarks there. There is a rich cultural life there because of the many exciting venues to visit and hold activities. Theodore Roosevelt, the 26th President of the United States, once called Sagamore Hill in Oyster Bay his home. Tourists can enjoy the sights by perusing the museum's displays.
Oyster Bay is home to several intriguing places to explore, including the Planting Fields Arboretum State Historic Park which spans over 400 acres. The Oyster Bay Railroad Museum is another fascinating attraction, showcasing the city's extensive railroad history. In addition to its picturesque view of Oyster Bay Harbour, the Theodore Roosevelt Memorial Park features picnic spots, playgrounds, a swimming beach, and a boat launch.
Being a prime location for weddings, business gatherings, and festivals means increasing demand for luxury portable restroom trailer rentals.
The Importance of Luxury Portable Restroom Trailer Rentals for Events and Occasions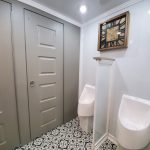 Renting a luxury portable restroom trailer ensures you and your guests have a great time in Oyster Bay, New York. The following are examples of why they are significant at events:
Enhancing Guest Experience
You increase your guest satisfaction when you provide portable toilet trailers. You also enhance the comfort and convenience of your guests by the availability of such amenities as ample space, climate control, hot and cold running water, and modern, aesthetically pleasing fittings. They also provide extras like mirrors, lighting, and music to help set the mood for your Oyster Bay events in style.
Convenience and Accessibility
Possessing luxury portable toilet trailers at gatherings guarantees all attendees easy access to restroom facilities. These trailers can be strategically placed throughout the arena to provide convenient access to restrooms, negating the need for limited restroom facilities or long lines. It saves time and effort by reducing the need to wander searching for a toilet. Having luxury portable restroom trailers close to the action ensures that attendees can relax and take it all in without missing a beat.
You must prioritize sanitation and hygiene at all times. In this aspect, luxury portable restroom trailers shine. The availability of clean and well-maintained restrooms ensures that event organizers may relax knowing that their attendees will have a pleasant and secure day.
Versatility and Adaptability
You can move portable toilet trailers around to suit the needs of any gathering. These trailers are versatile enough to serve different events, from small indoor meetings to massive outdoor festivals. They provide a range of options for locations, as they can be indoors or outside. Because of their flexibility, they are great for event planners searching for a portable toilet solution that meets the needs of all attendees.
The Mobile Throne places a premium value on this importance, and we work hard to give our customers the greatest luxury portable restroom trailer rental service in Oyster Bay, New York.
Types of Events and Occasions Where Luxury Portable Restroom Trailers Are Beneficial in Oyster Bay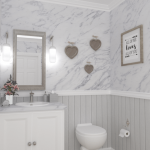 Access to luxurious portable toilets at any event or venue in Oyster Bay offers great convenience. Here are some occasions where luxury restroom trailers are beneficial:
The bridal party and visitors can enjoy a sophisticated and comfortable restroom experience in luxury portable restroom trailers. These trailers perfectly complement any wedding, whether a little ceremony in a garden or a lavish celebration in a ballroom.
Luxury portable toilet trailers serve a purpose in business settings since they project professionalism and improve guests' comfort. Guests at your event can have their own branded experience due to these mobile restroom spaces.
Several people travel to Oyster Bay to attend its famous and lively outdoor events and performances. In these locations, where permanent bathroom facilities may be unavailable or impracticable, luxury restroom trailers are essential. As a result, guests may relax and enjoy themselves without compromising their cleanliness or comfort.
Oyster Bay is often the setting for competitive sporting events like marathons, golf tournaments, and sailing regattas. Having luxurious portable toilet trailers on hand is vital for the well-being of participants, spectators, and officials. Mobile restroom trailers like these can be strategically placed around the event space to make them conveniently available to all visitors and participants.
Picnics, barbeques, and family vacations are some reasons Oyster Bay's parks and outdoor recreation facilities are so popular. In these areas, luxury restroom trailers provide a more convenient and clean alternative to standard portable toilets or park restrooms. They add a level of comfort and ease to the park experience. Guests greatly appreciate this.
Planning and Logistics on Luxury Portable Restroom Trailer Rentals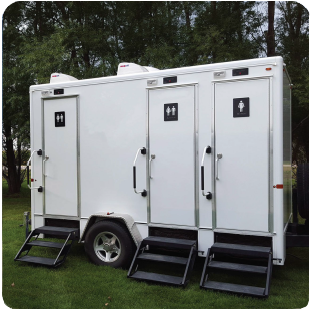 For a stress-free experience for event organizers and guests, you must prepare ahead when renting luxurious portable toilet trailers in Oyster Bay. To help you successfully navigate the procedure, please keep the following in mind:
Early Booking
When renting for events during high seasons, timing is of the essence. It's best to book your luxury portable restroom trailer in advance to avoid disappointment. Booking in advance allows you to choose from a wide available selection of trailers and increases the likelihood that your preferred event date will be available.
Coordinating Delivery and Set Up
Coordinate the delivery and setup of the luxury portable restroom trailers with the rental provider to ensure a smooth experience on your Oyster Bay event day.

Give the rental firm precise details regarding the event's location, entry points, and any special instructions or restrictions they should know.

Consider aesthetics, accessibility, and visitor convenience when deciding where to park the trailers in the event space.
Maintenance and Cleaning Services
Find out if the rental agency offers any upkeep or cleaning services. Maintain the trailers and equip them with necessities to ensure their proper maintenance during the event.

Determine how often you'll need cleaning and supplies restocked based on the number of guests and the length of your event.

Specify who is in charge of replenishing supplies like toilet paper, hand soap, and paper towels as they run out throughout the event.
Contingency Plan for Unexpected Situations
Planning for any unforeseen problem during your Oyster Bay event is essential.

Talk to the rental business about their emergency procedures for handling power outages, water shortages, and any other problems with the trailers during the event.

If you need immediate assistance, keep the number for the rental company's customer care or emergency services handy.
Accessibility and Accommodations
Assess the convenience and comfort of the luxury portable restroom trailers.

Think of the requirements of everyone there, especially those who may have trouble getting around. Inquire about trailers that meet the requirements of the Americans with Disabilities Act (ADA), including ramps, handrails, and ample interior space.

Inform the trailer rental provider of any special needs your passengers may have so they can provide wheelchair-accessible trailers.
You may avoid any hiccups in renting luxury portable restroom trailers in Oyster Bay by carefully thinking about the details listed above. You can increase the success of your event by ensuring that your guests have a pleasant toilet experience through careful planning, early booking, open communication, and contingency planning. You can also look at other things you need to consider when hiring a luxury portable restroom trailer rental service.
Cost Considerations on Luxury Portable Restroom Trailer Rentals in Oyster Bay, New York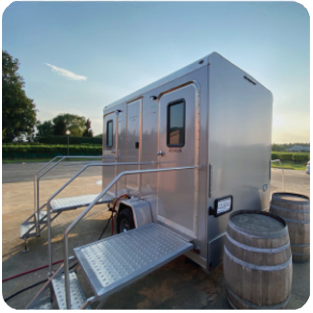 Pricing Structure
Luxury portable toilet trailer rental rates are often determined by variables such as trailer size, included amenities, and length of rental. Trailer rental firms may provide various packages, each with its own set of luxuries and facilities and corresponding prices.
Depending on the specifics of your event and the rental company's policies, you may receive a price quote for a single trailer or a package deal for many trailers.
Factors That Affect Costs
Luxury portable toilet trailer prices depend on the size. Trailers that are larger and have more features and stalls. They tend to cost more to rent.
Air conditioning, heating, high-end fixtures, mirrors, and sound systems, to name a few, can raise or lower the rental cost. The price may go up if you want premium amenities.
The cost of renting a luxury portable toilet trailer pricing also depends on the number of days you need it. The cost to rent restroom trailers will change based on how long you need them, be it a few hours, a whole day, or longer.
You may incur additional fees for personalized choices, which include branding, signage, and interior design. Contact the rental business and discuss your customization needs to know whether there will be additional fees.
Cost-Saving Measures
Several options exist for saving on the expense of renting portable toilets in Oyster Bay without sacrificing comfort or convenience. First, plan and book the trailers at a discounted rate or with an early bird special from the rental company.
You can save money on venue leasing by holding your event during the week or during a less popular time of year. Rental firms may provide bundles with discounts for renting multiple trailers or including extra services like maintenance and cleaning.
Finally, it's important to compare prices by contacting various Oyster Bay rental agencies. You can find the optimal compromise between price and quality of service given by luxury portable toilet trailers by requesting quotes from multiple companies. These money-saving tips can help you maximize your event's budget without sacrificing the quality of the restrooms your guests use.
You can effectively plan for and manage the cost of renting luxury portable restroom trailers for your event in Oyster Bay if you have a firm grasp on the pricing structure, the elements driving pricing, and the potential cost-saving strategies. At the Mobile Throne, we ensure to work with clients' budgets, and it is why we are the best for your luxury portable restroom trailer rentals in Oyster Bay, New York.
Event Site and Maintenance Support for Luxury Portable Restroom Trailers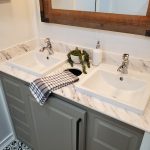 Maintaining and supporting the event site is an important consideration when renting luxury portable restroom trailers in Oyster Bay for occasions of any kind. Here are some things to consider:
Regular Maintenance and Cleaning
The restroom trailers are maintained and cleaned by the rental company regularly throughout the event. Emptying trash cans and filling up hygiene staples like toilet paper, hand soap, and paper towels are all part of this routine.
Luxury portable restroom trailers may be staffed by attendants during an event to ensure their smooth operation and cleanliness. These workers maintain the cleanliness, stock, and functionality of the facilities. In addition, they can deal with any urgent questions or problems brought up by the audience.
It's crucial to have the rental company's emergency contact information handy in case of any problems or emergencies during the event. Emergencies like power outages, water supply problems, or broken equipment could mean having a special hotline or point of contact.
Site monitoring devices could be used by rental companies to keep tabs on how often and how well their luxury porta-potty trailers are being used. They can then solve any potential maintenance or support issues ahead of time, ensuring that the facilities are in top shape for the duration of the event.
Timely Maintenance Response
Maintenance requests must be addressed quickly to ensure a problem-free event experience. A dependable procedure for reporting and resolving maintenance issues raised by event planners and attendees should be in place at the rental company. Having a team of technicians on hand and prepared to address any problem is a good idea.
Event planners may rest assured that the luxury restroom trailers will be well-maintained, supported, and monitored due to site maintenance and support. The cleanliness of the restrooms and the success of the event at Oyster Bay are both enhanced by regular maintenance, on-site attendants, emergency support, site monitoring, prompt maintenance response, additional amenities, and collaboration with event organizers.
Types of Luxury Portable Restroom Trailers Provided by The Mobile Throne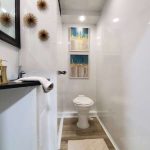 The Mobile Throne is one of the luxury portable restroom trailer rentals in Oyster Bay. We rent out many distinct styles of luxurious restroom trailers for parties and other events. Some examples of the trailers we provide are as follows:
For gatherings or other situations where restrooms are required but space is restricted, the two-station portable restroom trailer is a compact and simple choice.
A two-station comfort trailer is ideal for smaller gatherings. It has two separate stalls that may be used privately. There is a washbasin and mirror in each stall. These trailers house clean, roomy, and centrally located portable toilets that your guests will appreciate.
There are three stalls in the three-station luxury trailer, as opposed to two in the comfort trailer. There are three separate stalls, each with its entrance. These luxury trailers provide a more opulent alternative to the standard two-station comfort trailer by adding facilities like climate control, heating, updated fixtures, and stylish interior decor.
The needs of weddings and other formal gatherings are catered to by the three-station wedding trailer. There are three large, well-built restrooms available. Wedding guests can expect a luxurious experience in these mobile restrooms if they are outfitted with features like full-length mirrors, vanities with granite worktops, high-end lighting fixtures, and beautiful interior finishes.
The compact trailer with four stations is ideal for gatherings expecting a good number of guests. There are four separate stalls, each with a toilet, a washbasin, and good lighting. These trailers include four stations, yet their compact form makes them ideal for use at any event.
The five-station trailer is a spacious choice that can comfortably seat many visitors. Each of the five cubicles has its toilet, washbasin, and space to stretch out. These trailers may have optional upgrades such as stereos, air conditioning, and fancy fixtures and fittings.
The Mobile Throne offers several sizes and styles of luxury portable restroom trailers for every occasion. When planning an event in Oyster Bay, we can provide various trailer sizes that prioritize comfort, elegance, and style for your guests.
Must-Have Features of A Luxury Portable Restroom Trailer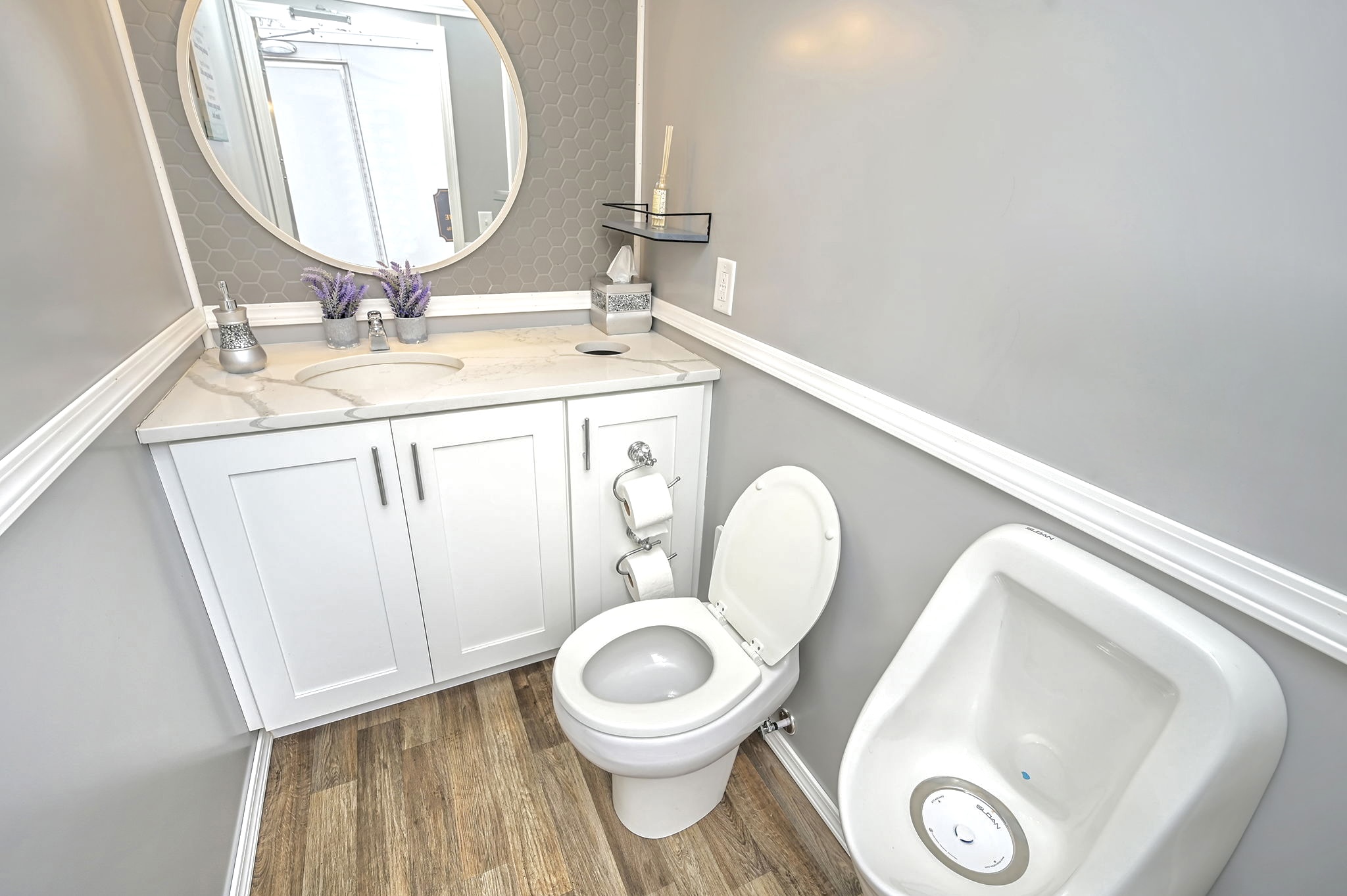 Spacious and Well-Designed Interiors
Most luxury restroom trailers have spacious interiors that make moving around and using the facilities easy. Well-placed fixtures and ergonomic layouts can make a space more luxurious and convenient.
Luxury Portable Restroom Trailers should have flushing toilets as standard equipment. When compared to regular portable toilets, these provide a more sanitary and pleasant alternative. Both gravity and electrically-powered flushing mechanisms work seamlessly and efficiently in mobile toilets.
Guests can clean their hands properly in the luxury restroom trailers because they have sinks with running water. Hot and cold water options at these sinks could make washing one's hands more pleasant and practical.
Luxury restroom trailers usually have a vanity area with mirrors. Guests can use the facilities to dress up for special occasions in comfort and style. Proper lighting surrounding mirrors not only improves sight. but also contributes to the opulent feel of the space.
It's not uncommon to find air conditioning and heating systems in a mobile restroom. No matter what the weather is like outside, guests will always feel at ease due to these amenities. When the weather outside is exceptionally bad, having a controlled environment indoors is invaluable.
High-End Finishes and Decor
High-end fixtures, and fittings along with posh furnishings, are common in luxury restroom trailers. In this category are upgrades to the aesthetic appeal, such as quality flooring, elegant fixtures, ornamental accents, and luxurious materials.
Ample Lighting and Ventilation
Luxury restroom trailers should have adequate lighting and ventilation. A well-ventilated restroom with plenty of natural light will have minimal odor and be easy to see around in, while also being well-lit for ease of use.
In luxurious mobile restroom trailers, you can listen to music or hear helpful announcements over the built-in speaker system. Guests will find this amenity to be a delightful addition to their stay.
Accessibility measures compliant with the Americans with Disabilities Act (ADA) are essential in luxurious portable toilet trailers. Wheelchair ramps, wide doorways, plenty of interior space for wheelchairs and walkers, sturdy railings, and ADA-compliant fixtures are all examples of what this is about.
Privacy and safety are top concerns in luxurious trailers. Private, lockable stalls with adequate soundproofing and thoughtful layouts make customers feel safe and at ease when using the facilities.
Oyster Bay, New York, Luxury Portable Restroom Trailer Service Providers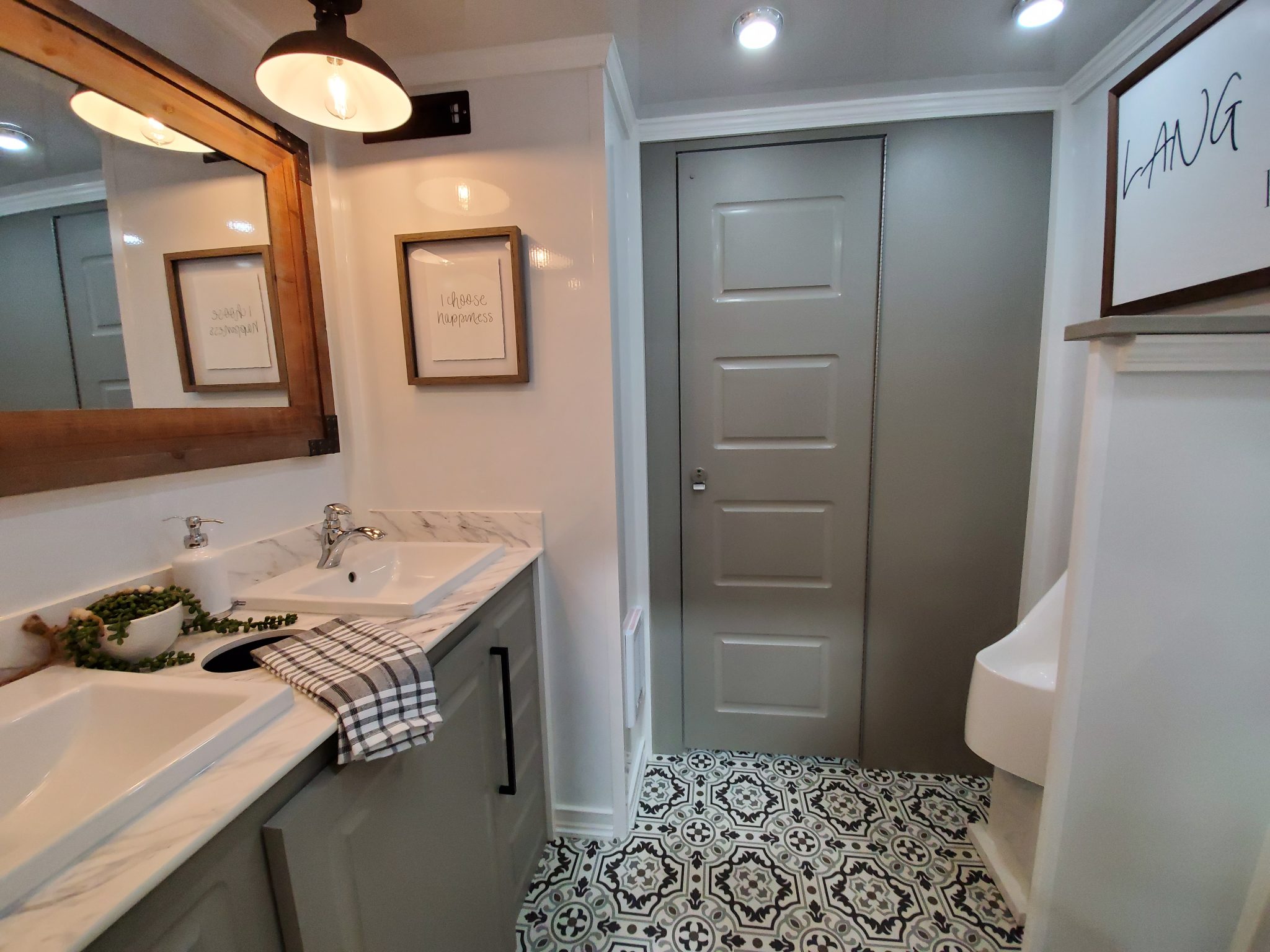 We provide our services to the following areas in Oyster Bay, New York:
The Best Place to Rent A Luxury Portable Restroom Trailer in Oyster Bay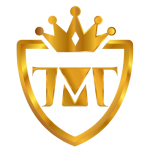 The Mobile Throne places a premium on providing flawless service. Our luxury portable toilet trailers are always in perfect condition and undergo strict hygiene procedures before and after each rental. The trailers will undoubtedly be spotless, guaranteeing a pleasant and clean bathroom experience for your guests.
We also have an excellent record for dependability and prompt deliveries. We know how important it is to keep to a strict schedule. Therefore, we always arrive on time to set up the luxury restroom trailers at your event. You can rely on us to be timely and effective, freeing you up to worry about other details of the event.
Furthermore, the Mobile Throne is the go-to for high-quality luxury restroom trailer rentals at a price that won't break the bank. We work hard to lower the cost of renting high-end portable toilets in Oyster Bay. You don't have to break the bank due to our straightforward price structure and the high standard of service and facilities we provide.
Our excellent service and focus on client satisfaction have earned us a good reputation in the Oyster Bay area. Our history of providing exceptional luxury portable restroom trailer rental service at different events has resulted in a loyal customer base and outstanding evaluations. We have the know-how and experience to provide first-rate service for your event's upscale restroom facilities.
Contact us today to discuss your event and to book our luxury portable restroom trailers. You can reach us at (516) 500-3113 or send us an email at info@themobilethrone.com. You can also fill our online contact form and we'll get right back to you.