LUXURY PORTABLE RESTROOM TRAILER RENTAL IN EAST HAMPTON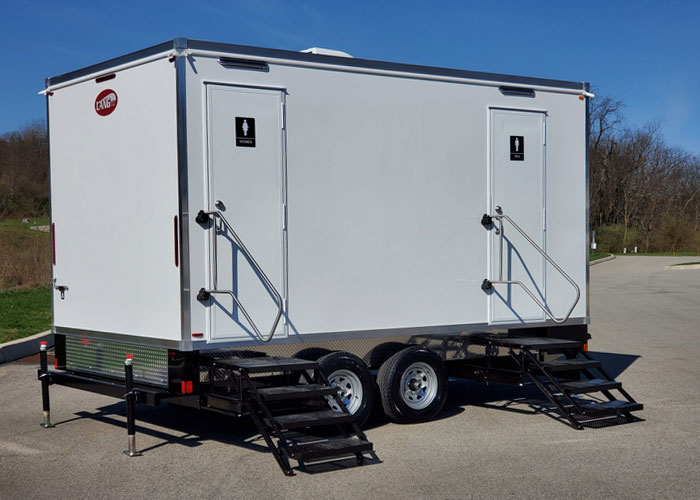 East Hampton, formerly referred to as Maidstone, is located on the southern coast of Long Island, spanning over 5 miles. The beautiful city is situated approximately 100 miles (161 km) east of New York City. It is the 355th largest city in New York and it encompasses both the village of East Hampton and Gardiners Island- one of the largest privately owned islands in the United States.
It also consists of different hamlets including Montauk, Amagansett, Wainscott, and Springs. Apart from these, a portion of the incorporated village of Sag Harbor is also included within its boundaries. As at the 2020 United States Census, the population of the city was 28,385.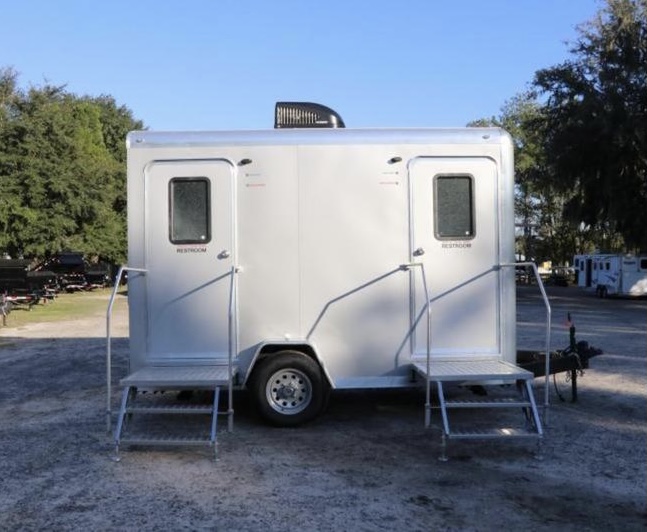 East Hampton experiences warm and humid summers, accompanied by very cold, wet, and windy winters. For tourists, the best period to visit East Hampton for warm-weather activities is from mid-June to late September. Little wonder it is referred to as a 'fashionable summer resort'.
Lovers of History will find this town very interesting as it is home to a number of Historic buildings including the Boyhood Home ( now Home Sweet Home museum) of John Howard Payne (1791–1852), who wrote "Home, Sweet Home"; Hook Mill, a windmill built in 1806; and Clinton Academy (1784), the first academy chartered by the state of New York. Inc. 1920, etc.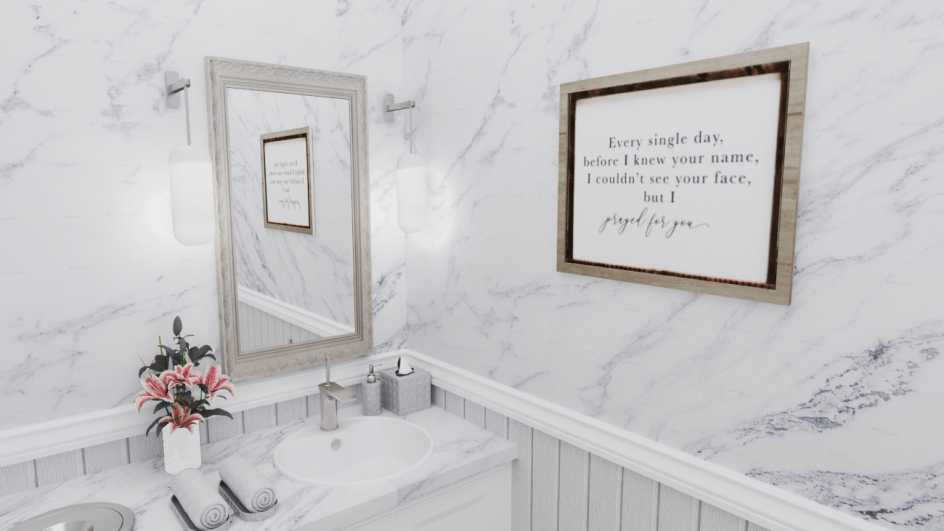 The East Hampton economy relies primarily on three key factors: tourism, visitor spending, and property taxes. These elements serve as the foundational pillars that drive the economic activities within the region. This is not surprising as you can tell from the beauty of the city and the caliber of people that live in or visit the city. This makes it a very suitable location for luxury portable restrooms.
Luxury Restroom Trailer Rental in East Hampton, NY
With the description of the city of East Hampton above, there is no gainsaying that planning an event, no matter how small the event is, has to be done with maximum intentionality, and high standards. It demands that the hosts maintain a luxurious approach in rendering their services to their customers across every aspect of the event- from dining and cuisines to their restroom experience, and this is where the Mobile Throne comes in.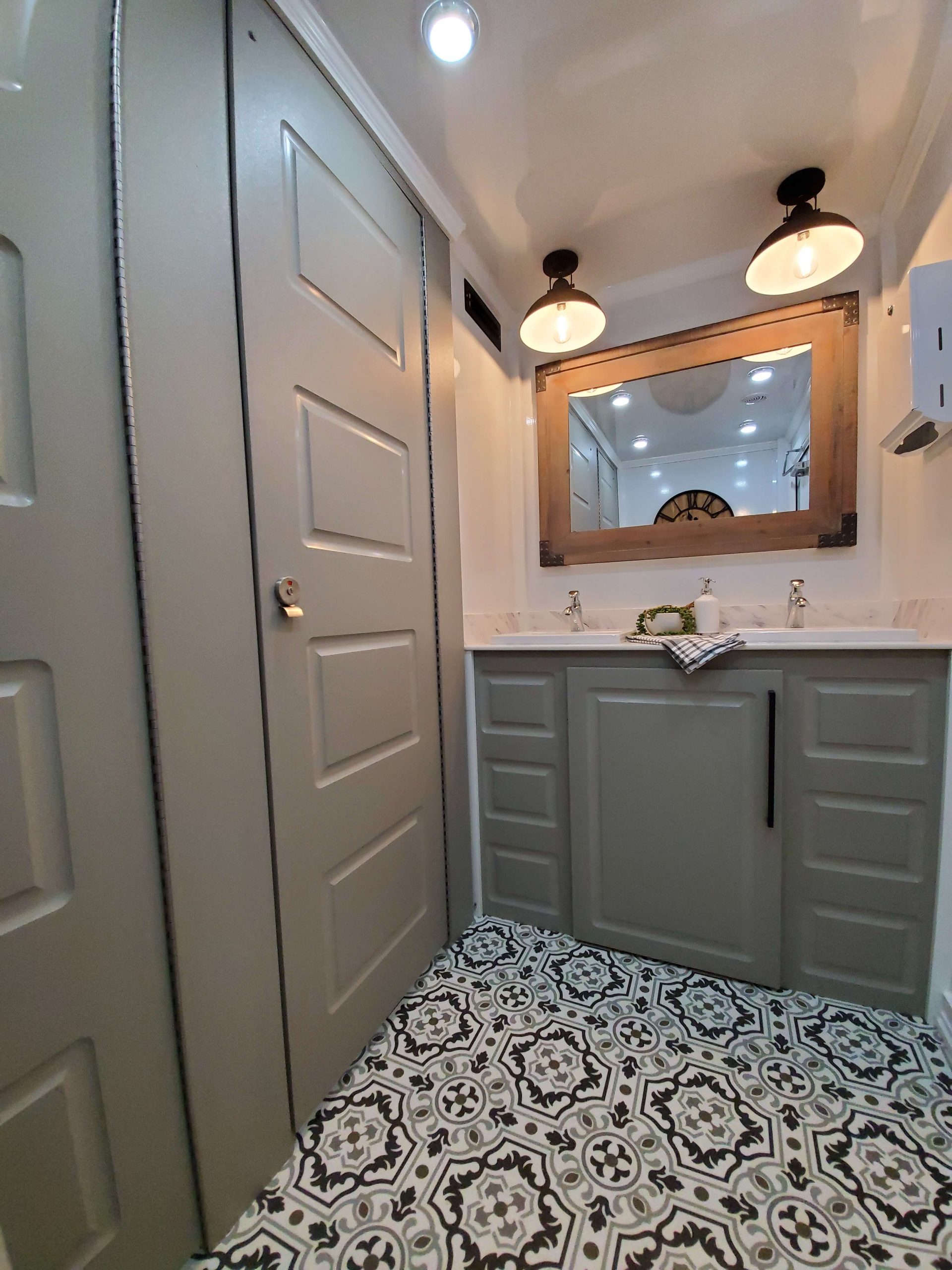 As providers of luxury restroom trailer rentals in East Hampton, the Mobile Throne offers an exceptional alternative that surpasses the conventional expectations of a regular portable restroom. Our trailers are equipped with state-of-the-art amenities, including air conditioning, heated floors, surround sound music, and even full-length mirrors.
With a Mobile Throne experience, your guests are guaranteed the same level of comfort they would find in a high-end hotel, right here in East Hampton. In fact, we dare say that our fancy portable toilet experience is a home away from home experience.
Types of Luxury Restroom Trailers for Rent in East Hampton
In a city that has been nicknamed 'the playground of the rich', luxury porta potty for rent is not a luxury. It is a necessity. Here are the different types and sizes of luxury portable restrooms for rent in East Hampton:
The 2- Station Cabin:

Our 2-station Cabin-Series restroom trailer is split into two- the women's side and the men's side. The women's side features a private bathroom, a vanity sink, and both air conditioning and heating, while the men's side features a private bathroom, a urinal, and also air conditioning and heating facilities.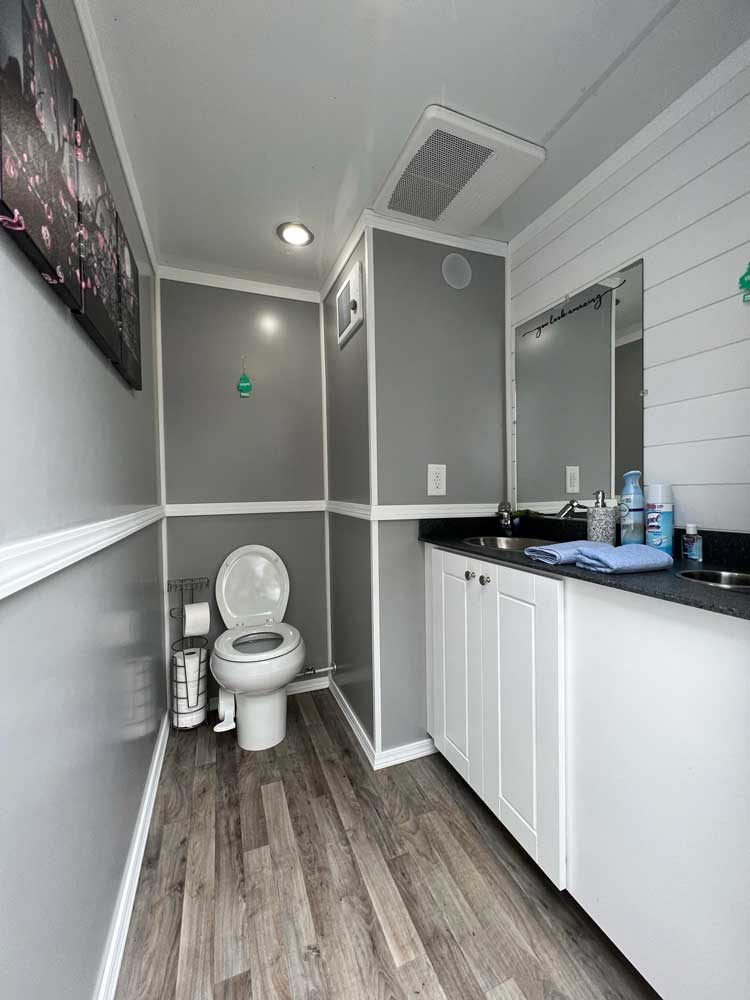 Our 2-Station Cabin offers more than just functionality and convenience; it is specifically designed to provide a luxurious and comfortable experience for your guests. With its cabin-style design, this trailer creates a warm and inviting atmosphere that adds a special touch to your outdoor event.
Inside the trailer, you'll find high-quality wood paneling and cabin-style finishes, which give it a rustic yet elegant feel. The lighting is thoughtfully selected to create a cozy and welcoming ambiance, ensuring that your guests feel comfortable and at ease. Overall, the cabin design of our 2 station luxury porta potty trailer takes hospitality at a backyard BBQ, wedding, or special intimate event, to the next level and leaves a lasting impression.
The 2 Station Comfort:

The two-station Comfort-Series trailer we offer is an ideal choice for small-scale events with a guest count of up to 150 individuals, including weddings, birthday parties, and corporate functions.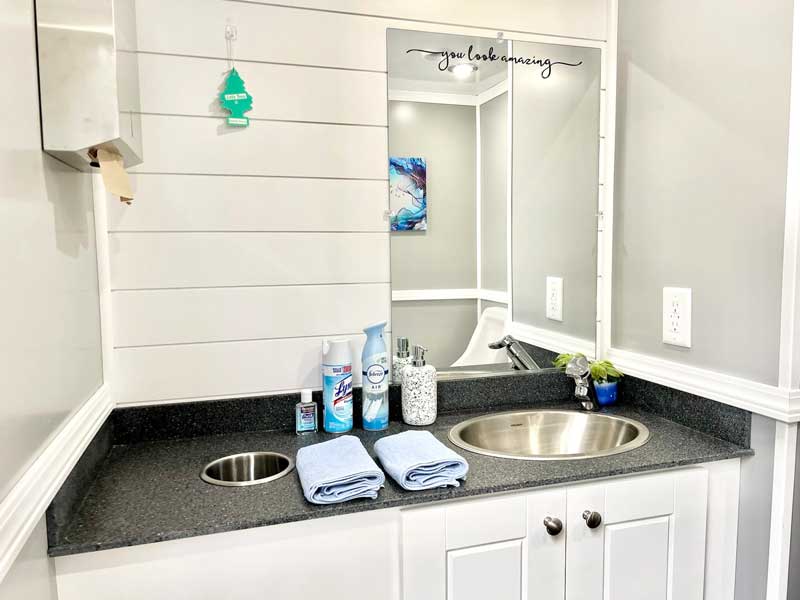 Although it is also divided into two major sections- women's and men's side, it has an extra feature- a Bluetooth stereo system, to provide a touch of entertainment for your clients right there in the restroom. It also features full-length doors, vinyl flooring, upgraded lighting, shiplap walls, and other premium amenities, ensuring a pleasant and stylish restroom experience for your guests.
This luxury portable restroom trailer maximizes its space utilization and offers a comfortable layout, giving you excellent value for your investment.
The 3 Station Luxury:

If the theme for your special event is elegance and sophistication, then our 3-station luxury series trailer is exactly what you need.

Meticulously designed with luxury as the focal point, the interior of the trailer is adorned with framed artwork and exquisite floral arrangements, crafting a warm and inviting ambiance that sets the stage for a memorable experience.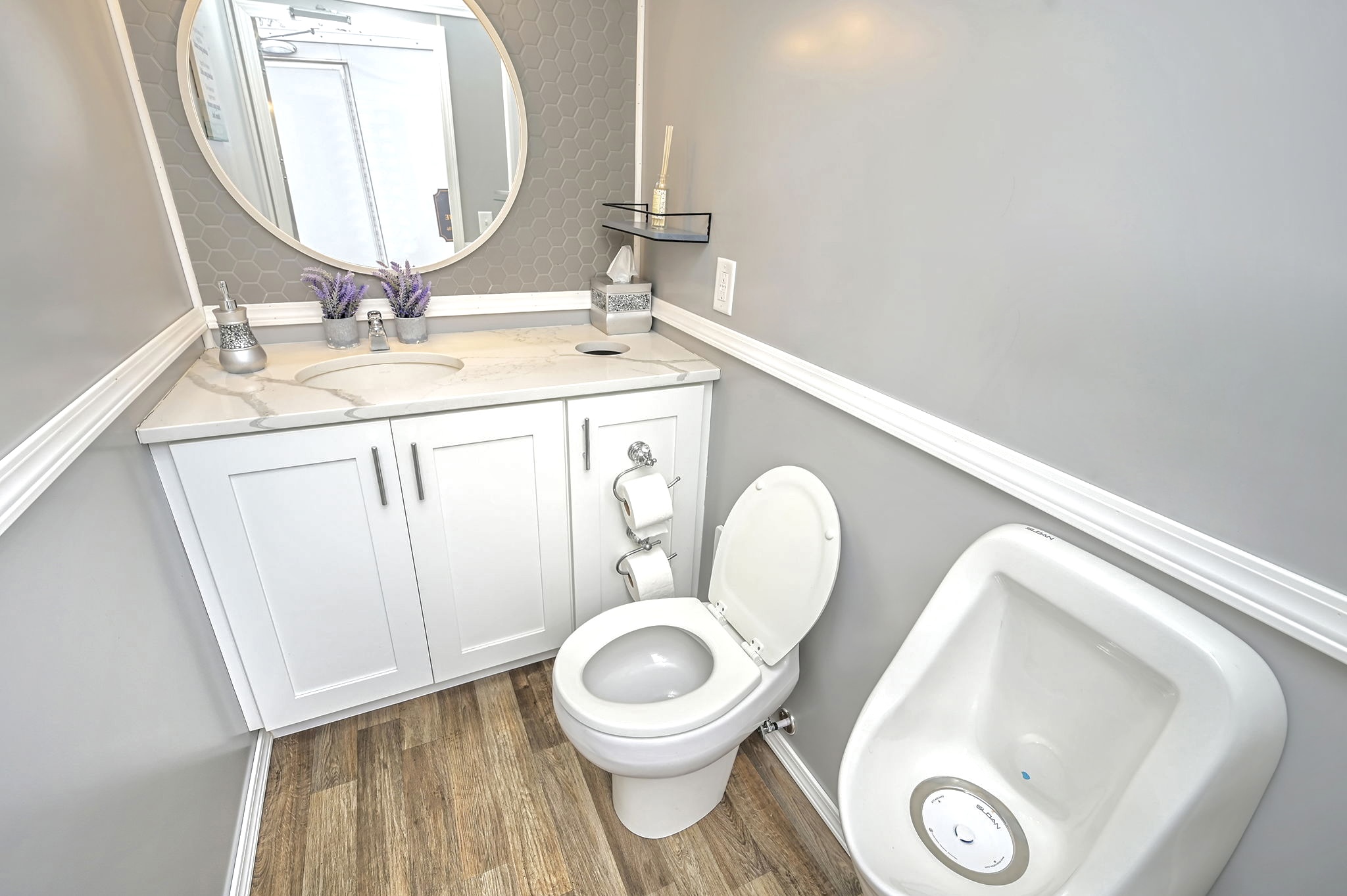 Upon arrival, the trailer is fully stocked with high-end liquid soap, paper towels, toilet paper, air fresheners, hand sanitizer, and empty trash cans, ensuring that every detail is taken care of.
With this option of a luxury portable restroom trailer, you will be leaving a lasting impression on your guests.
The 3 Station Wedding:

This luxury restroom was specifically designed to make wedding guests' restroom experience comfortable. It is perfect for couples seeking to infuse their special day with elegance and luxury.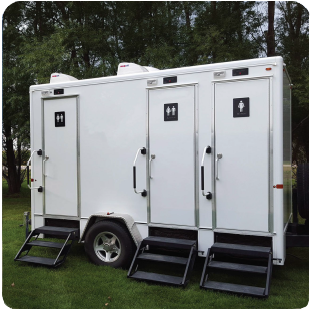 Because it was specifically designed for weddings, this high-end porta porty trailer showcases a spacious and well-illuminated interior, large mirrors and generous counter space, allowing your guests the convenience of freshening up and preparing themselves before rejoining the joyous celebration.
The 4 Station Compact:

If versatility and adaptability is your priority, then our 4-station compact is your best option. This luxury trailer boasts four private restrooms, with each unit furnished with a toilet, sink, mirror, and air conditioning for maximum comfort.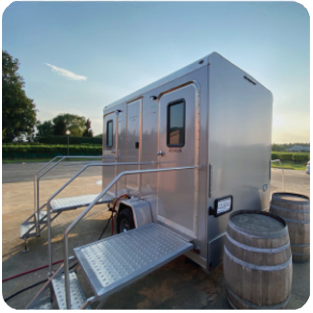 When it arrives, it comes fully equipped with all the essential amenities, including liquid soap, air fresheners, hand sanitizer, paper towels, toilet paper, and empty trash cans. If you are ever in a situation of space constraint at your event, yet you desire to give your guests the best restroom experience, you don't have to compromise on that. Our 4 Station luxury portable bathroom will get the job done perfectly.
The 5 Station Luxury Trailer:

The 5 station luxury mobile restroom's design is a reflection of attention to detail, considered to create an atmosphere of grandeur. It features full-length doors, exquisite decorative flooring, upgraded lighting, elegant crown molding trim, and many more sophisticated touches.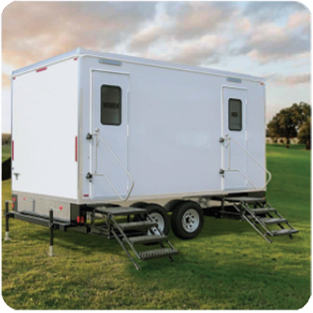 If you are hosting weddings, corporate functions, or any formal event, our five-station luxury trailer is the ultimate restroom solution. This opulent trailer offers a truly luxurious experience, complete with a Bluetooth stereo system for added entertainment.
Benefits of Luxury Portable Restroom Trailer Rental in East Hampton
If you're still not sure as to whether or not a fancy portable restroom for rent is a necessity in East Hampton, here are 3 major reasons why you should invest in them:
Comfort:

By providing a luxury portable restroom trailer, customers are granted a heightened level of comfort. From the assurance of continuous water availability to the ability to regulate the temperature within the mobile restroom, every detail is considered to ensure maximum comfort, according to the demands of the weather.
These thoughtful amenities will help create a memorable experience that will linger in the hearts of your customers.
Whenever this happens, you should be ready to give a very classy impression about your business, which could land you more future deals. One way to guarantee this is by going the extra mile to provide a 'home away from home' sophisticated restroom experience for your guests. And one way that guarantees this is by making use of The Mobile Throne's luxury portable restroom trailer rental services.
Good Hygiene:

The goal is not simply to rent temporary restroom trailers; it is also to secure temporary restroom trailers that prioritize hygiene and safety. Customers should be able to fulfill their restroom needs while attending events without concerns about compromising their health.

Luxury portable restroom trailers offer a reliable solution that ensures hygienic facilities, allowing attendees to use the restroom with confidence even when they are away from the comfort of their homes.
Things to Consider When Consulting a Luxury Portable Restroom Trailer Rental Company in East Hampton
When you finally decide to contact a company for your luxury portable restroom rental services, don't just search for 'luxury porta potty rental in my area' or 'luxury portable restroom trailers for rent' or the popular 'luxury porta potty rental near me'. There are 3 major factors to consider before you consult a rental company. They include:
Location:

This includes the location of your event, as well as the location of the portable trailer company. For the location of your event, you have to be sure that it has enough space to accommodate the luxury mobile toilet conveniently. You want to ensure that it is not too close to the main event arena, but also not far from it.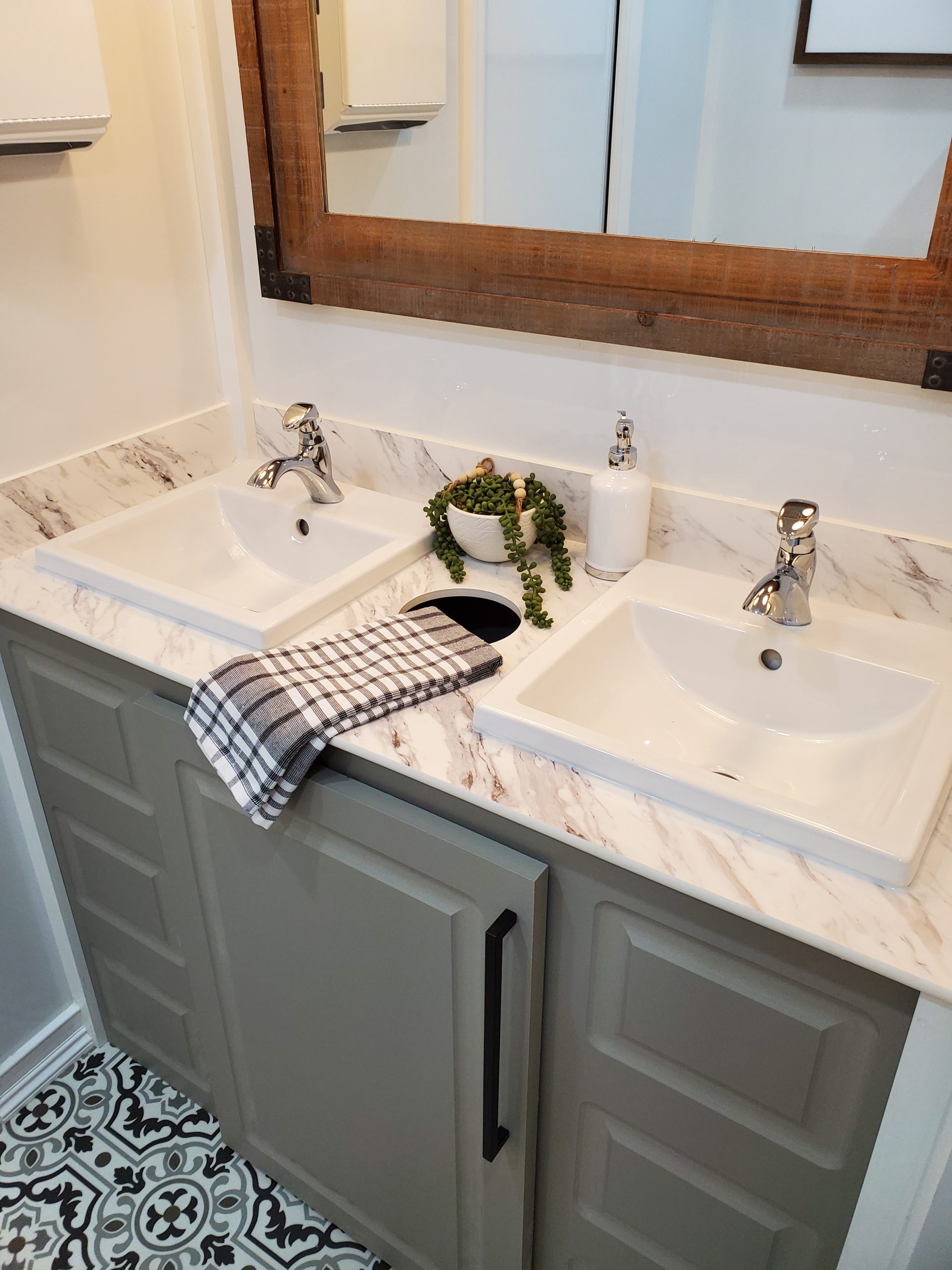 As for the location of the company, it is better to consult with a luxury portable trailer rental company in East Hampton. This is because since it is a local company, it will be able to offer custom services to you based on the specific needs and peculiarity of East Hampton. Luckily for you, East Hampton is one of the Mobile Throne's service areas.
Your Budget:

Having a budget for your fancy porta potty will help you know what to request from the consulting company. While it is important to ensure that the restroom needs of your customers are catered to most comfortably, there must be a balance between what type of luxury portable restroom you need and what type you can afford.
At the Mobile Throne Room, we have the best options for every budget bracket.
Amenities of the Luxury Trailers:

The difference between a regular mobile restroom trailer and a luxury restroom trailer is in primarily the facilities available. Hence, you want to confirm with the consulting company what amenities come with the trailers.
A luxury restroom trailer should offer more than just toilet seats. It should provide essential features such as hand wash sinks, running water, mirrors, and proper lighting. For events that run late into the night, it is crucial to have a luxury restroom rental with sustainable lighting sources.
Discussing these details with the restroom trailer rental company will ensure that you are aware of the basic amenities and extras available for your event, and this will help you prepare accordingly.
Must-Have Features of a Luxury Restroom Trailer
Usually, individuals have different definitions of the word 'luxury'. Therefore, merely describing porta-porty trailers as 'luxury' does not necessarily mean that they will provide the sophisticated and comfortable experience that you desire them to provide.
Here are 4 major features of a luxury restroom trailer that will give your guests a classic, comfortable, and memorable restroom experience:
Generous Interior Space:

Adequate space to relax and unwind while attending to personal needs is highly valued. There is nothing luxurious and comfortable about a choked-up bathroom space. The trailers provided by

the Mobile Throne

are meticulously designed to provide a spacious interior layout, ensuring a luxurious and comfortable environment for guests.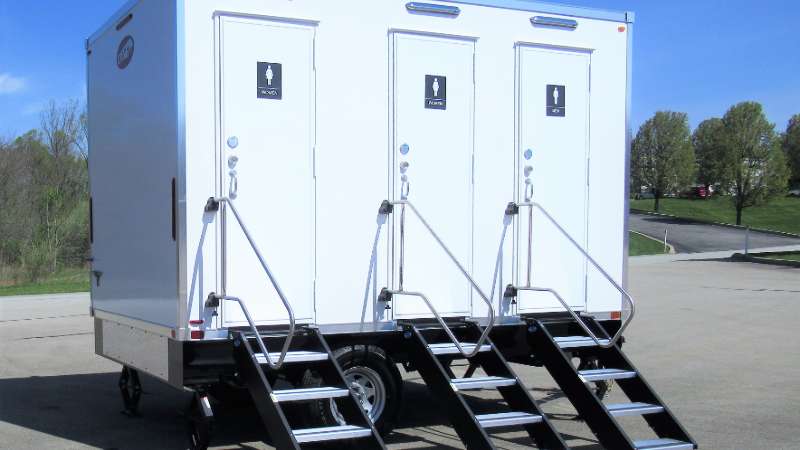 Sophisticated Furnishings:

A major mark of a luxury portable restroom trailer is its attention to aesthetics. At

the Mobile Throne

, we recognize the significance of creating a sophisticated ambience. Our upscale restroom trailers boast refined furnishings, including elegant countertops, high-quality fixtures, and luxurious finishes. These elements enhance the overall aesthetic appeal, adding a touch of elegance to any event.

Temperature Control: For a place like East Hampton with different weather coditions, you might not want the comfort of your guests to be dependent on the weather condition. You need luxury restroom trailers that provide indoor weather control features such as air conditioning and heating systems.
This ensures a pleasant temperature inside the trailer, regardless of the season, allowing guests to enjoy a comfortable and inviting atmosphere throughout your event.
Premium Amenities:

We believe in providing a truly indulgent restroom experience. Our luxury restroom trailers are stocked with premium amenities, including soft and absorbent towels, high-quality soaps, and other essentials, including special provisions for ladies. These thoughtful details ensure that guests feel pampered and well taken care of, even in a portable restroom setting.
If any of these are absent, you might just be unknowingly paying more for a regular potty trailer.
Events that Need Luxury Portable Restroom Trailer Rental in East Hampton
East Hampton presents a diverse array of events and attractions, including fancy restaurants, stylish boutiques, captivating art galleries, and captivating theater performances. Outdoor enthusiasts can also indulge in a plethora of sporting activities, in places ranging from world-class country clubs and stunning beaches to exceptional opportunities for sailing, fishing, and horseback riding.
Here are some events that are a perfect fit for luxury portable restroom trailers in East Hampton: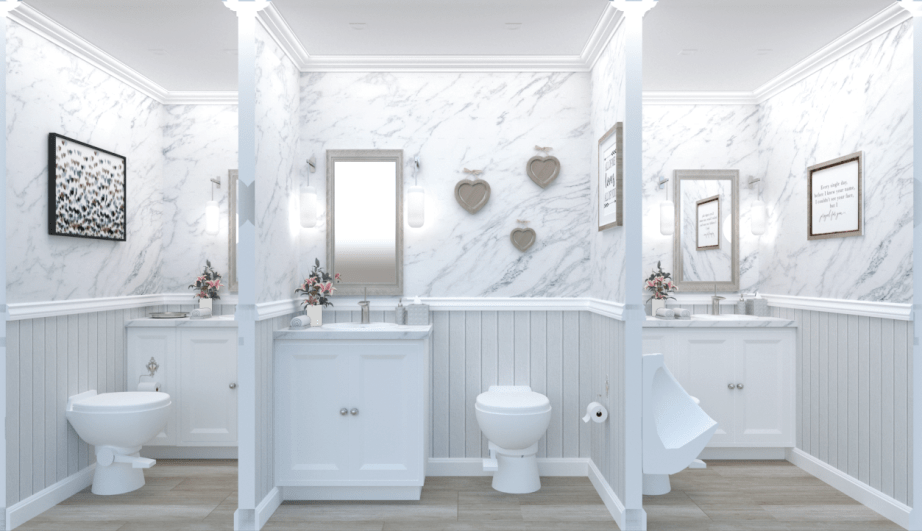 At the Mobile Throne, we understand that planning a wedding requires paying attention to every detail, including your guests' restroom needs. Ensuring that your guests have suitable restroom facilities doesn't have to be a burden. At the Mobile Throne, we simplify the process by delivering one or more of our luxury restroom trailers to your wedding venue.
Our services cover everything from delivery and setup to cleaning and providing essential toiletries, while your guests enjoy the wedding ceremony. Once your event concludes, we will promptly handle the pickup and removal of the trailers.
Corporate Events:

As it was earlier mentioned, East Hampton is a playground for many celebrities. This means that there will be corporate events there from time to time. If you ever have to plan a corporate event, one of the easiest ways to impress your customers, employees, and their guests is to offer a luxury 5 star restroom experience.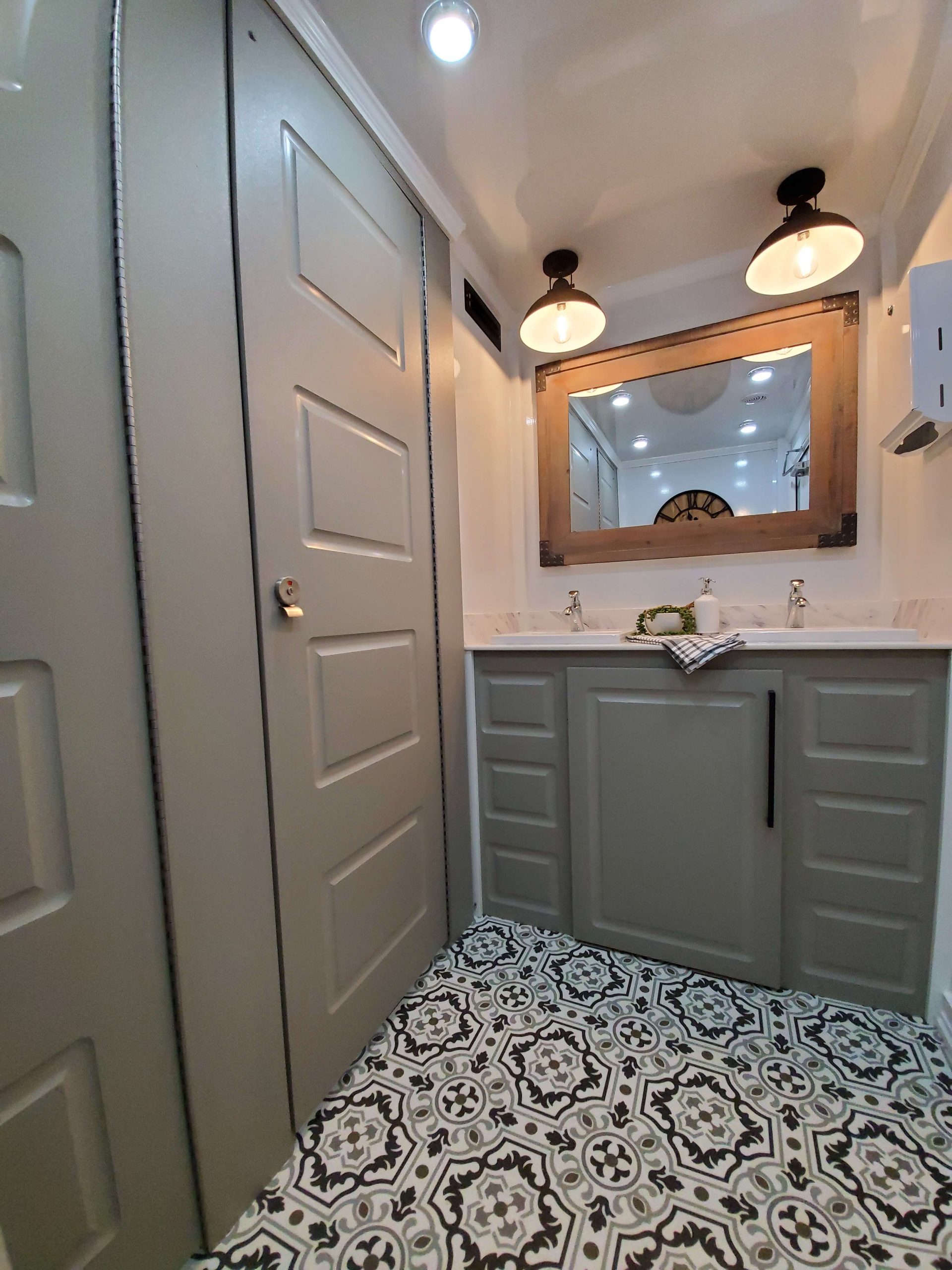 No one enjoys using a smelly, unclean, and cramped portable toilet. Instead, take the opportunity to demonstrate your genuine care by offering a comfortable, lavish, and private washroom experience for all event attendees. Some of the top venues for Corporate events in East Hampton include Canoe Place Inn , Montauk Yacht Club etc.
Sporting Activities:

In a sporting event, it is usual for the athletes to have access to dedicated changerooms and restroom facilities. However, this privilege is not extended to the hundreds or thousands of spectators and guests attending the event.
It is not befitting to invite guests for a sporting activity, and not cater to their restroom needs. Hence, as a host, a good way to show that you also care about the sport spectators is by providing equally comfortable restroom facilities for them. To do this, you need luxury portable restroom trailers from the Mobile Throne
Towns in East Hampton that Require Luxury Portable Restroom Trailers
East Hampton is renowned as one of the most exquisite regions in the nation, and it is celebrated for its picturesque landscapes, boasting expansive stretches of pristine white sandy beaches. Situated merely 100 miles away from the bustling metropolis of New York City, East Hampton has garnered international recognition as a premier coastal resort destination.
If you are wondering if East Hampton is big enough for you to have a continuous need of luxury portable bathrooms, here are different villages and hamlets that will require luxury mobile restrooms for rent:
East Hampton: It is also referred to as 'America's most beautiful village'. It has a wide range of museums, parks and recreational centers, as well as historical inns that are tourists friendly.
Sag Harbor: This village is not solely owned by East Hampton. Part of it extends into the boundaries of the Town of Southampton.
The town offers a multitude of excellent dining options, catering to the preferences of local residents. Whether you're seeking a quick and casual meal or a refined fine dining experience, the town has an abundance of fantastic eateries. Some of these restaurants in Sag Harbor include Bay Burger, Beacon, Cappelletti Italian Grill amongst others.
Amagansett: If your intention is to enjoy a vibrant evening in Amagansett, then you made the right choice. There, you will find the trendiest local bars, clubs, pubs, and exciting nightlife events and our luxury portable restroom trailers will come in handy.
Montauk: Montauk boasts of a diverse array of local establishments that cater to various needs, ranging from retail products to professional services, entertainment, and everything in between. This means heightened corporate events, and by extension, it is a good market for our 5-station luxury trailer.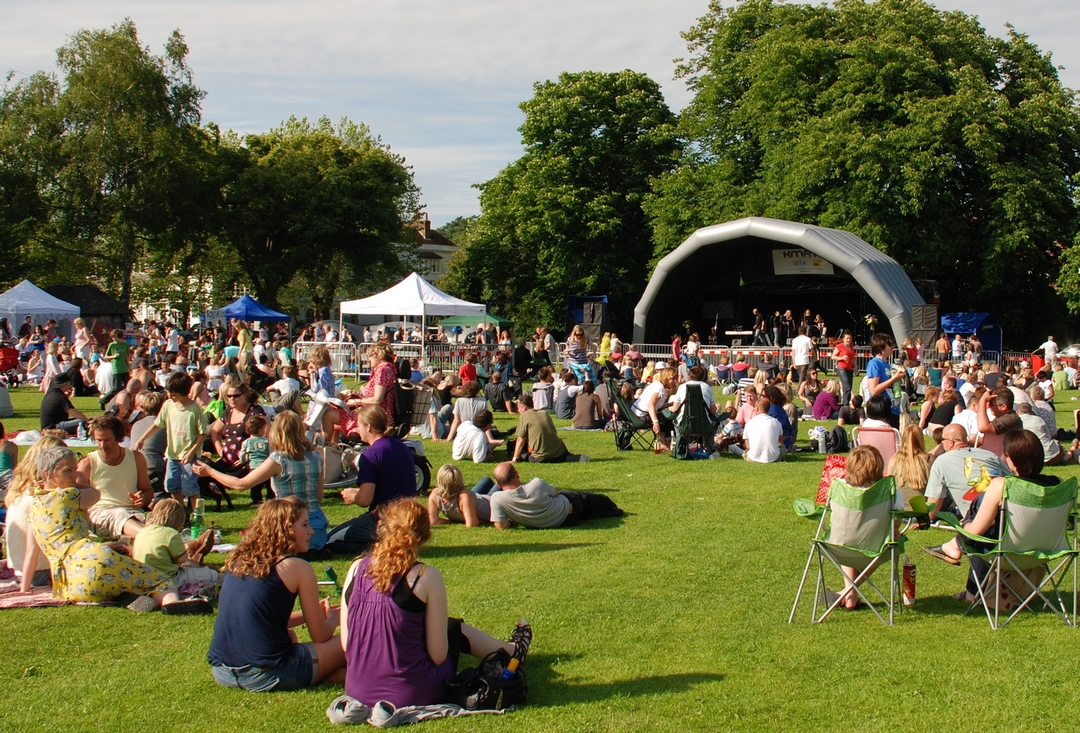 Wainscott: There are always fun activities for everyone in Wainscott- from family fun activities to singles and dating events and everything in between; you're guaranteed to have a great time there.
The Best Luxury Portable Restroom Trailer Rental In East Hampton
From the foregoing, if you're in search of the finest luxury portable restroom trailer available for rent in East Hampton, look no further than the Mobile Throne. We prioritize your satisfaction and understand the significance of leaving a positive impression on your guests. That's why we go above and beyond to provide exceptional services and luxurious amenities in our restrooms.
We understand the social class makeup of East Hampton, therefore, before delivery, our restrooms undergo rigorous checks to ensure they are in pristine condition. We meticulously stock them with premium paper towels, liquid soap, air fresheners, and empty trash cans. Additionally, our units are equipped with convenient toilet paper dispensers.
Notably, our restroom trailers feature a special pedal flush system designed to minimize hand contact with the flush mechanism, offering a more comfortable experience for individuals who are sensitive or easily irritated.
In addition to our exceptional facilities, we also offer long-term rental options for our luxury restroom trailers. We are dedicated to assisting you in providing the best experiences for your guests. To discuss your specific restroom needs, and to make bookings, feel free to call the Mobile Throne at (516) 500-3113 for a consultation. Alternatively, you can swiftly fill out our short online contact form, and we will promptly get back to you. You can also request an estimate of your potential project via any of these means. All you need to do is reach out to us immediately.