Luxury Restroom Trailers for Camping and Music Festivals in NYC
06/17/22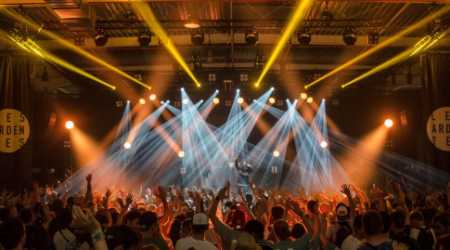 Looking for luxury restroom trailers for camping and music festivals in NYC? Well look no further, you will be amazed by our luxury trailers that are regularly rented out for music festivals.
A lot of people are concerned with the safety and quality of public restrooms at music festivals. That is why we are providing luxury restroom trailers for camping and music festivals in NYC.
Luxury restroom trailers are designed to provide the 5-star hotel bathroom experience and offers the comfort and privacy you desire. With several camp events and music festivals popping up around the country, there is no doubt luxury restroom trailers will remain popular over the years.
When it comes to camping or music festivities, you can't underestimate a standard, elegant and clean portable washing stations or toilets. Here, we'll look at important areas you can make certain that your guests will have the best experience. The truth is that everyone poops. Relax, we're not going to get too technical on you, but it's true. Our restrooms are often overlooked in the overall design of our businesses
Camping and Music Festivals in NYC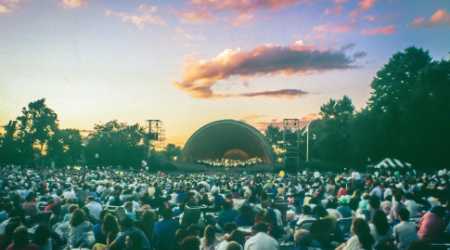 Camping and music festivals are essential to the American experience. They allow us to enjoy our events outdoors while connecting with friends and family. However, they also bring with them a variety of challenges. One of these challenges is finding restroom trailer rentals.
The best way to overcome this challenge is by hiring a luxury restroom trailer from The Mobile Throne. We have a wide selection of luxury restroom trailers for camping and music festivals in NYC. Our luxury restroom trailers are available in several sizes, which is ideal for small or larger crowds. They will provide you with all the amenities you need for a comfortable stay at your next event.
All of our portable luxury restrooms are fully sanitized and cleaned before they are delivered to you. We provide luxury restrooms where simple porta potties won't do so, you can rent a restroom trailer for your camping and music festivals with us. Luxury restroom rentals for camping and music festivals enable a pleasant weekend getaway experience.
Long-Term Restroom Rentals For Camping and Music Festivals in NYC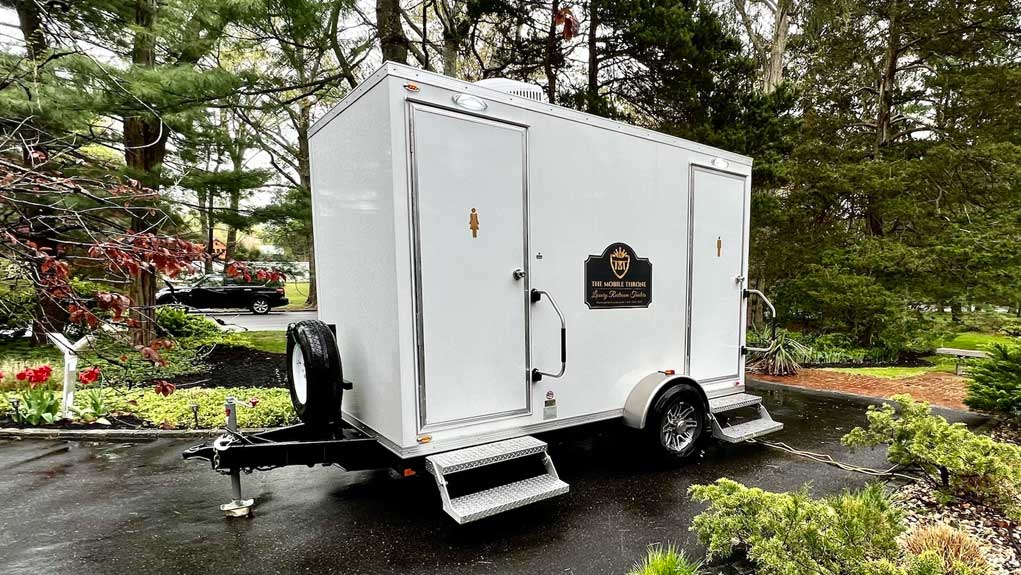 For decades, the men's restroom trailer has been a common sight at events with outdoor restrooms. However, due to increased awareness and demand for women's restrooms, luxury restroom trailers are becoming increasingly popular. These units feature a variety of amenities such as double sink vanity, hot and cold running water, private stalls with pedal flush toilets, indicator locks on doors and mirrors with decorative frame.
Our portable luxury restroom trailer is completely loaded with high-end liquid soap, paper towels, toilet paper, air fresheners, hand sanitizer, and empty trash cans. They also come with air conditioning units so that people do not get too hot or cold while using them. The lavish trailer comes with a Bluetooth stereo system, and is outfitted with full length doors, decorative flooring, upgraded lighting and more.
The City of Long Island, New York requires that all public establishments have handicap-accessible bathrooms and changing rooms for customers with disabilities. When you get a luxury restroom trailer rental from us, you can be assured your facility will meet all ADA requirements. Our luxury restroom trailers are also perfect for outdoor parties, wedding events, corporate events, and festivals such as the Governor's Ball. We also offer affordable long-term rentals so you don't have to worry about finding enough space for guests during large-scale events.
The restroom trailers are rented out on a long-term basis so they can be used throughout an event or longer if needed. Our portable restroom trailers can cater to hundreds or thousands of attendees providing them with a luxury restroom experience.
Minimal Staffing Requirements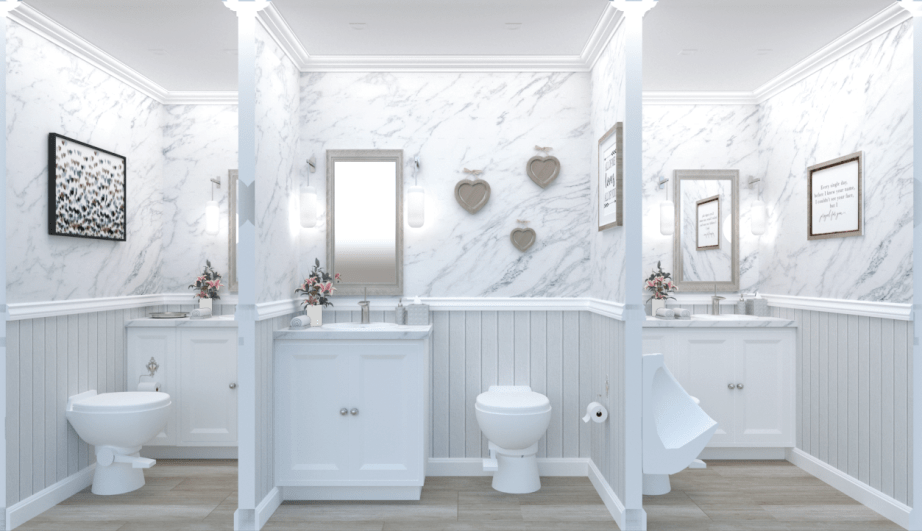 Most people don't realize how much time staff spends cleaning bathrooms at events, especially when people aren't using them. Easy accessibility prompts the search for a "luxury restroom trailer near me", where your staff can focus on other tasks while enjoying a clean and elegantly designed restroom.
When you host an event, it can be difficult to find enough staff to manage the different tasks each day. By renting a restroom trailer, you can keep your staffing costs down as our restroom trailers come with flushable toilets, gallon fresh water and gallon waste tanks. So, you don't have to worry about having or maintaining a clean bathroom.
We offer our luxury restroom trailers at no additional cost when you rent one of our standard portable restrooms. This means that you will not have to worry about hiring additional staff to cater to the luxury restroom trailer. Minimal staffing requirements and simple day-to-day maintenance make luxury restroom trailers the perfect choice for camping and music festivals in NYC, and sporting events.
Luxury restroom trailers require less staff to manage them than traditional porta potties. This makes them ideal for events with limited budgets and a small staff. If you have other tasks that need to be accomplished at your event, then this feature can save you a lot.
Our luxury restroom trailers for camping and music festivals in NYC come in multiple station sizes to accommodate your guests. So you can choose the one that best suits your needs.
Remember Your Guest Artists
Although, the success of an event lies in the planning, amenities, and prompt following of schedules as planned. The overall factor that would make you always book your favorite artists is how you treat them after inviting them. The camping and music festivals in NYC may be big and hosted often but the experience you give the artists would be your future recommendation.
The music industry is a multi-million-dollar business, and music festivals are a great way for artists to gain exposure and build their fan base. Festivals are also a unique opportunity for musicians to network and collaborate with other artists. At a music festival, the best way to make an impact is to deliver an exceptional experience for your guests. That's why we offer luxury restroom trailers that fit your needs perfectly. We offer luxury restrooms that will impress your guests and provide them with the best experience possible.
Check Our Trailer Options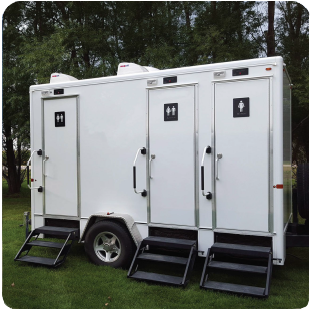 We understand there are different sizes of music festivals, that's why we offer different trailer options just for them. Meet our luxurious restroom trailers below:
Two-station Trailers
When you are considering a small camping and music festival with guests not exceeding 150 persons, this is for you. This is our two-station pro trailer that comes with a Bluetooth stereo system, vinyl flooring, great lighting, and shiplap walls. It comes with loaded paper towel, liquid soap, toilet paper, air fresheners, empty trash cans, and hand sanitizer. There are amenities that are adequately suited for all your guests.
Three-station Trailers
Our three-station luxury restroom trailer is perfect for camping and music festivals. It is completely loaded with air fresheners, hand sanitizer, toilet paper, liquid soap, and paper towels. Its special features include a Bluetooth stereo system, hot and cold running water, sinks and vanities, toilet paper, paper towel dispensers, and more.
Four-station Trailers
The mega four-station luxury trailer series is the most versatile of our restroom trailer collection. They include four private restrooms with a toilet, sink, mirror, and AC. It also comes with basic toilet amenities making an excellent choice for events with limited space. Its special features include stainless steel sinks, paper towels, and toilet paper dispensers, a 5,000 BTU heat strip, LED interior, and exterior lighting.
Five-station Trailers
Our super five-station luxury trailer is top-notch in terms of design and amenities. This elegance-themed trailer comes with a Bluetooth stereo system, perfect for all types of events. It comes with luxury restroom amenities, including men and women's' specially designated rooms with urinals and sink vanities. Its other special features include; a doors indicator lock, 13,500 BTU AC, 5,000 BTU heat strip, smart touch thermostat, and much more.
The Ultimate Luxury Portable Restroom Trailer Experience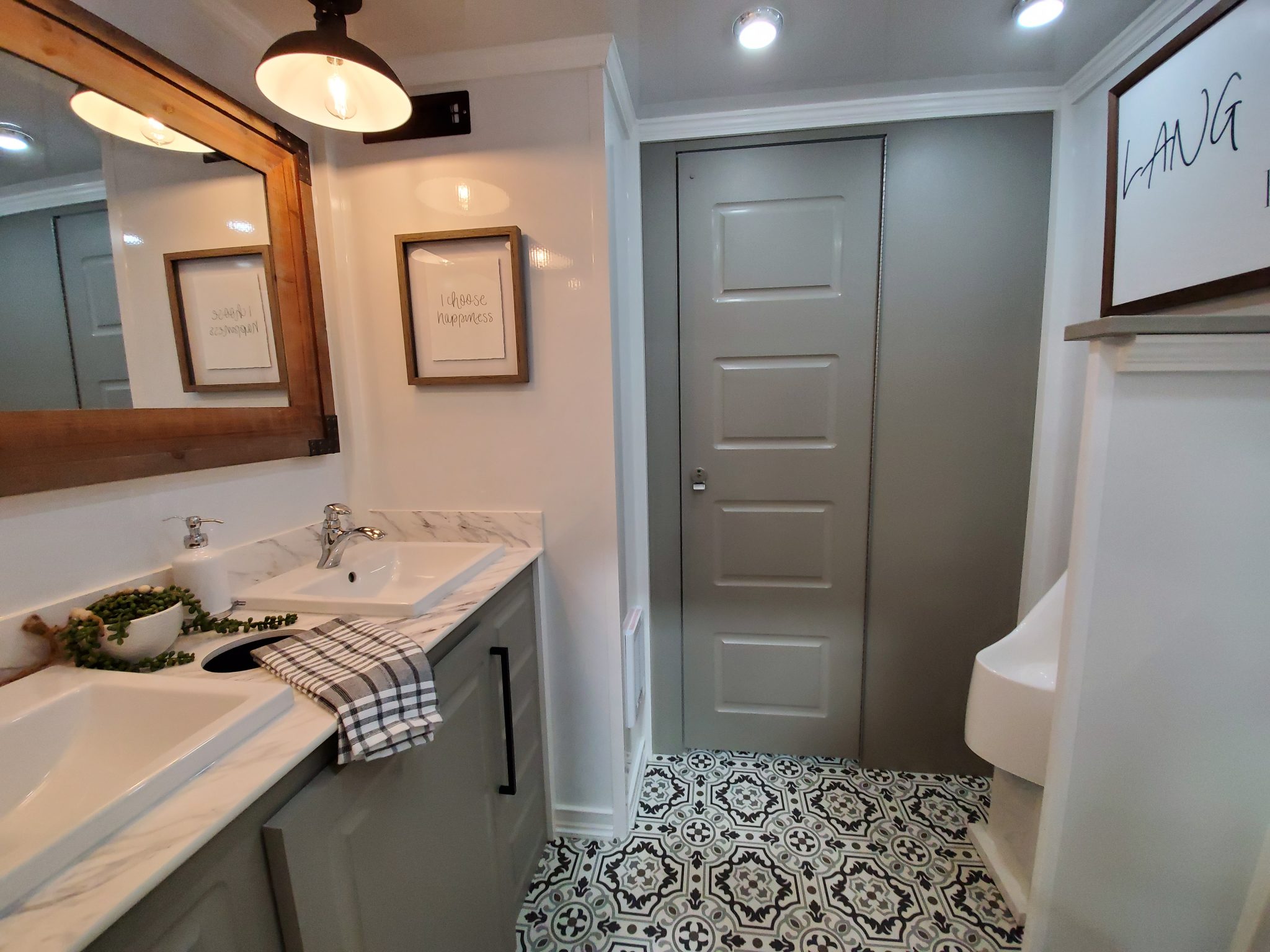 If you're going camping or attending a music festivals in NYC, you'll want to consider portable luxury restroom rentals. They are perfect for your comfort and convenience. You can enjoy your time away from home without worrying about finding a restroom or having to wait in long lines.
That's why our portable luxury restroom trailers are designed to make a lasting impression with high-end finishes and amenities like granite countertops and heated floors. We pride ourselves on offering the highest quality products, superior customer service, and competitive pricing. Our portable bathroom rentals for events are perfect for music festivals, sporting events, weddings, and more.
The Mobile Throne Luxury Portable Restroom Trailer For Camping and Music Festivals in NYC
The Mobile Throne aims to make your camping and music festivals in NYC top-notch with our luxurious restroom trailers' modern, comfortable appeal. We provide quality, high-end value and exquisite customer experience.
Renting our restroom trailers for camping and music festivals in NYC can also help you save money for other things that you might need. If you are looking for luxury portable trailer rentals in Long Island, New York, our portable restrooms are available for daily, weekly, or monthly rentals.
Call The Mobile Throne today on (516) 500-3113 to book your luxury restroom rentals ahead for your event. To get an estimate for one or more of our restroom trailers you can fill out our online contact form, and we'll get right back to you.
Return