How to Keep Your Portable Restroom Trailer Clean for Guests
08/04/22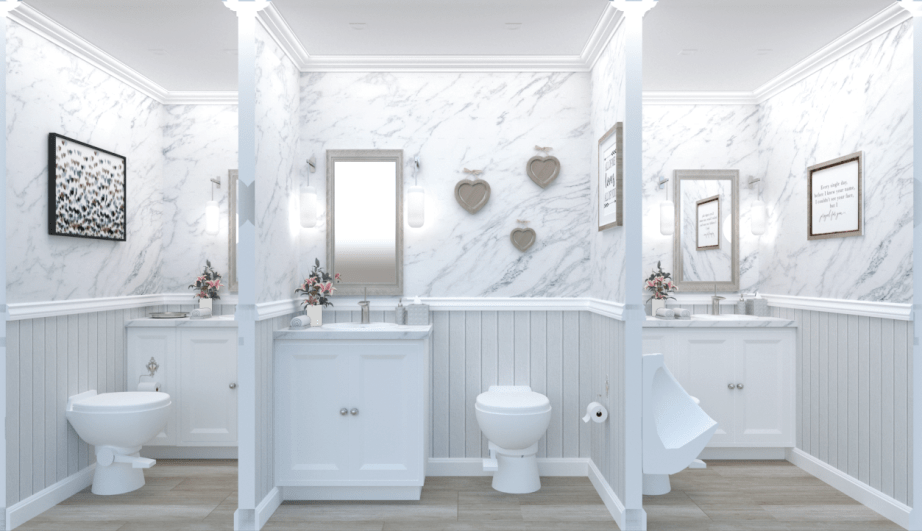 The comfort of your guests is a priority to you as the host. This is why you would go out of your way to get a portable restroom trailer. However, it is important to pay extra attention to the restroom needs of your guests.
If these restroom trailers are not clean, your guests will be unable to use them. And that will decrease the value of your efforts to provide the restroom. There are ways to ensure that the restroom stays clean.
One of such ways is to choose The Mobile Throne for your restroom rentals. The mobile throne is proactive in catering to the needs of your guests. Our portable restroom trailers are neat and give you a 5-star luxury hotel experience with the home feel that makes you comfortable.
We know how important it is to have a great restroom experience. Hence, we have provided tips below to help you keep your restroom trailer clean.
Order Enough Outdoor Restrooms For Your Event
This is very important when renting your portable restroom trailer for your event. One way to ensure the restroom stays dirty is by ordering fewer units than you need. As the host or event planner, you may not be able to accurately calculate the amount of restroom trailer you need by yourself.
Therefore, contacting the company in charge of your restroom trailer rentals is necessary. Due to their experience in the industry, they will be able to give you advice on how many units you need.
At The Mobile Throne, we often recommend our 2 station trailers for events that do not exceed 150 persons. However, this does not eliminate the place of discussing with us your guest list. We pay keen attention to details, ensuring our customers are always satisfied.
Provide Enough Sanitation Product
Ensuring the portable luxury restroom trailer has enough sanitation products helps keep the restroom clean. This helps to keep your guests conscious of your attitude towards cleanliness. Having enough sanitation products serves as a reminder for them to clean up after use. Consequently, your guests will constantly clean up, and the restroom will stay clean till the end of the event.
With the appropriate facilities in place, you really won't need a restroom attendant for the duration of your event. Having excellent facilities with good sanitation products is a plus in the cleanliness game for your event.
Nowadays, luxury portable restroom trailers are flushable. A flushable restroom trailer makes it easy for your guests to feel at home. Consequently, they'd flush by impulse because they don't want a smelly toilet or leaving an unpleasant sight. It eliminates the extra cost of hiring someone to be on standby to clean up the restroom.
Unfortunately, flushable restrooms are not a service you will find in most porta potty units. One of the few companies offering this flushable restroom service is The Mobile Throne. A click on the name will direct you to the point where you can book a restroom trailer for your event.
Invest In Odor Prevention And Air Freshening Products
As simple as this sounds, it will make a whole world of difference in the restroom experience of your guests to have a restroom free from unpleasant odors. It is impossible for your guests to control the degree of odor generated by their poop. Nevertheless, it is possible for you to ensure that your next restroom guest doesn't perceive the smell of the previous guest.
The odor prevention and air freshening products work hand in hand. However, they serve different purposes. The odor prevention products help to absorb musty and unpleasant poop smell. On the other hand, the air freshening products mask whatever residual odor is left.
Tips For Keeping Your Restroom Trailer Clean for Multi-Day Events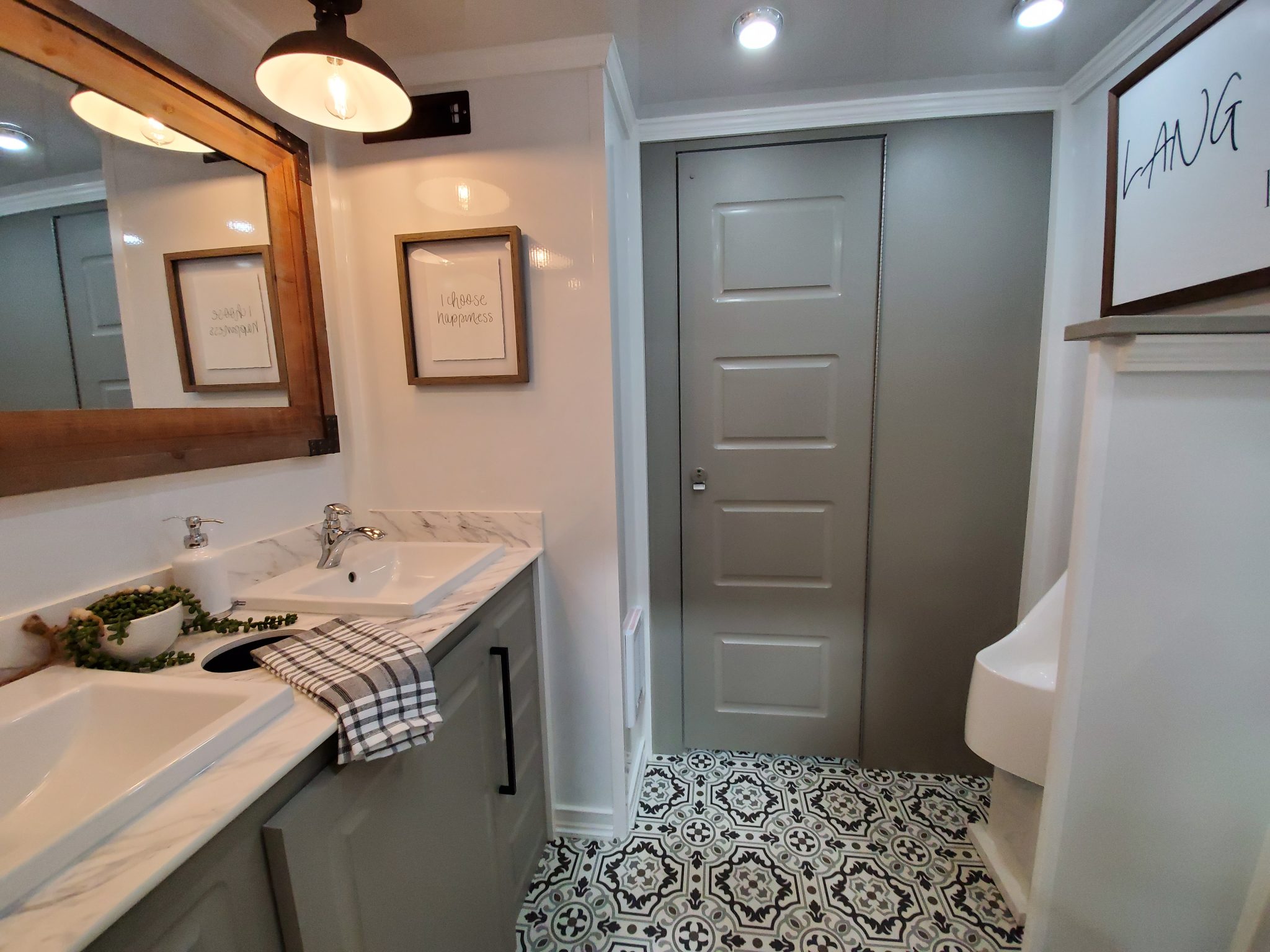 Keeping your restroom clean during a multi-day event is a different ball game. It could be quite challenging, but it is not impossible. As a matter of fact, the maintenance of a portable restroom is simple if proper structures are in place.
Nobody loves to stay in an uncomfortable environment. As such, you want to ensure that the comfort provided by your bathroom trailers is top-notch.
If proper attention is not given to the restroom, in no time, it will end up being messy. This could ruin the beautiful image of your event that your guest imagined. To avoid such unwanted scenarios, there are certain things you need to pay attention to during the multi-day events..
Of course, your attention to detail should start with your luxury restroom trailer rental. However, after sorting that, there are certain things you need to consider.
1. Thoughtful Placement
It is excellent that you factored in a portable restroom in your event planning. But if they are not well placed, your efforts will be a waste. Moreover, certain units will end up being overused. Consequently, such units will become unusable in no time.
As a rule of thumb, your restrooms should be placed strategically at your event venue. They should be easily accessible to your guests. If the event venue is enormous, don't lump up the restrooms in one area. Set them up in places that are easy to describe, so your guests don't have to rack their brains before they can use the restroom.
Additionally, ensure that the environment around the outdoor restroom is appealing and welcoming. No guest will want their shoes to get messed up by mud. Conversely, some may be scared of slipping into the soil. As such, muddy areas should be avoided at all costs.
Let's discuss a bonus point in the placement of your restroom. When placing your portable restroom trailer, ensure you avoid the sun at all costs. Placing the restroom under the sun will intensify the odor of the restroom. Thus, making it uncomfortable for your guests to use.
2. Let Them Air Out
In a multi-day event, as much as possible, ensure to give your restroom trailers breathing space. When the restroom is not in use, keep the doors open so that certain unwanted odors can be replaced with fresh air.
To effectively handle this, you might consider assigning staff or close friends to help out with this at intervals. You could also capitalize on the breaks between sessions in your events. Such breaks are an excellent opportunity to also give the restroom trailers a break.
Such breaks will help the air freshening products handle whatever odor is left when the doors are shut.
3. Keep Friendly Reminders Around Your Restroom
It is often impossible to resist the urge to smile back when you are greeted with a smile. The same is true with a welcoming and friendly reminder to clean the restroom after use. These reminders should be creative and crafted in an amicable manner. You could add illustrations as well.
The reminder doesn't have to be hung inside the restroom. You could place them at the entrance, especially in a multi-unit toilet. Aside from making the wording friendly, ensure that the design is also catchy. This will force your guests to stop for a read before walking into the restroom.
4. Communicate Your Needs With Your Portable Restroom Trailer Company
You certainly have an idea about what you need. However, you might be unable to make the best choice about what service suits your event best. Communicating with the company in charge of your portable restroom trailer will help you get the best service available.
Due to this experience, they can guide you on pitfalls to avoid. This is crucial since you will use the portable restroom for more than a day.
Portable Restroom Trailer for Events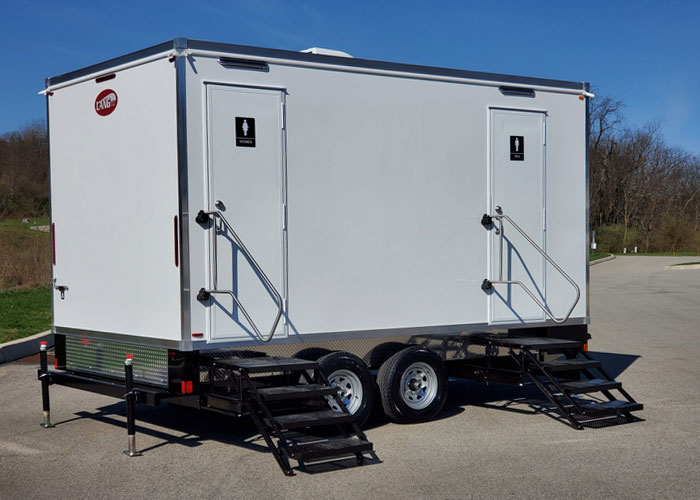 Our Luxury restroom trailers are the perfect fit for any type of event such as a wedding, a birthday, festivals or corporate events. Our luxury restrooms ensure that your guests do not miss home even though they are away.
With many packages to choose from, you can choose any of our services that best suits your needs. At the Mobile throne, our restrooms come with top-notch luxury services. All our restrooms come with pedal flush toilets, air conditioners, toilet paper dispensers, and other sanitary products. These ensure that your guests are comfortable all through the event. In addition, our doors come with indicators. Hence, eliminating the possibility of unwanted interruptions while the toilet is in use.
If you are thinking of adding a touch of class, elegance, and luxury to your event, The Mobile throne is the best for you. We meticulously clean and ensure that our toilets are in their best state before delivering them to your events.
Additionally, we take note of all the toilet details your guests will need. The hand towels, soaps, sanitizers, toilet paper, and other essentials are always stocked up before the delivery of the restroom. Regardless of the season, you can be sure that our restrooms are available for daily, weekly, or monthly rentals.
Getting a quote and scheduling our restroom for your upcoming events is very easy. Please call us at (516) 500-3113 or fill out our online contact form, and we'll get back to you.
Return