Luxury Portable Restroom Trailer for Rent This Summer
06/29/23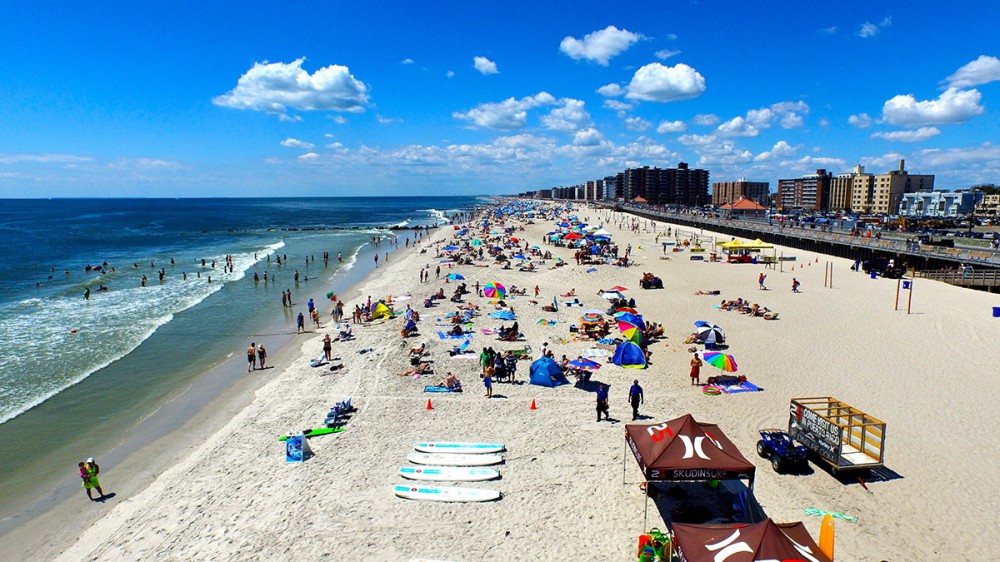 Do you need a luxury portable restroom trailer for rent this summer? For these summer months, you definitely want your guests to have the best experience when planning an outdoor event, a music festival, trade fair or even a wedding.
If you are planning any big or small event this summer in NYC you will need to consider and accommodate people. Wherever your location is in NYC, you'll need to make adequate preparations for the best amenities and facilities to ensure that you have a perfectly seamless event. It doesn't matter if you're a small or large business, or a company hosting a training or trade event in NYC. Your choice of a restroom trailer rental service will affect the overall experience.
Summer Time Activities
In the summertime, there are longer days, shorter nights with plenty of warmth. These are some of the elements that make summer such a loved season. During this time of the year, it feels great to be outdoors, having plenty of fun. Summer brings many opportunities to make many precious memories.
There is certainly plenty to do every summer. It is the one season where there is something for everyone. Many people may decide to go on fun activities where they are alone or in the company of a few friends or loved ones. Summer is a great time for connecting with nature and the outer environment. However, the thrill of summer can also be found with other people as well including new acquaintances. Here are some summer activities you could engage in:
Hiking:

Summer is a great time to hit the hiking trail. During these months, you do not need to worry about the day getting dark very quickly which means you can hike for longer.

Camping:

You might be a lover of nature and camping is a great summer activity for you. Camping out can be meshed with hiking as well. The warm weather makes staying outdoors camping more pleasant.

Visiting the beach:

There's no better time to visit the beach than summer time. You can draw out the sunscreen, and lay in the sun. You could also go surfing, swimming or snorkeling. There's plenty of beach fun to be had at this time.

Gardening:

If you are a lover of plants, gardening is the perfect summer activity. Tend to your plants, flowers and watch them bloom this season.

Attending a concert:

Attending a music festival or concert makes for good summer memories. You could go with friends and family and sing along to your favorite artists as heartily as you can.

Attending a sporting event:

Perhaps you like the thrill of competition then, sporting events are all the rage this season. So, go out and cheer for your favorite team and have lots of fun.
Who Should Consider a Luxury Portable Restroom for Rent this Summer?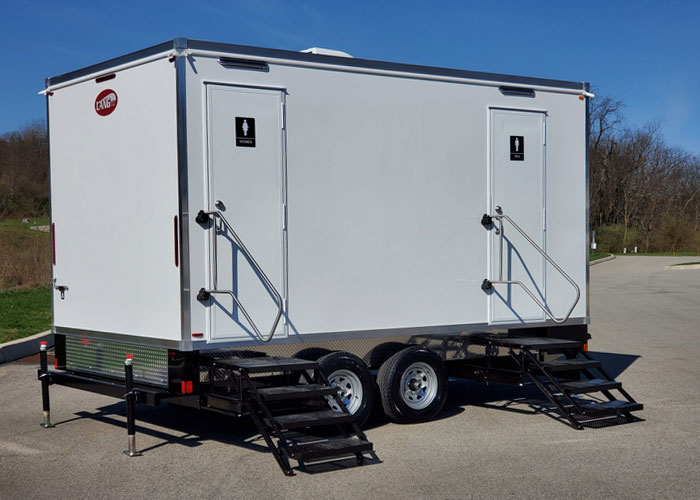 Anyone who is planning an outdoor event this summer in NYC would need a restroom rental service. Portable restrooms would be necessary for those who do not have enough home bathrooms or outdoor restrooms. The requirement for getting a portable luxury restroom trailer this summer season depends on the event and the number of people expected. However, summer is about relaxations, having fun and making amazing memories. Certainly, the last thing an event planner wants is for anything to affect how well people remember the event. Hence, you need to pay attention to the guest's comfort and convenience. For the event to leave a good lasting impression and perhaps make people come around again, a simple porta-potty won't do.
Even if the event being organized isn't a very large one, perhaps a destination wedding, having high end portable toilets is that extra detail that would make all the diference. For smaller outdoor events this summer, like wedding receptions or birthday parties, getting a luxury portable restroom would add that important touch to your event. Apart from accommodating the restroom needs of guests or attendees, luxury portable restrooms can serve the needs of your VIPs. Examples would be in music festivals where setting the ambience right can make all the difference for a performer.
Why Renting a Luxury Portable Restroom this Summer is Important
It is easier to simply go for the regular porta potties. However, here are a some reasons why renting a luxury portable restroom trailer this summer is the best choice for your event:
Comfort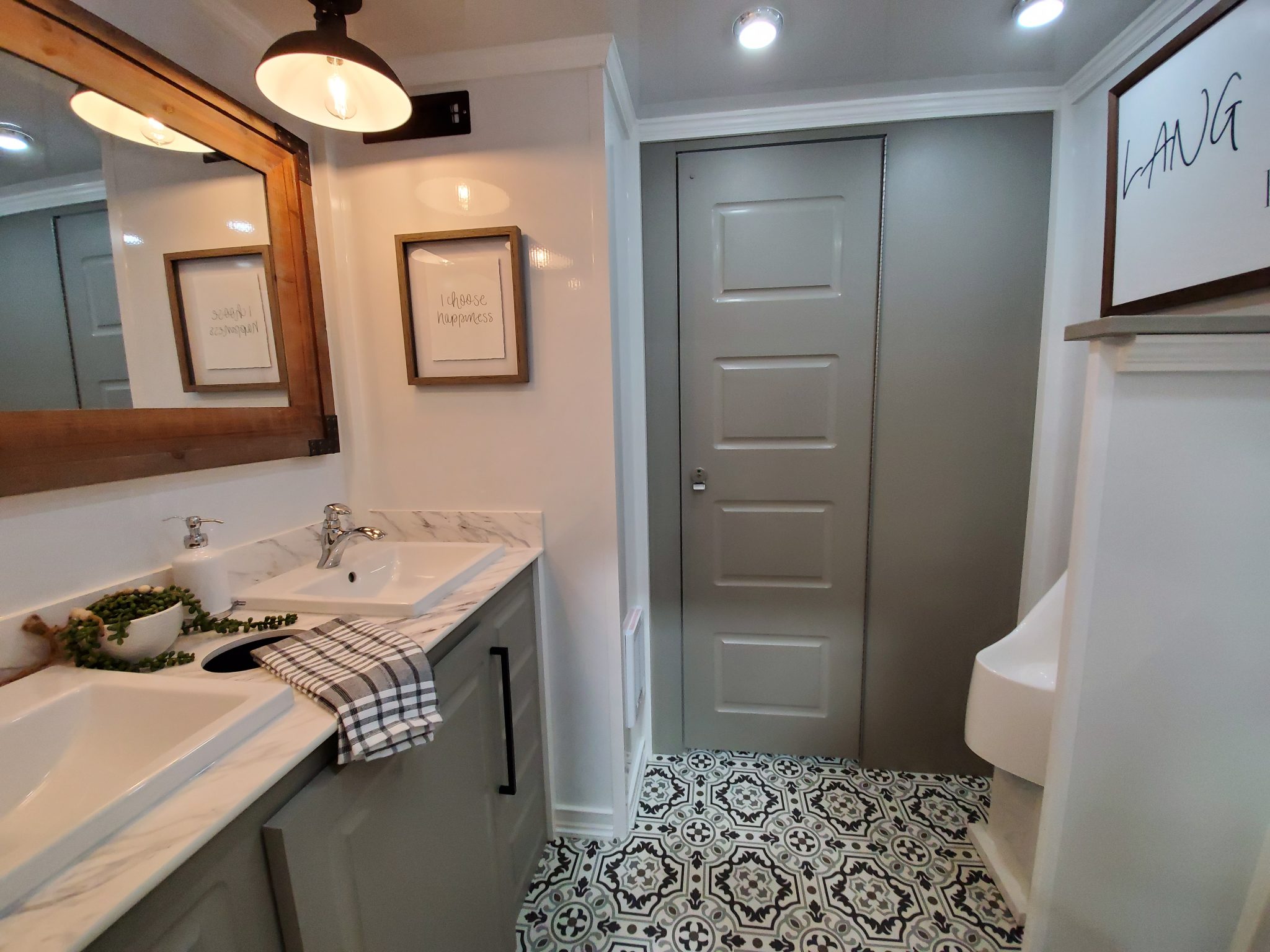 A luxury portable restroom is much more than a fancy porta potty. It brings the home feel to the event and leaves a 5-star hotel luxury impression. Luxury restroom trailers have features that set them apart from traditional porta potties and makes for an enjoyable experience. This includes extra space, quality finishing within the trailer, climate control, proper lighting, flushable toilets. These and more make the need to use a restroom at an event more pleasant for the guests.
Hygiene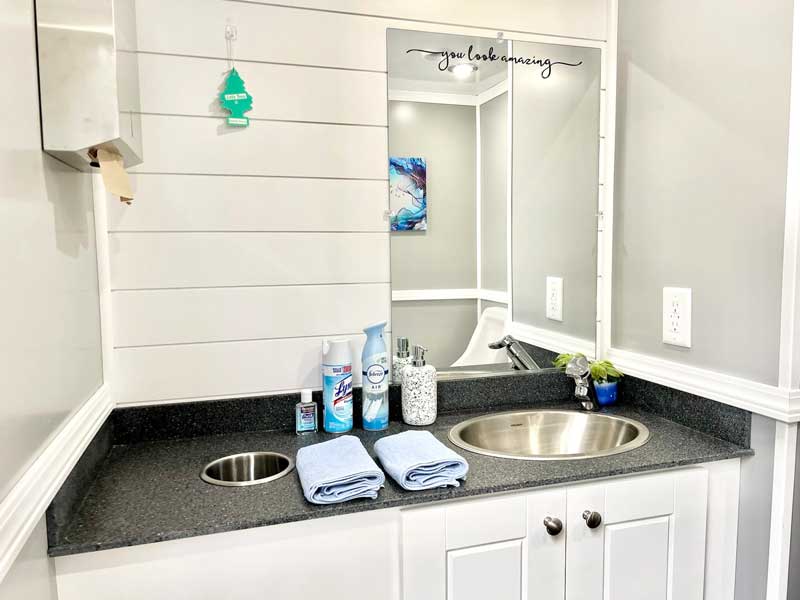 Luxury portable restrooms are held to a high hygienic standard within the restroom and for the users. With running water and sinks as well as toiletries present, a luxury portable restroom allows users to properly pay attention to cleanliness as they use the restrooms.
Aesthetics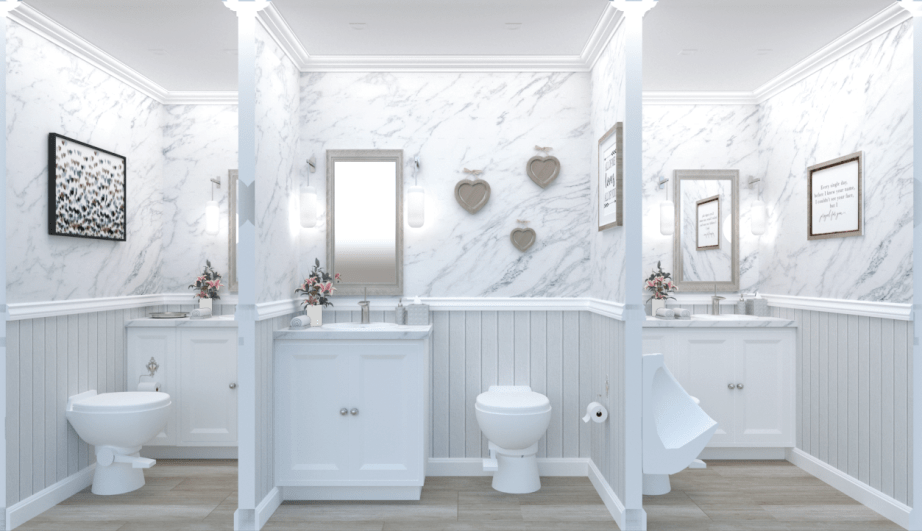 A major distinction that sets luxurious portable restrooms apart is the luxurious appeal. The sophisticated look and feel are immensely important to the overall experience of using the portable restroom. Restroom trailers are no exception to this rule by any means. They are constructed with high quality materials and the finishing/interior are made to dazzle and impress. That improves the overall experience of the user of the facility.
Ease of Movement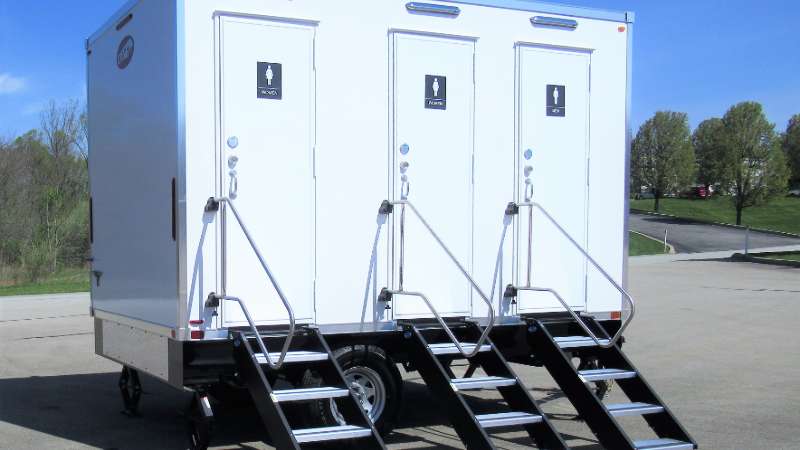 The luxury trailers come with wheels, so moving these luxury portable bathrooms is a more straightforward process and very convenient to use. It has impressive flexibility of use and the restroom trailer is set as close to your event as possible and positioned in a condusive area.
The Mobile Throne is Best for Your Portable Luxury Restroom Trailer Rental Needs This Summer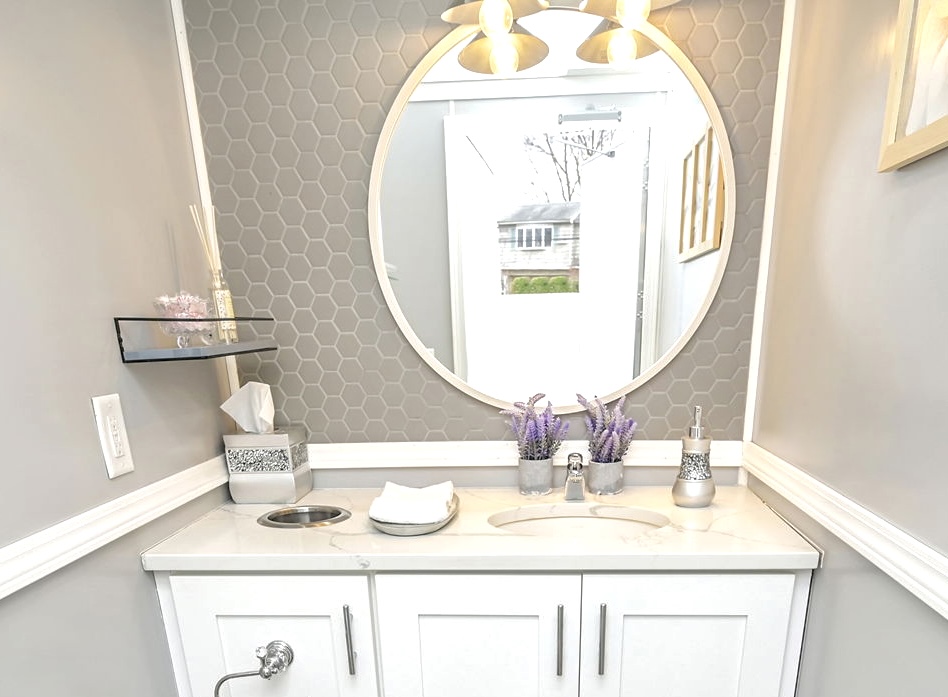 A restroom trailer needs to deliver on quite a lot in order to meet the standard of luxury. Therefore, the choice of the provider of this service is incredibly crucial. If you need a luxury portable restroom trailer for rent in the summer, The Mobile Throne can satisfy your needs anywhere in NYC.
The Mobile Throne offers luxury portable restroom trailers that have excellent quality and top-notch features. These are some of the features that set luxury restroom trailers of The Mobile Throne apart-
Lots of Available Fresh Water
An important part of a luxury portable restroom is the ability to flush the toilets with ease. However, it wouldn't be nice if a portable restroom trailer runs out of water before your event is over. This is why The Mobile Throne provides a minimum of 150 gallons of fresh water. This is to ensure that running out of water does not become a problem.
The 150 gallons of fresh water usually accompanies the 2 station luxury restroom. Larger restrooms would get more fresh water.
Attention to Sanitation and Hygiene
As a fundamentally sanitary facility, it is important that the restroom trailer arrives thoroughly clean and neat for the event. Portable Luxury restroom trailers for rent this summer from The Mobile Throne are meticulously cleaned, sanitized with disinfectants and then inspected. This ensures that the trailer arrives to the clients in the best sanitary state possible.
Similarly, while hygiene is taken care of before the trailer arrives, cleanliness is also considered during use. Having sinks with running water, luxury restrooms from the mobile throne ensures that those who use it come out clean. This also prevents germs from building up so that your guests do not get sick from using the restroom.
Attention to the Client's Needs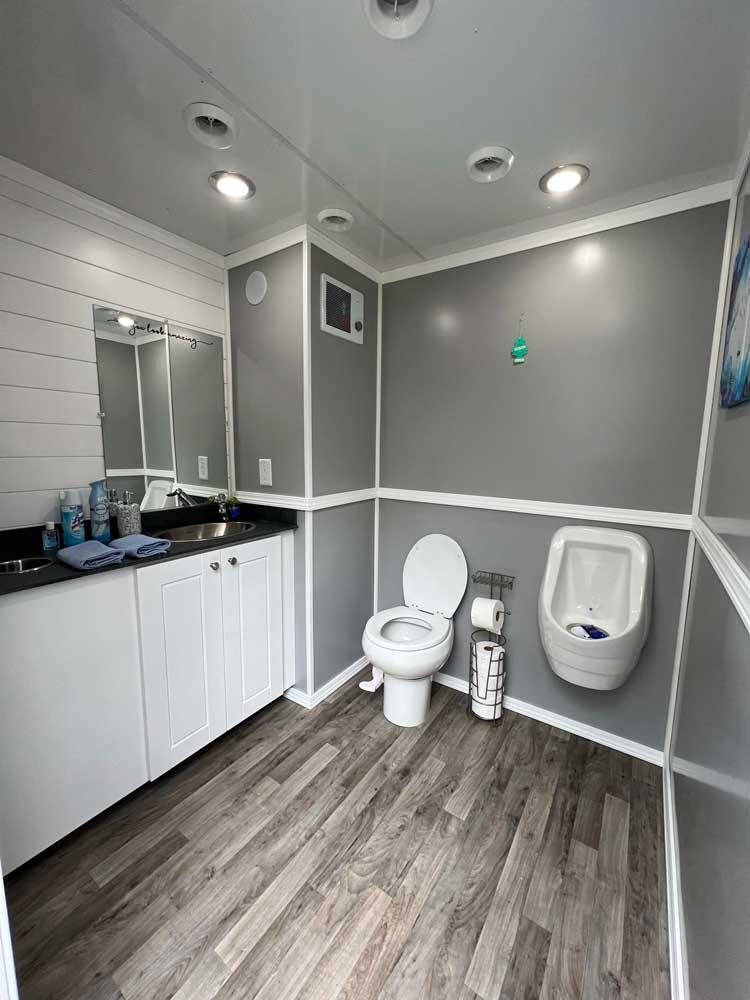 While seeking a luxury restroom trailer for events, you may be confused as to what exactly you would need in terms of capacity. The Mobile Throne can consult with you and give you the best advice on the choice you should make. The Mobile Throne can cater to very small groups and large groups of guests at an event. Helping you to pick the best option for your event is an essential service that is available.
Take Bathroom Breaks Without Missing Out
A bathroom break introduces a break in participation of an event usually. With the Mobile Throne's luxurious restroom trailers, that will not be the case as these come equipped with Bluetooth stereo systems. This allows the luxurious porta potties to be connected to the sound from the event. This means you can pay attention to the event while using the restroom.
Flexibility in the Duration of Use
If you need long term luxury restroom trailer rental in NY, the Mobile Throne can go the extra mile. Anything from daily, to weekly, monthly and even long-term rentals are available to ensure restroom needs for your summer event are met.
Climate Control
When renting an outdoor restroom trailer for summer events in NYC, you must think about how warm the weather would get. It certainly won't be comfortable to use a humid and stuffy restroom. This is why all luxury portable restroom trailers from The Mobile Throne come with air conditioning. This keeps the unit cool and comfortable for as long as your event would last.
As good event planners know, time is of the essence. After making the decision to get a luxury portable restroom trailer for rent this summer, you must act quick to get everything ready hassle-free. So, reach out to us for any questions you might have. You can also check out the variety of luxury portable restrooms available.
We are at your service at The Mobile Throne. If you'd like to get a quote or schedule our luxury portable restroom trailers this summer, please give us a call (516) 500-3113 or fill out our online contact form and we'll get right back to you.
Return