7 Benefits Of Using Luxury Restroom Trailers For Outdoor Events
07/25/23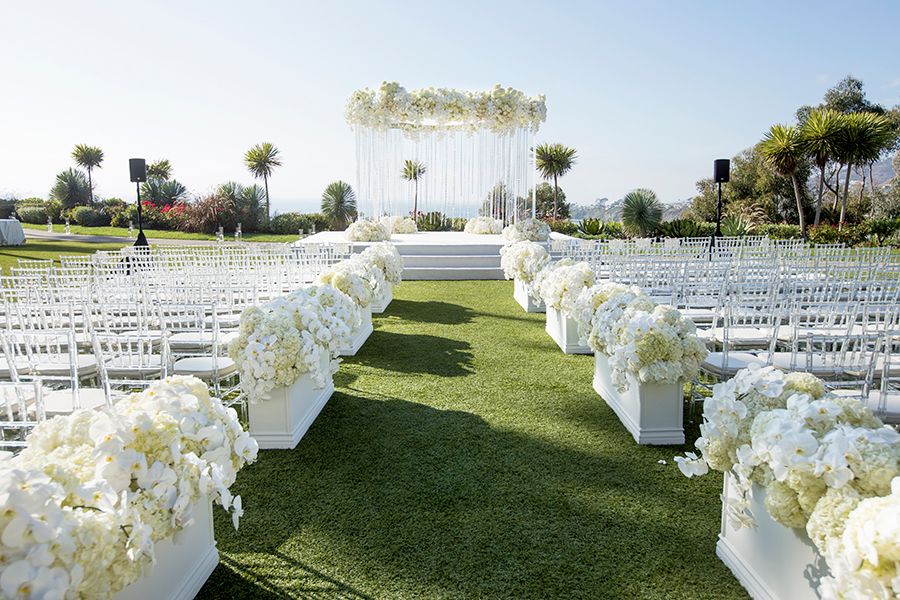 Organizing an upscale outdoor event requires meticulous attention to every detail. A key aspect to focus on is providing top-notch facilities for guests, which is why more event planners are turning to luxury restroom trailers for outdoor events. These sophisticated facilities provide unparalleled convenience and luxury, transforming the often-dreaded restroom visit into a refreshing and comfortable experience.
There are several compelling reasons to invest in these modern, high-end amenities. From offering optimal sanitation to creating an atmosphere of sophistication, luxury restroom trailers for outdoor events deliver multiple benefits that are hard to overlook.
Below, we will explore seven key advantages of these remarkable facilities, illustrating why they are fast becoming essential for any outdoor event aiming for elegance, and premium guest satisfaction.
What Are The Benefits Of Luxury Restroom Trailers For Outdoor Events?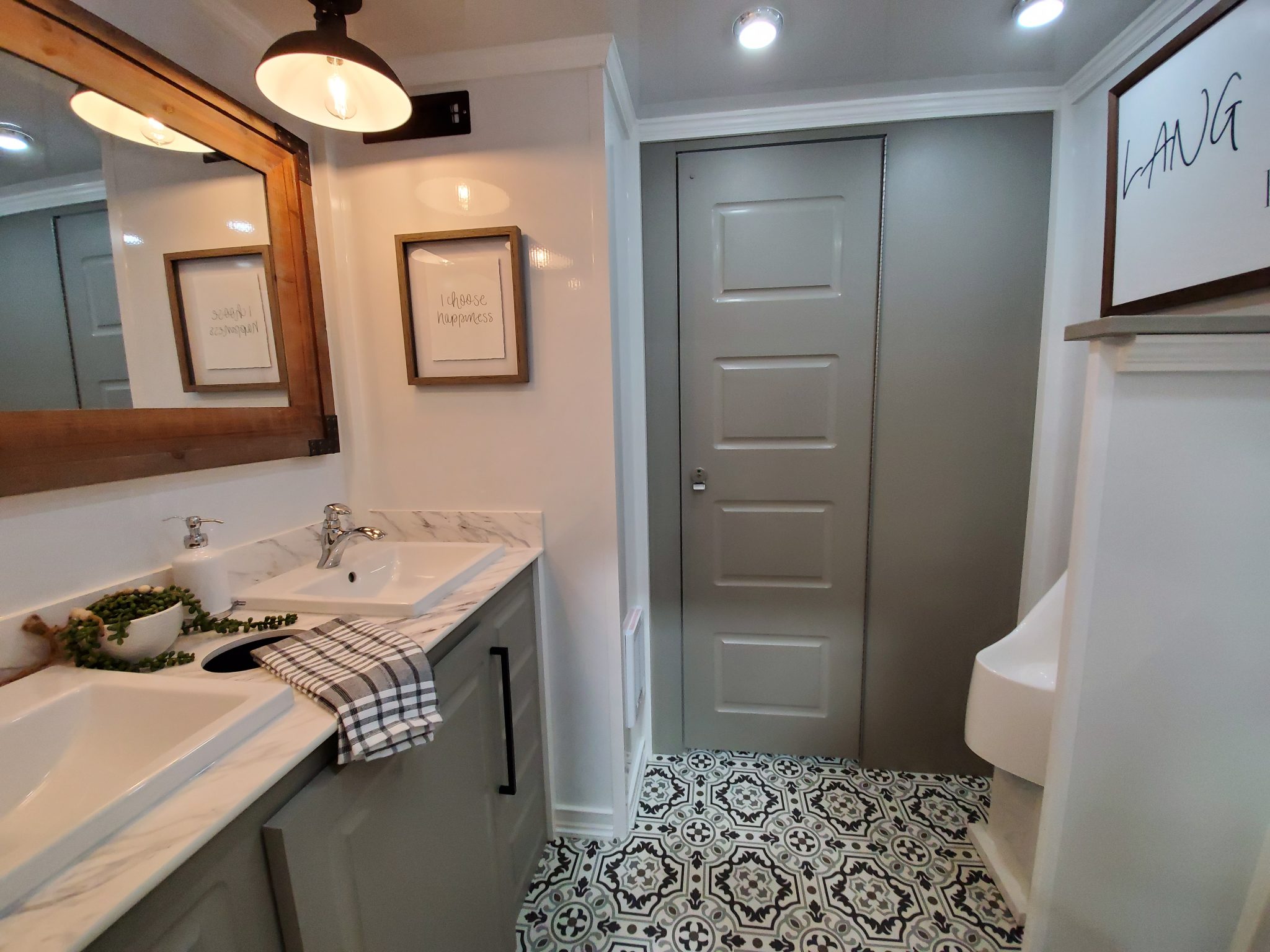 1. It is Comfortable
Imagine stepping into a restroom at an outdoor event that's well-lit, offers plenty of space, and is air-conditioned - unlike the typical porta potty. Luxury restroom trailers bring comfort similar to using a luxury home bathroom, adding an extra touch of class to your event.
2. Adaptable for a Range of Occasions
Restroom trailer rentals blend seamlessly, no matter the nature of your outdoor gathering. They cater to many guests, maintaining their classy appearance and cleanliness, elevating any occasion.
3. Cleanliness and Health Safety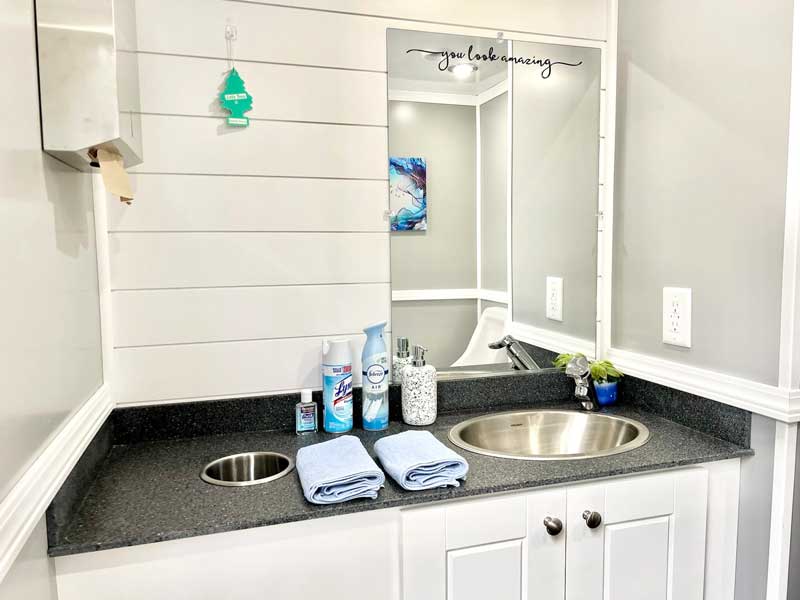 Hygiene is of utmost importance at public events. Professional luxury trailer rental companies like The Mobile Throne keep Luxury restroom trailers sparkling clean, offering your guests a safe and neat space. Unlike some porta potty rentals in New York, these trailers provide sanitary amenities like running water, flushable toilets, and hand sanitizers.
4. Superior Privacy and User-friendliness
Restroom trailers trump regular porta potties when it comes to privacy, thanks to their separate stalls and sound-proofed walls. Moreover, their easy installation and relocation make them convenient for event organizers, effectively preventing long restroom queues and overcrowding.
5. A Thoughtful Investment
Even though luxury restroom trailers might seem more expensive than conventional porta potty rental prices, they are a worthwhile investment. They decrease the need for numerous porta potties, and their posh look can complement your event's aesthetic, potentially saving you decor costs while adding to the event's prestige.
6. Eco-Friendly
As we prioritize sustainable practices, restroom trailers shine as an eco-friendly alternative. They are designed to conserve water and handle waste disposal in an environmentally-friendly way. Choosing this green restroom solution sends a message to your guests that you're conscious of them as well as our planet's wellbeing.
7. Personalizable to Match Your Event's Specifics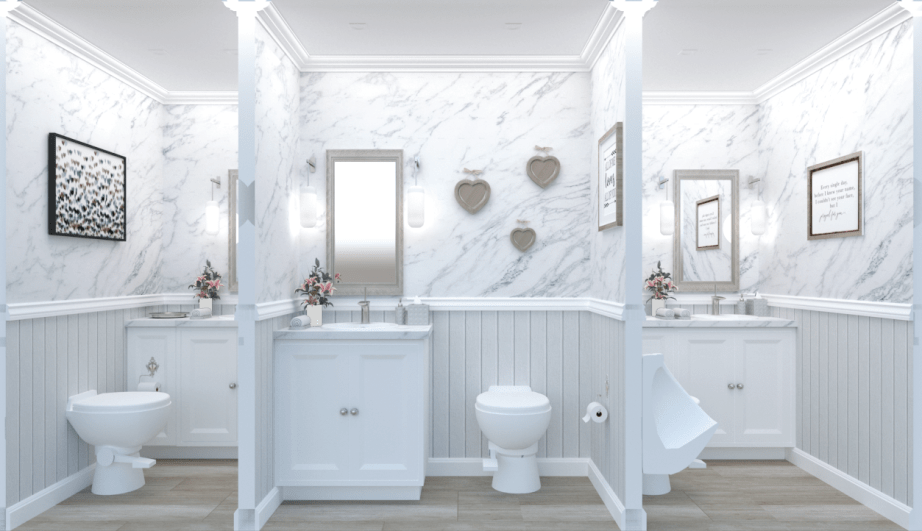 With restroom trailer rentals, you have the benefit of customization. So, whether you're searching 'porta potty rental near me' for a small outdoor get-together or need multiple restroom trailers for a grand event, you'll find an option that suits your requirements and budget. Restroom trailer rental companies in Long Island, NYC like The Mobile Throne take pride in offering solutions that perfectly align with any event's size and nature.
How Do Luxury Portable Restrooms Work?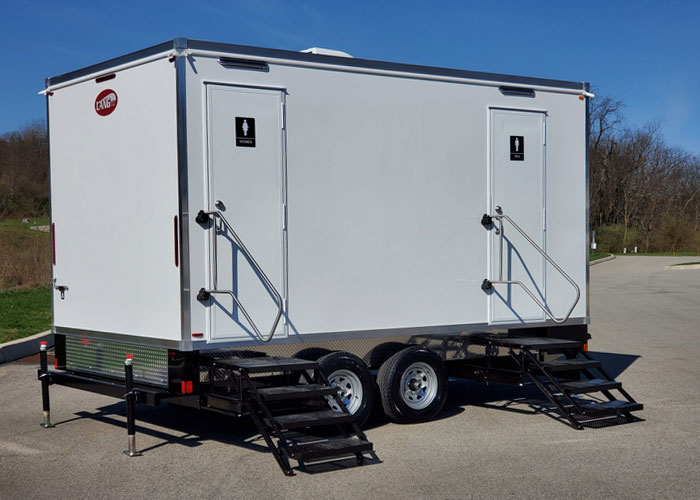 Think about the standard porta potty, then elevate it significantly. That's what you get with luxury portable restrooms. These luxury restroom trailers for outdoor events are well-equipped and far more spacious. The luxury portable bathrooms feature flushing toilets and sinks with running water. You'd even find mirrors inside; some units offer extra comforts like heating or air conditioning. Essentially, these luxury toilet rentals offer a 'nice porta potty' experience that provides that 5-star hotel luxury experience in an outdoor event setting.
These luxury bathroom rentals work quite simply. They come with two tanks, one for fresh water and another for waste. The freshwater tank supplies water for the toilet flush and sink, while the waste tank holds the waste securely. It's the efficiency of a traditional bathroom packed into a mobile unit for outdoor events. The standout feature of these portable restrooms is their commitment to cleanliness. Unlike some porta potty rentals in New York, these luxury units are professionally cleaned and sanitized, ensuring a top-notch hygiene standard for each user.
As for flexibility, luxury portable restrooms shine brightly. Whether you need a single restroom for a small event or several units for a larger crowd, you'll find options that fit your needs. Just do a quick online search for 'porta potty rental in Ling Island New York,' and you'll find providers offering everything from a single nice porta potty to multiple luxury bathroom rentals. Read more on about portable luxury restroom trailer rentals.
Factors To Consider Before Getting Luxury Restroom Trailers For Outdoor Events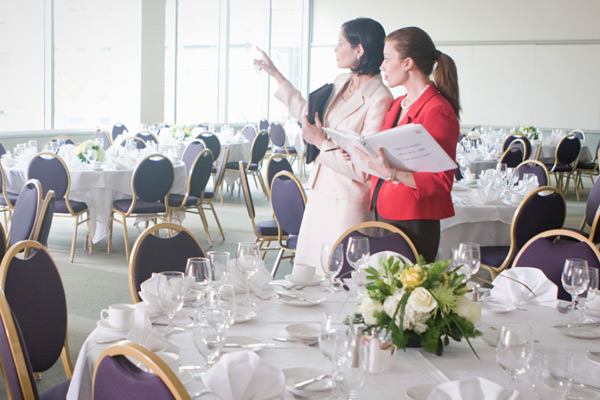 When planning an outdoor event in New York, from Long Island City to Long Beach, NY, one essential factor often overlooked is the restroom situation. But not just any restroom will do. You'd want something that matches the vibe and class of your event, which is where luxury restroom trailers come in. But before you jump on the 'rent bathroom for outdoor events in NYC' bandwagon, here are some crucial points to consider:
1. Understand Your Event Needs
Before renting a bathroom for your outdoor event in NYC, you should understand your event's specifics. Consider the number of attendees, the event's duration, and the location. For example, if you're hosting a summer trade show in Long Beach, NY, you'll need luxury restroom rentals that comfortably cater to large crowds in the heat.
2. Location and Season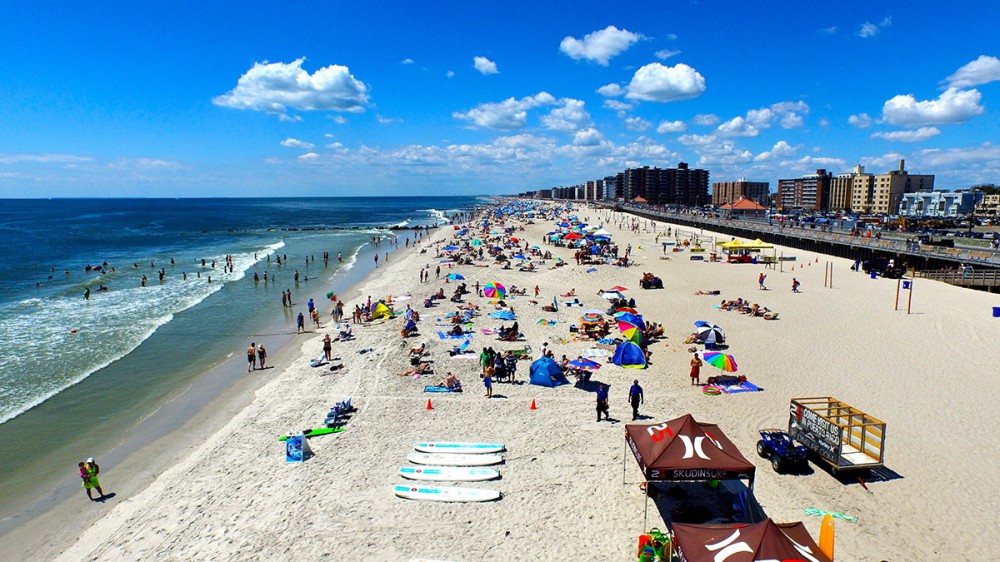 New York's summer season is synonymous with outdoor events. Renting a bathroom for outdoor events in NYC in summer requires thinking about the weather. You need a restroom trailer with features like air conditioning to ensure guest comfort. So, if you're planning an event in Long Island during summer, consider a portable restroom trailer that can handle the heat.
3. Hygiene and Cleanliness
Whether you're considering luxury restroom rentals for summer staff in New York or an individual event, hygiene should be a top priority. The restroom should not only look good but also be sanitized regularly. So, when looking for outdoor restroom rentals, check how providers like The Mobile Throne handle cleaning and maintenance.
4. Cost and Budget
Cost is another significant factor when seeking portable toilet rentals for events. Consider your budget and compare the offerings of different providers. Remember, though, that with luxury restroom trailers, you're investing in comfort, convenience, and a high-end experience for your guests.
5. Service Provider's Reputation
Finally, consider the reputation of the service provider. When renting bathrooms for outdoor events in NYC, look for companies known for their quality service, like The Mobile Throne. Check out their reviews and their standout features on their website.
From corporate events to trade shows and summer gatherings, luxury restroom rentals offer undeniable benefits. The Mobile Throne, among others, has an array of luxury portable bathrooms ready to serve you regardless of your event in New York. The next section will discuss the various luxury restroom trailers suitable for outdoor events.
Luxury Restroom Trailers That Are Suitable For Your Outdoor Events
Selecting the right luxury restroom trailer for your outdoor events in Long Island, New York (NYC), or any other location can significantly impact the experience you provide for your guests. Here are some available options and their standout features:
1. 2 Station Comfort Series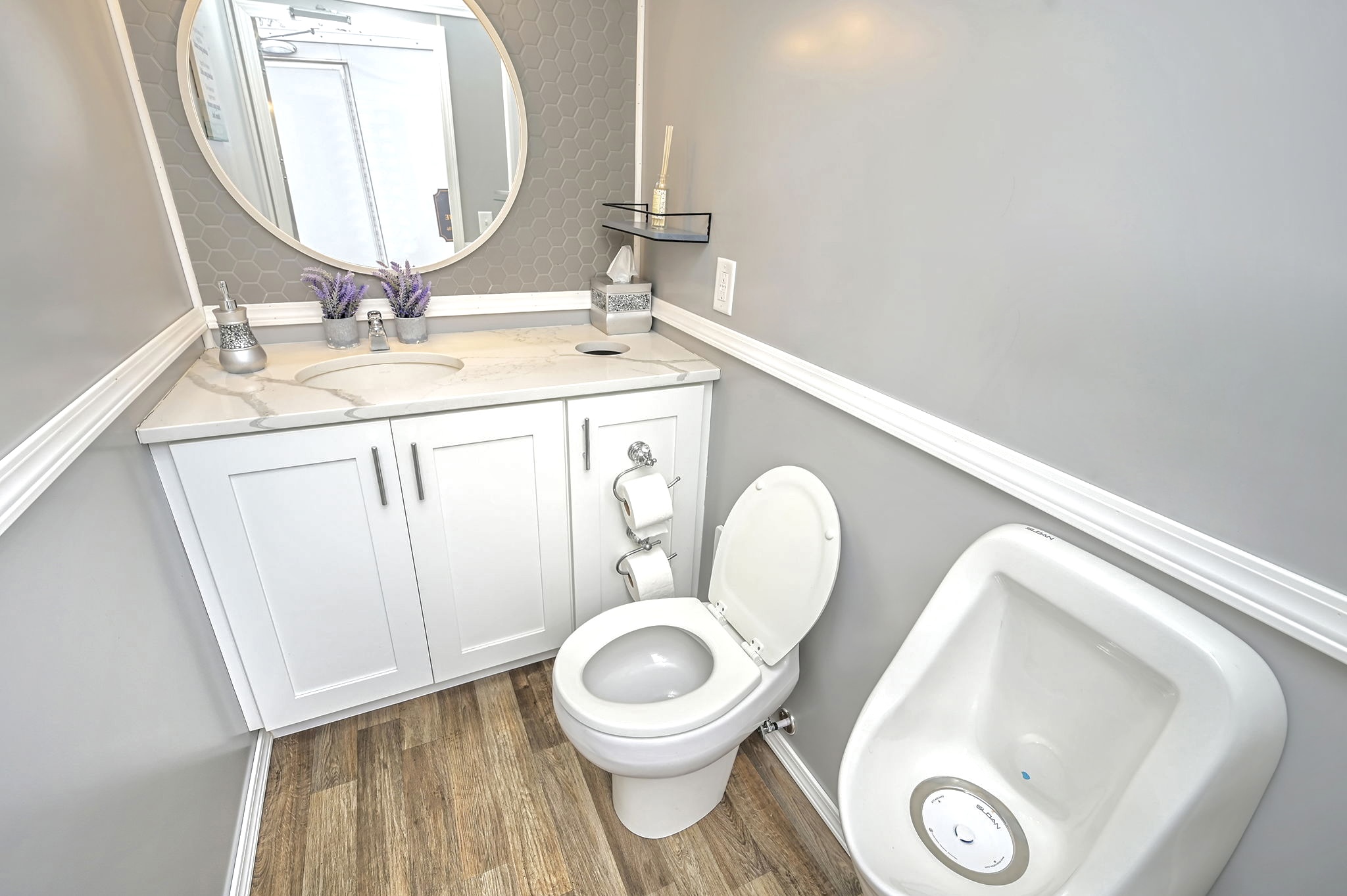 Designed for intimate events such as weddings, birthday parties, or corporate functions, the Comfort-Series trailer accommodates up to 150 guests. It combines practicality and style with full-length doors, upgraded lighting, shiplap walls, and more. The trailer even includes a Bluetooth stereo system to enhance the ambiance. Both men's and women's sides are equipped with private bathrooms, vanity, sink, A/C, and heating. As such, this is a viable option for those searching for a luxury Restroom Trailer Rental Near Me.'
2. 2 Station Cabin Series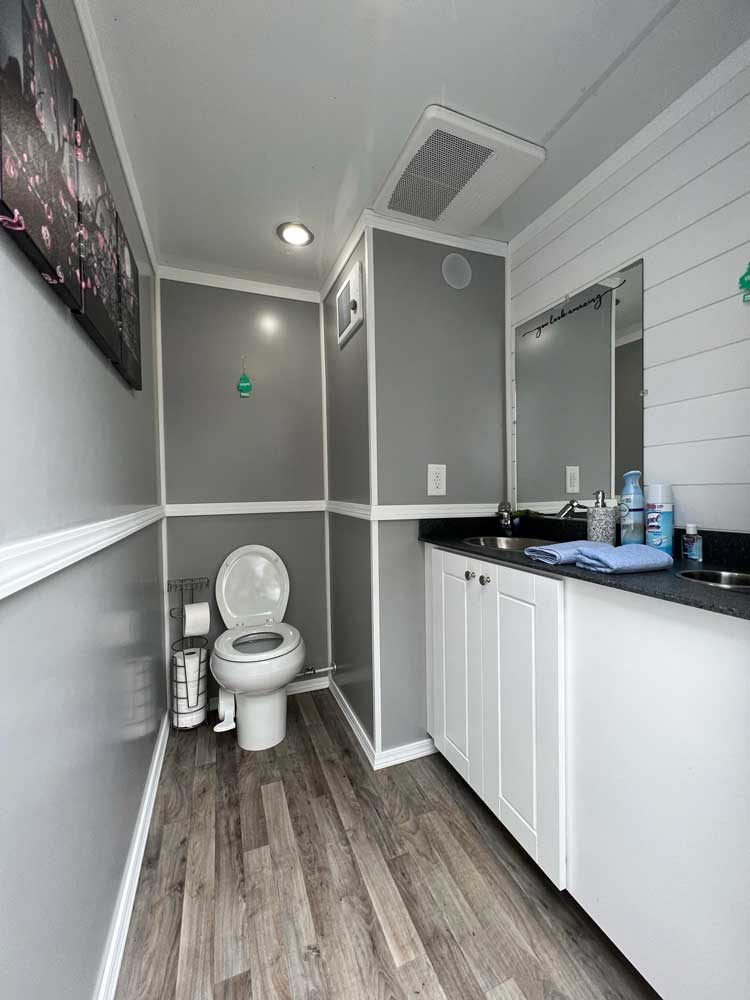 The Cabin-Series trailer exudes rustic elegance. This portable luxury restroom trailer in Long Island, New York, or any location, is functional and creates a warm, inviting atmosphere. The interiors showcase high-quality wood paneling, cabin-style finishes, and carefully chosen lighting that can make any backyard BBQ, wedding, or special event feel extraordinary.
3. 3 Station Luxury Series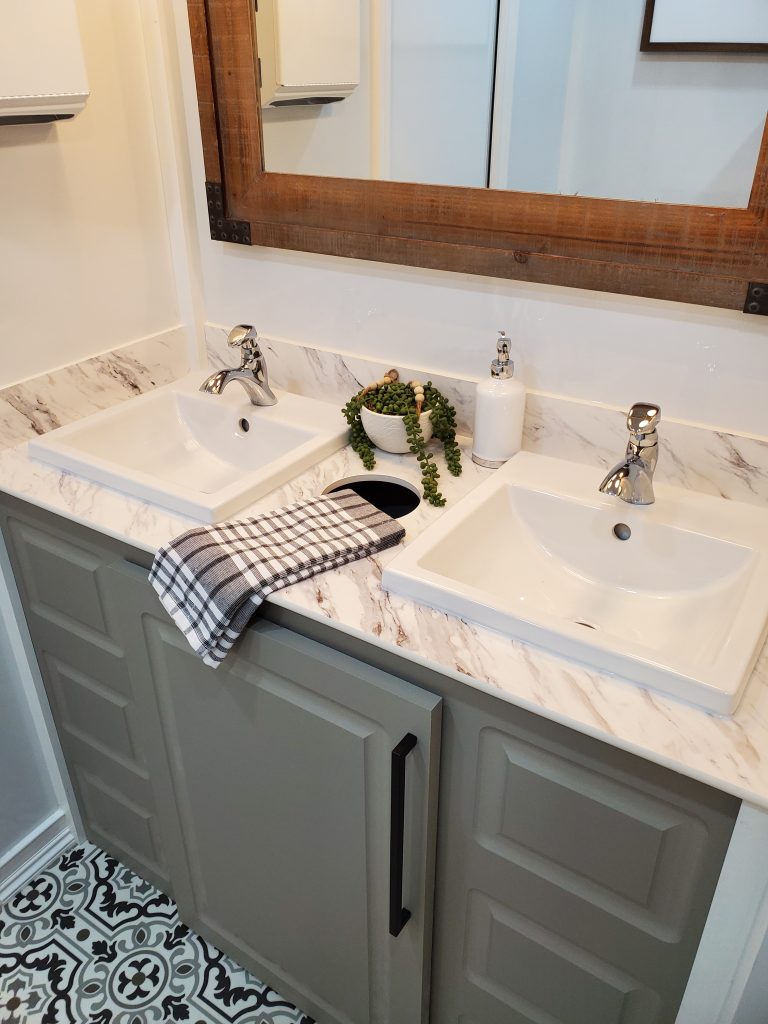 If you're looking for a luxury restroom trailer that redefines class and elegance, the 3 Station Luxury Series is perfect. The interiors are beautifully adorned with framed artwork and elegant floral arrangements. The trailer comes equipped with a surround sound music system and thermostat-controlled heating and air conditioning. This option could answer long-term luxury restroom trailer rental in NY, especially for corporate events or formal gatherings.
4. 5 Station Luxury Series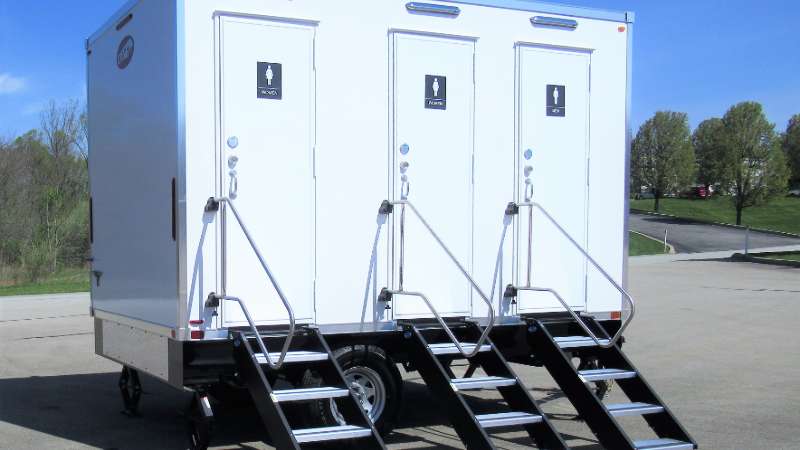 The 5 Station Luxury Series trailer is designed for larger, more formal events, like weddings and corporate functions. It offers enhanced features like a Bluetooth stereo system, decorative flooring, and crown molding trim. The spacious layout provides private bathroom stalls, urinals, and double-sink vanities. The ability to rent a restroom trailer for outdoor events in cold winter weather or during summer events in NYC adds to its convenience.
1. Outdoor Weddings
Outdoor weddings are among the most popular events where luxury restroom trailers are indispensable. Wedding planners perpetually look for ways to impress guests and make the special day memorable. Restroom trailers are a step from standard porta potties, with amenities like full-length mirrors, heating and air conditioning, and high-quality toiletries.
2. Corporate Events
Corporate events demand sophistication that standard porta potties often can't deliver. The Mobile Throne's restroom trailer rentals ensure your corporate event maintains a high standard. Whether it's a company picnic, a product launch, or a business seminar held outdoors, restroom trailers add an element of convenience and comfort that your clients, employees, or business partners will appreciate.
3. Concerts and Festivals
Large-scale events such as music festivals, food festivals, or art fairs attract a large crowd and require extensive sanitary facilities. The Mobile Throne's luxury restroom trailers can cater to these high-capacity needs without compromising cleanliness or comfort. Guests can freshen up and use the facilities in a well-maintained, sanitary environment, even amidst the bustle of the festival.
4. Trade Shows
Trade shows and expos, often held in expansive outdoor locations, necessitate restroom facilities that can accommodate a large and diverse audience. Luxury restroom trailers from The Mobile Throne provide a convenient, sanitary solution that ensures attendees can focus on the event rather than worry about unsanitary or insufficient facilities.
5. Outdoor Sports Events
The cheering crowd, competitive energy, and outdoor setting make sports events exciting. However, restroom facilities at these locations can often be subpar, leading to a diminished guest experience. Luxury restroom trailers from The Mobile Throne offer a high-end solution with climate control and deluxe amenities, perfect for accommodating a large crowd at sporting events.
6. Film Shoots
Film shoots often take place in outdoor locations where access to traditional restroom facilities may be limited. Providing the cast and crew with luxury restroom trailers ensures they have a clean, comfortable space to freshen up, contributing to a more efficient and productive work environment. The Mobile Throne's restroom trailers can cater to film shoots of any size, ensuring that even in the most remote of locations, your crew has access to top-notch facilities.
Let The Mobile Throne Help With Luxury Restroom Trailers For Your Outdoor Events
In organizing successful outdoor events, no stone should be left unturned, including providing superior sanitation services. The Mobile Throne is an unparalleled choice, with a range of luxury restroom trailers that promise your guests top-notch comfort and an extraordinary experience.
Opting for The Mobile Throne's services is more than just a decision to rent restroom trailers. It's a commitment towards enhancing the guest experience at your event, a testament to your dedication to providing the finest amenities, and, most importantly, a step towards making your event unforgettable for all attendees.
If you're interested in getting a quote or scheduling our luxury restroom trailers for your event, please call us at (516) 500-3113 or fill out our online contact form. We will respond promptly to assist you in choosing the perfect restroom trailer to suit your event. For more information about our services and to explore our range of luxury restroom trailers, we invite you to visit our website at The Mobile Throne
Return